The Three Passes Trek is an opportunity for trekkers to challenge themselves in the world-famous Everest mountain region. There's no need to train years and spend thousands of dollars to be in the presence of Mt. Everest on the Three Passes Trek. 
The Three Passes Trek takes you over three high mountain passes, to an elevation of 5550m, AND to the popular Everest Base Camp. 
Some people are content with hiking only to Everest Base Camp to tick off this bucket list item, but I recommend taking your experience to the next level. Push yourself harder, walk a little further, and climb a little higher. This trek is worth it, and my Three Passes Trek Guide will help you plan your trek, without a guide!
Safety Note:
The three high passes on the Three Passes Trek are all above 5400m in elevation. They should not be attempted by those without at least a medium fitness level and without previous trekking/hiking experience. 
Everyone should expect to experience some signs of altitude sickness on the Three Passes Trek. Symptoms include shortness of breath, loss of appetite, blurry vision, headaches, nausea, trouble sleeping, and fatigue. It is critical to listen to your body and know when to take a rest day or drop down to lower elevation. Taking it slow is the best way to allow your body to adjust to the altitude.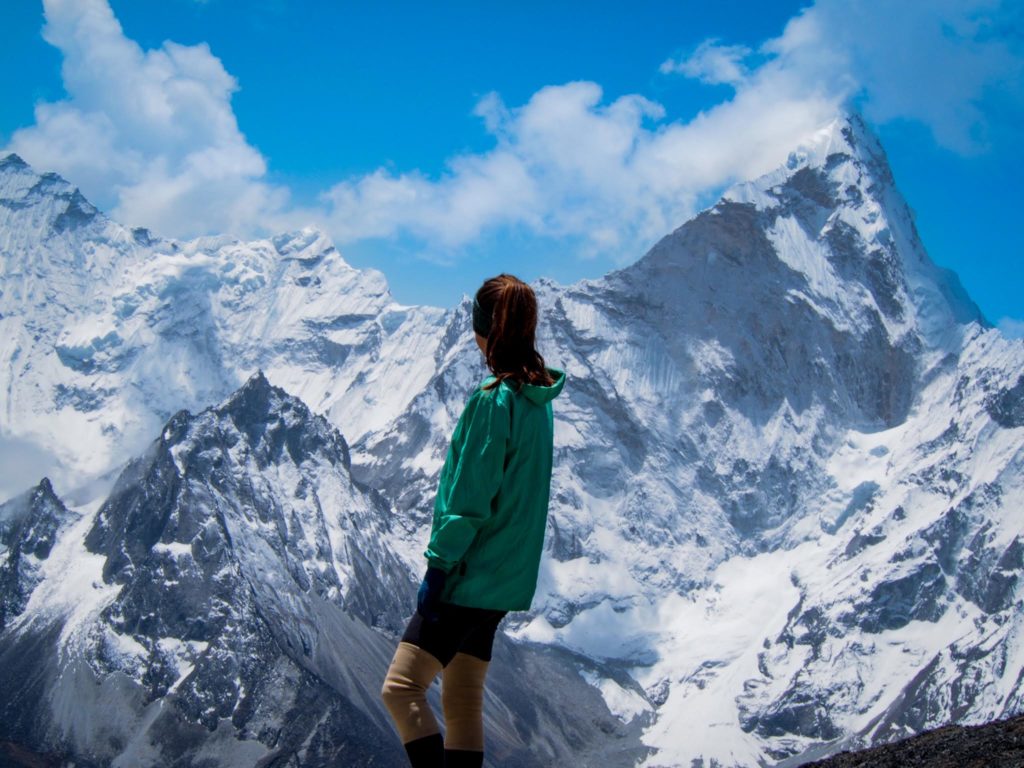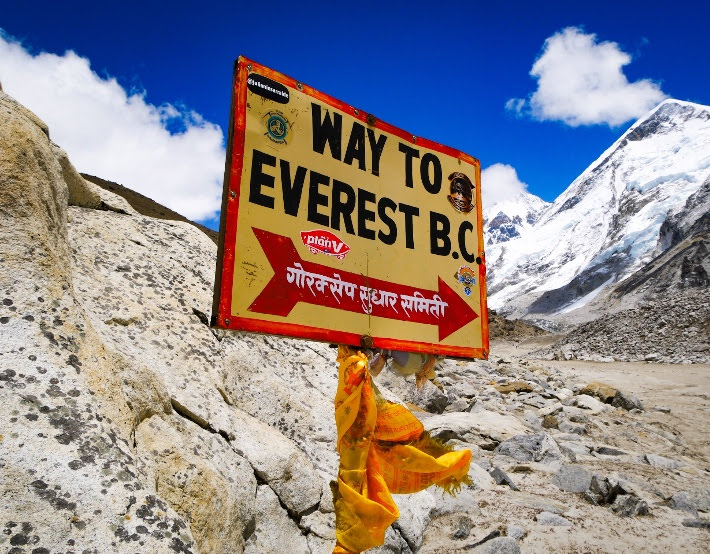 Overview of the Three Passes Trek Without A Guide
Duration: 14-26 days (depending on starting point & rest days) for the Three Passes Trek plus Everest Base Camp side trek
Starting Altitudes:
Jiri – 1995m
Salleri – 2390m
Lukla – 2840m
Highest Altitudes:
Kala Patthar (side trek)– 5550m
Kongma La – 5535m
Cho La – 5420m
Renjo La – 5360m
Distance per day: 5km to 15km
Best season: April-May, September-November
Budget: $28 USD per day: At low altitude, $10/day. At high altitude, $35/day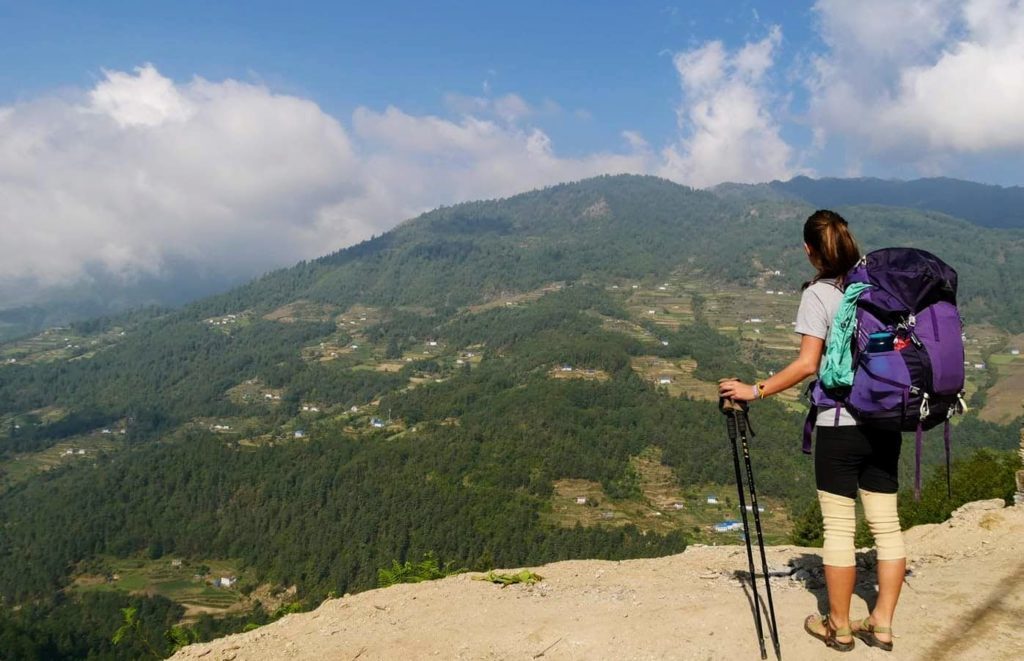 Intrepid Road and I completed the Three Passes Trek without a guide, going counter-clockwise. We met several people who were hiking the Three Passes Trek clockwise as well. The counter-clockwise direction takes you over the most difficult pass first, Kongma La, and the least difficult pass last, Renjo La.
Each high pass you go over counter-clockwise will start with a long, gradual uphill, then a steep downhill on the other side, before reaching the villages.  
Likewise, trekking clockwise means there is a steep uphill before a gradual downhill.
Getting to the Three Passes Trek
There are three different starting points for starting the Three Passes Trek unguided: Jiri, Salleri, and Lukla. 
Jiri and Salleri are the cheapest to get to. The bus to Jiri from Kathmandu costs about 1500 rupees (~$15) and the jeep to Salleri from Kathmandu costs around 2000 rupees (~$20). Both options can be booked via tour or transport agencies in Kathmandu. Since these options are more popular with locals traveling to villages in the area, it may be difficult to book or find information about them outside of Kathmandu. 
Lukla is the most popular entry point to the Everest Base Camp region. To get to Lukla, you need to catch a $170 flight (one-way) from Kathmandu.
When I hiked the Three Passes Trek without a guide, I chose to jeep from Kathmandu to Salleri, which took about 10 hours.
Duration of the Three Passes Trek Unguided
The number of days you spend on the Three Passes Trek totally depends on your trekking style: how fast you trek, the number of rest days you take, and especially where you start the trek.
From Jiri it will take you an extra 6-7 days on foot to reach Namche Bazaar, and from Salleri it will take you an extra 3 days. 
If you fly into Lukla to start the Three Passes Trek, it will take you only one day to reach Namche Bazaar. (If your flight lands in the morning, you may even make it in the same day!)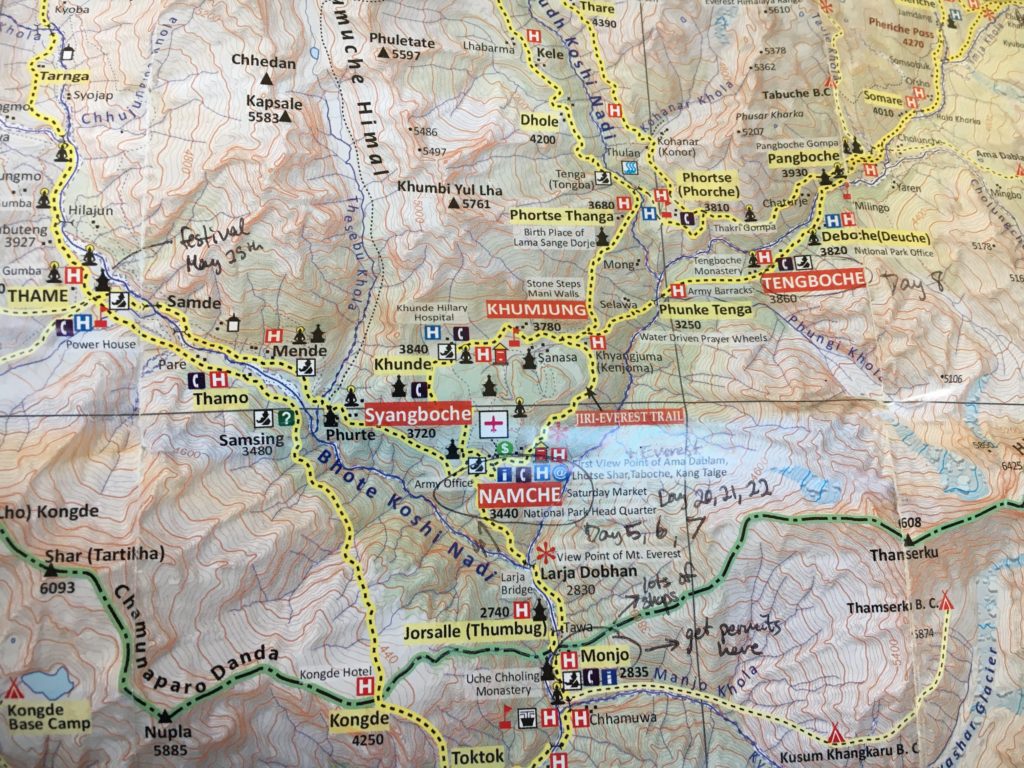 From Namche Bazaar, the Three Passes Trek can take a minimum of 10 days as you go over the three high mountain passes. This includes a side trek to Everest Base Camp and Kala Patthar, then looping back to Namche Bazaar. Going this fast should only be attempted by the super fit and those confident at high altitude! 
Most people take rest days in Namche Bazaar, Chhukhung or Gorak Shep, and Gokyo, making it a 12-day loop. When I went, I took two rest days in Namche, one in Gorak Shep, and three in Gokyo, taking a total of 15 days to get back to Namche.
Check out my 10 things to do in Namche Bazaar to consider for your rest day! 
This is a sample itinerary for my Three Passes Trek Guide. It's the path that I took when I completed the Three Passes Trek and Everest Base Camp without a guide:
Day 1: Kathmandu -> Salleri (jeep)
Day 2: Nunthala
Day 3: Bupsa
Day 4: Ghat (we passed Lukla on this day)
Day 5, 6, 7: Namche Bazaar
Day 8: Tengboche
Day 9: Dingboche
Day 10: Chhukhung (some people take a rest day here)
Day 11: Lobuche
Day 12, 13: Gorak Shep
Day 14: Dzongla
Day 15: Dragnag (some make it to Gokyo on this day)
Day 16, 17, 18: Gokyo
Day 19: Marulung
Day 20, 21, 22: Namche Bazaar
Day 23: Phakding
Day 24: Paiya
Day 25: Adheri -> Salleri (jeep)
Day 26: Salleri -> Kathmandu
If you start the Three Passes Trek in Jiri, your first four days might look like this before Nunthala:
Day 1: Kathmandu -> Jiri (bus)
Day 2: Bhandar
Day 3: Dakachu
Day 4: Junbesi
Day 5: Nunthala
If you fly in to Lukla to start the Three Passes Trek without a guide, your Days 4-23 might look the same as mine.
Insurance - SUPER Important!
Just in case you encounter serious problems while trekking, make sure you have traveler's insurance. Safety is your FIRST priority while hiking the Three Passes Trek and Everest Base Camp. 
It's important to check if your insurance will cover up to 5550m in elevation! Many will have an altitude limit that's below 4000 or 5000m. World Nomads allows you to purchase insurance abroad and covers you for medical evacuations at high altitude.
Do NOT hesitate to go back down to lower elevation when you feel dizzy or sick! This could save your life!
When I was in Gorak Shep, we heard there was a man in Lobuche who died from severe altitude sickness. He didn't have insurance for a helicopter to take him down, and the second best option available was to have a donkey carry him down. Unfortunately this wasn't fast enough and he lost consciousness, and even being put in a zip-up oxygen bag couldn't revive him. 
Permits for the Three Passes Trek and Everest Base Camp
Hikers need two permits to hike the Three Passes Trek and Everest Base Camp. You also need to keep the permits on you for the entire hike. Although there are fewer checkpoints here than on the Annapurna Circuit, it's still important that you keep the permits on you. In order to purchase the permits, you need 5400 rupees and your passport. 
The Sagarmartha National Park permit can be purchased in Kathmandu or en-route to Namche Bazaar. You can buy this permit in Lukla, as well as in Monjo, right outside of the entrance to the national park. 
The Khumbu Pasang Municipality permit can only be purchased on the trek. You buy it at a checkpoint right outside of Namche Bazaar. Here you will have to show your passport again. 
The officer will ask you for the approximate number of days you will be trekking, and which trek you will be undertaking. It's ok to let him know you are trekking the Three Passes Trek and Everest Base Camp without a guide.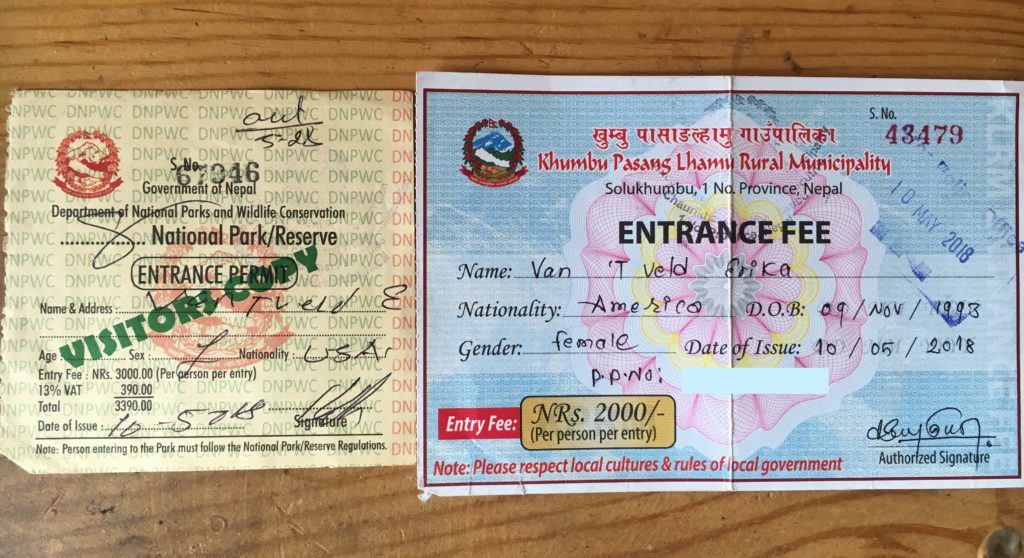 The National Parks pass costs 3390 rupees, and the trekking permit costs 2000 rupees.
Although they don't ask for any insurance information, they do look at your passport to write down your information. Make sure you bring your passport with you on the trek AND a hefty 5390 rupees just for the permits!
Accommodation on the Three Passes Trek
Trekking the Three Passes Trek without a guide means finding your own accommodation. Don't worry, there are plenty of options along the trek. Upon arriving at a village, ask around at any guesthouses if they have rooms available.
Although traditionally trekkers are able to stay for free in exchange for eating food at the teahouses/guesthouses, this is not the case anymore on the Everest trail. 
2019 Update: Guesthouses after Namche Bazaar are now all charging at least 500 rupees to stay the night
When you arrive in town and are looking for guesthouses to stay in, usually the larger hotel-looking lodges will charge you more for the rooms. They likely have higher overhead costs of operating a larger kitchen and have more staff. These larger guesthouses usually bring out meals quickly, and have warmer rooms and more bathrooms. 
The family-run, smaller guesthouses usually charge less or nothing at all. You may miss out on some luxuries of a fancier guesthouse, but in exchange you'll probably get a more personal experience with the Nepali guesthouse owners.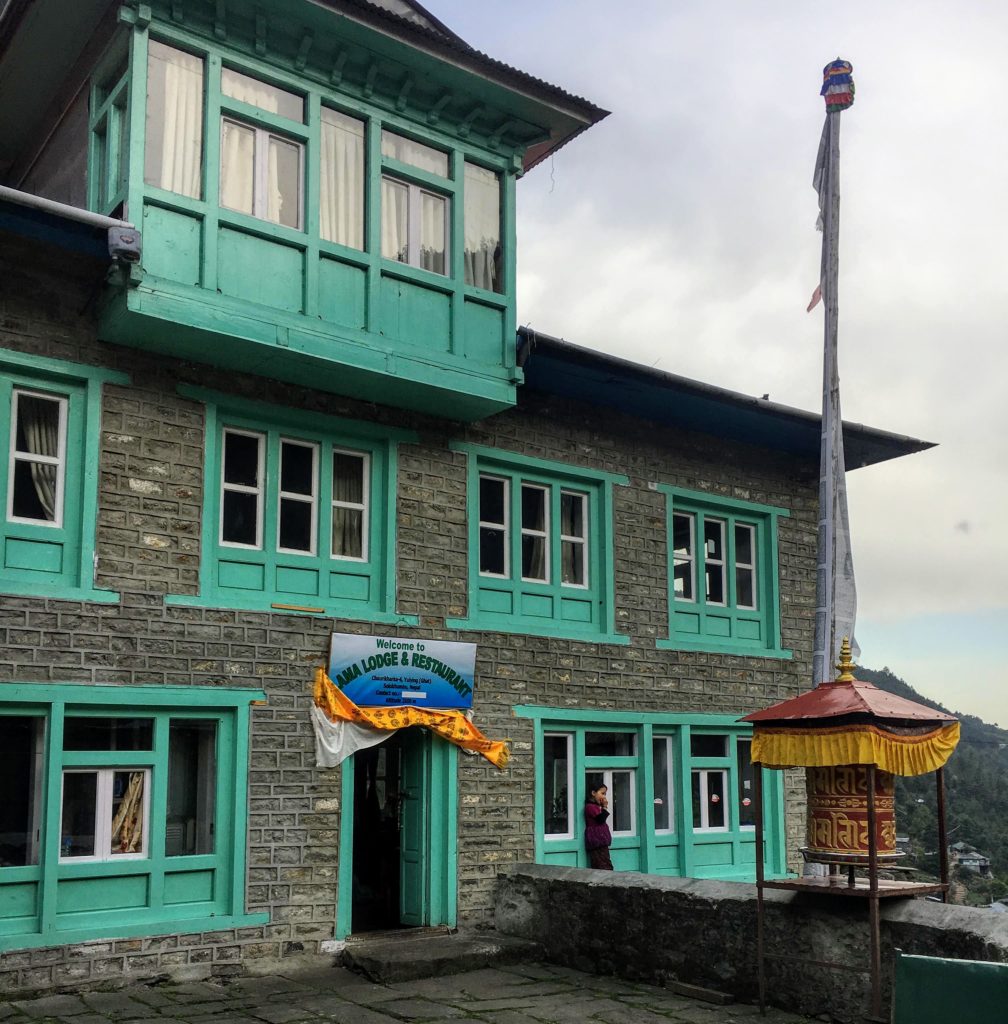 When trekking the Three Passes Trek without a guide, you can easily order food at every guesthouse you stay in.
Below is a sample menu from a guesthouse at Phakding, a town located between Lukla and Namche Bazaar. This is the medium- to low-end of prices for food items along the Three Passes Trek. The food and drink variety stays fairly constant from village to village.
The cost for food changes exponentially along the Three Passes and Everest Base Camp trek.
I was surprised prematurely in Salleri when the cost for a Dahl Baht was 300 rupees (or $3. I was used to 150 rupees in Kathmandu). You'll see up to 850 rupees ($8.50) at Gorak Shep for the same meal. Veg fried noodles which I liked to get for lunch or dinner, went from 200 rupees to 700 at higher elevation.  My favorite breakfast, hash browns with vegetables and an egg went for 900 rupees at Gorak Shep.
The amount of money you'll spend on food on the Three Passes Trek will vary depending on snacking, sickness, and mostly altitude. At low altitude, you can budget $10/day for food, and at high altitude (after Namche) you can expect to pay closer to $30/day.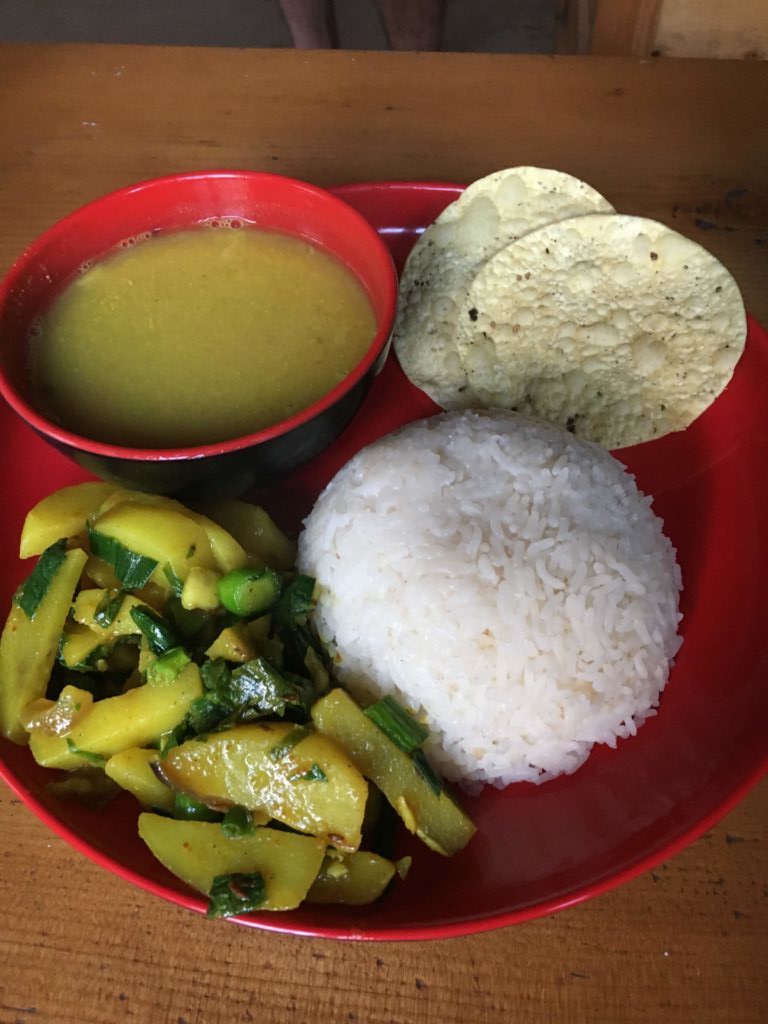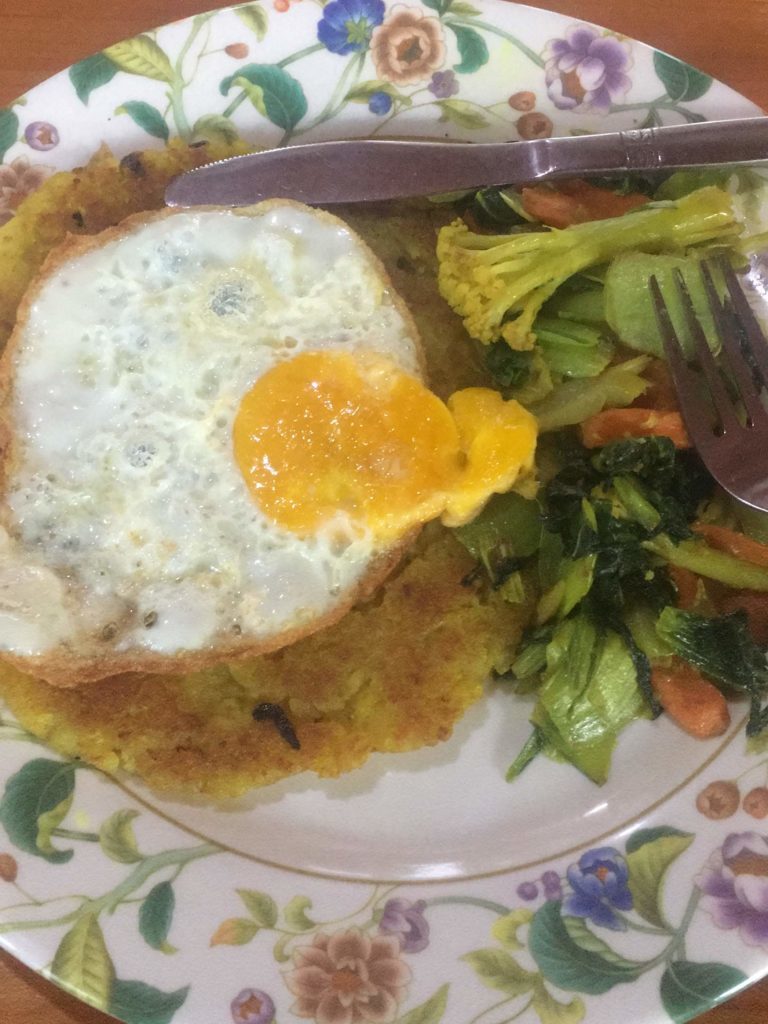 Budget for the Three Passes Trek and Everest Base Camp Without a Guide
I've tried to make a comprehensive budget for my Three Passes Trek Guide, but some things have changed since I did the trek in 2018. Most importantly, almost all guesthouses past Namche Bazaar will charge you 500 rupees per night. Guesthouse owners were tired of people staying for free! (Which is completely understandable).
All prices are listed in USD. 
Accommodation
500 rupees per night at high elevation
Transportation 
Transport costs will vary greatly depending on where you decide to start the Three Passes Trek without a guide. I recommend flying into Lukla if you're short on time (keep in mind that its common for flights to be delayed or cancelled if there's low visibility). This will set you back $170 x 2 = $340. 
Trekking from Jiri or Salleri saves on flight costs, but you'll pay for overland transportation from Kathmandu, $15-$20, and for the extra days you're spending in the mountains, $10-$15 per day.
Permits 
If you haven't purchased any permits before leaving Kathmandu like I did, add an extra 5390 rupees ($54) to take with you to buy the permits on the trek!
Food 
Above, I mentioned a budget for $10 per day for food before Namche, and $30 per day after Namche. I thought I could cut down on this cost, but when every meal at high altitude cost $7-9, cups of tea are $2-3, and bottles of water are $3-4, it adds up quickly.
Charging Electronics 
Charging electronics and free wifi are basically nonexistent on this trail unlike in the Annapurna region. Definitely invest in a portable battery charger.
Be sure to charge all of your electronics before you leave Namche Bazaar too. Some of the restaurants, bars, and bakeries there will let you charge for free while you spend time at their business. As you get to higher altitude, you'll be spending 200-300 rupees an hour to charge phones and even more for battery packs because guesthouses run on solar power.
WiFi (Everest Link) 
Since I had an NCell SIM card, in Namche I had 4G and in Tengboche I had 3G service. Everywhere else, to stay connected you need to purchase the Everest Link internet cards. These are 600 rupees ($6) for 200 MB of internet usage, which is ridiculous but there's no other option.
Make sure you turn off auto-updates, and keep in mind that each code can only be used for one device. I only bought this once during the trek, after I had been offline for a week people at home had started to worry.
Personal Hygiene
Showers at high altitude cost from 200 rupees for a cold bucket of water, to 700 rupees for a gas shower. Some go the entire trek without showering, but I showered a number of times in 25 days just to retain some level of cleanliness.
Since I had some space in my bag, I invested in some extra toilet paper rolls to bring from Namche also. At shops in Namche toilet paper costs 200 rupees, but in the mountains you'll be paying 400-500 per roll. Since I was sick and blowing my nose every 10 seconds, these came in very handy!
Gear 
Coming from hot and humid India I didn't have any winter clothing aside from a hat, leggings, sweatpants, and a NorthFace GoreTex jacket I picked up from a hostel in Cambodia. Luckily, you can find any trekking gear you can dream of in Thamel. 
Check out my trekking in Nepal packing list! 
I chose to buy gear instead of renting it because I trekked both the Annapurna Circuit AND the Three Passes Trek. I bought hiking boots ($40), sleeping bag ($25), trekking poles ($5), a fleece sweater ($5), trekking poles ($5), light windbreaker ($10), and microspikes ($10) = $100.
Total Budget for the Three Passes Trek Unguided
I personally spent about $700 USD on the Three Passes Trek over the course of 25 days (excluding the cost of gear I listed above). 
I was sick for a while and buying pots of tea ($10) and throat lozenges ($4) everywhere, and I splurged on beers ($7) and apple pies ($4) in Namche. Real budget travelers can expect to spend around $600 trekking the Three Passes Trek unguided. 
It's a good idea to bring this entire sum of money with you when you start the trek.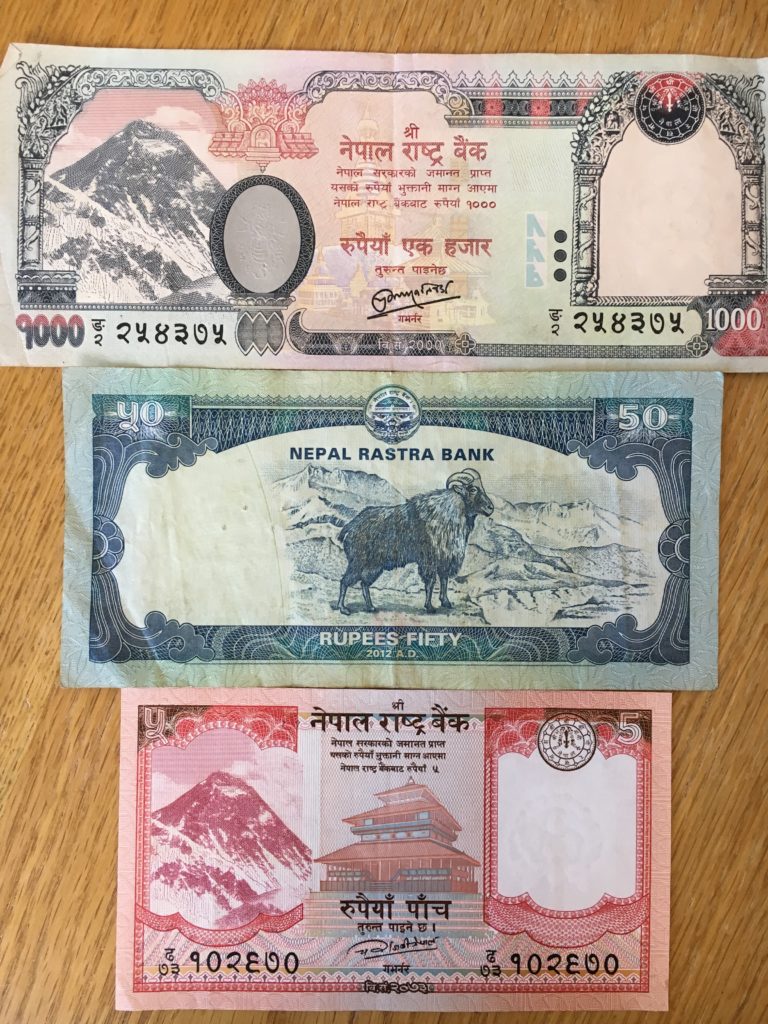 Bring all $600-$700 USD to spend on the Three Passes Trek with you, when you leave Kathmandu!
Namche Bazaar has several ATMs where you can stock up on rupees, but there's a chance that they're empty or not working. ATMs all turn off during frequent power outages. The ATM I used there had a 10,000 rupee ($100) withdrawal maximum, with a 500 rupee ($5) withdrawal charge.
Some sources say there is an ATM in Lukla, but when we asked around, we were told there isn't one, only a bank for local account holders.
Packing List for the Three Passes Trek and Everest Base Camp
I've divided this section into four different parts: pharmacy, clothing, gear, and other.
One of many things that I hope you take away from this Three Passes Trek Guide: the goal is to bring as little as possible with you on the trek because you'll be carrying it all! 
Pharmacy:
Feminine products
16x Cough drops (wish I had brought more!)
10x Band-Aids
5x Rehydration Salts (Awful taste but really important)
1x Diamox strip (I didn't use these but many people do)
1x Paracetamol strip
50x Water purification tablets (I used about 40 of these)
Sunscreen
Deodorant
Toothbrush/toothpaste
Packet of baby wipes
Lotion
Razor
Hair ties
Toilet Paper
Clothing:
1x long-sleeved under armour
1x long-sleeved heat-tech shirt
1x long heat-tech leggings
1x thick under armor sweatpants
1x T-shirt
6x underwear
2x bras
3x thick trekking socks
1x normal socks
1x fleece
1x Goretex thick North Face jacket
1x thin windbreaker
1x thin gloves
1x thick gloves
1x hat
1x neck wrap
Gear:
1x 55-65L backpack
1 pair of mid hiking boots
1 pair of Chacos/trekking sandals
1 pair of trekking poles
1 pair of microspikes
Other:
Battery pack!
Phone + charger
GoPro + charger
Kindle
Flashlight or Headlamp
Optional to bring:
Small day bag
Knee braces (450 rupees from a pharmacy in Kathmandu – these saved my life!)
Flip flops
Dry shampoo
Honey
Snickers bars
Sunglasses
Ear plugs
Many hostels in Kathmandu will let you keep you luggage at their hostel for a small daily fee, or even for free (I left three bags in Kathmandu's Shantipur Hostel) There may be some guesthouses in Namche Bazaar that have this service for a fee as well. It's important to take advantage of this, or else you'll have a hell of a time hiking at 5500m with a 15kg bag.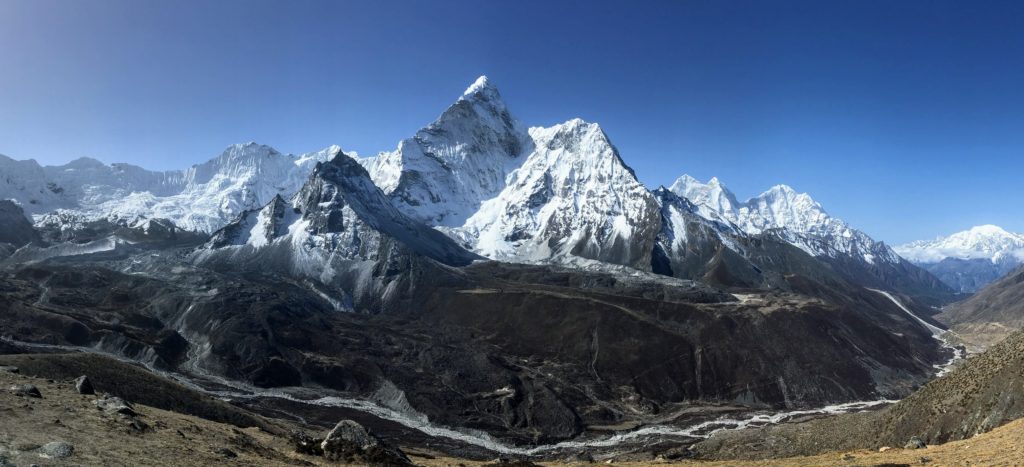 Safety Tips for Trekking the Three Passes Trek Unguided
This might be the most important section of this Three Passes Trekking Guide. The Three Passes and Everest Base Camp trek is a dangerous trek that people have died on! It should not be underestimated, especially when hiking without a guide.
Always be attentive of the weather when you're about to set out on a long trekking day. Better to postpone hiking a day than to be stuck in a snowstorm.
Start your pass days early, and expect it to take from 8-12 hours guesthouse to guesthouse including breaks.
Use maps.me for a pretty accurate trail map to follow.
When you're going over the glaciers, especially the Khumbu glacier after Kongma La, STAY ON THE TRAIL. 
Keep an eye out for rock cairns ahead of you.
Listen to your body when you're gaining altitude.
Enjoy a month in the beautiful Himalaya mountain range and make the most out of your trip to Nepal by hiking the Three Passes Trek and Everest Base Camp without a guide.
The physical difficulty combined with amazing views will make this trip one of the most rewarding and amazing experiences of your life. If this Three Passes Trekking Guide was useful, or if you have any other tips or questions, leave them in the comments below! 
Pin this TPT guide for later: