Budget travelers will rejoice at the cost of backpacking Nepal. You don't even need to be on a shoestring budget to save some major coin while traveling this beautiful country. Out of the dozens of countries I've travelled to, the cost per day to backpack in Nepal was easily one of the lowest. 
So how expensive is Nepal? About as cheap as it can get if you're traveling on a budget. In this post I'll outline a range of Nepal travel budgets, and breakdown the cost of travel in Nepal for backpackers.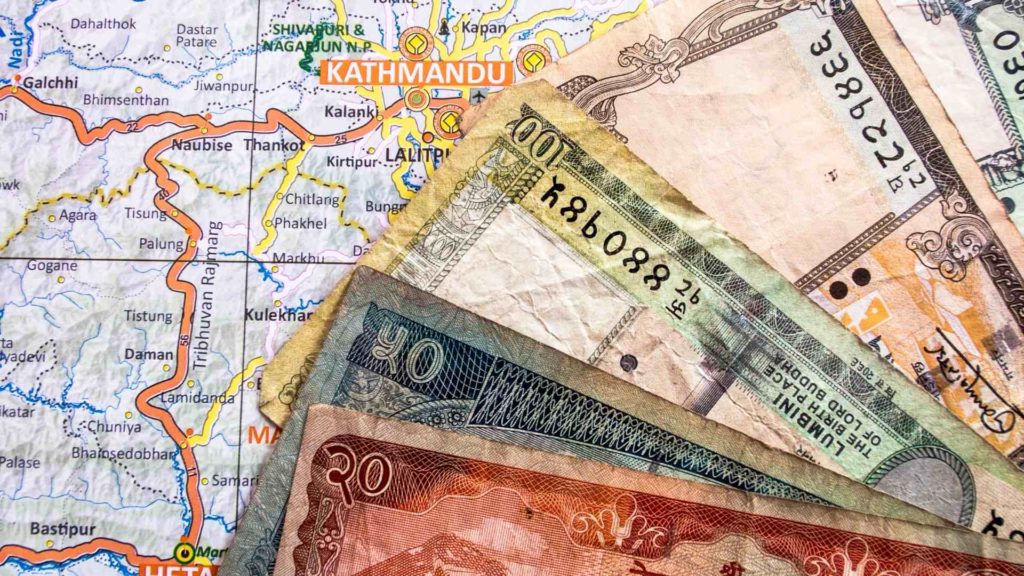 Here's a quick example of a Nepal backpacking budget breakdown:
Dorm room at Shantipur hostel (my favorite rooftop in Kathmandu!) – $2 USD per night ($5 for a private room)

One Western-style breakfast at Shantipur's in-house restaurant – $3 USD

Two meals at hole-in-the-wall local Nepali restaurants (momo dumplings, anyone?) – $1 each, $2 USD total

Exploring Thamel on foot, enjoying rooftop views of Kathmandu, charging electronics at the hostel – free!
Your daily Nepal backpacking budget for the above scenario is a whopping $7 USD per day! Spending three weeks chilling in Kathmandu? That's a budget of $147 USD for three weeks. Even rounding up the cost to $200 USD to include local sightseeing and transportation costs (maybe a few beers) shows just how inexpensive the cost of travel in Nepal really is.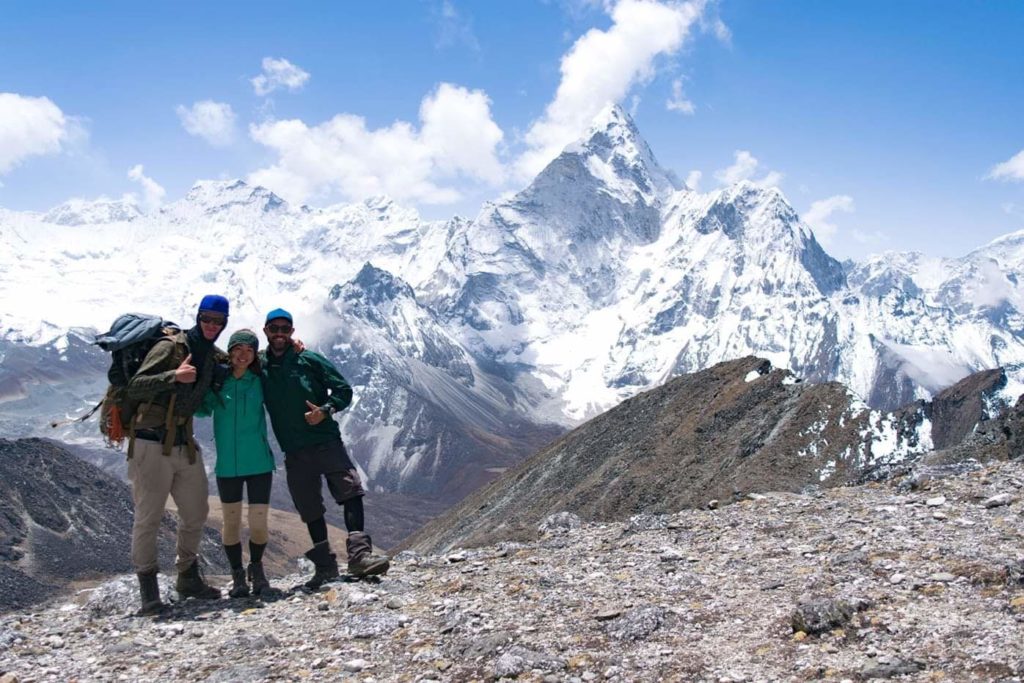 In the sections below I breakdown a range of backpacking budgets for Nepal, to help travelers create their own Nepal travel budget. If a shoestring budget is not your travel style, take into account the higher end of the Nepal travel expenses I've listed. 
Where possible, I've listed the costs of my personal experience while backpacking Nepal on a budget. No matter your style, the cost of travel in Nepal is very backpacker-friendly!
Interested in the cost of trekking in Nepal? 
I kept that breakdown separate from this Nepal backpacking budget. See a breakdown of trekking budgets in my Ultimate Guide to the Annapurna Circuit and my guide to Everest Base Camp and the Three Passes Trek.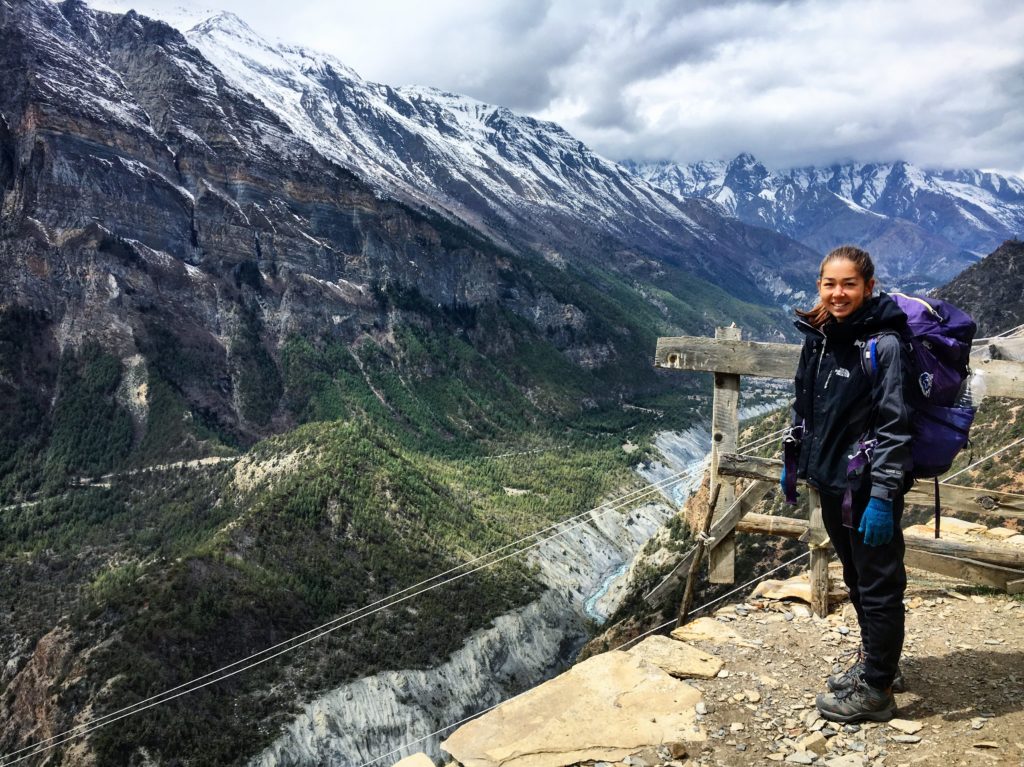 Skip to Nepal backpacking budget section:
Before arriving in Nepal, check the latest visa and entry requirements for the country on the Nepali Department of Immigration website.
There are three different tourist visas on arrival that you can purchase in Kathmandu:
15 days for $30 USD

30 days for $50 USD

90 days for $125 USD
Visas can be purchased in your home country ahead of arrival in Nepal, or purchased at Kathmandu's Tribhuvan International Airport. If you choose the latter, be sure to bring exact change!
Check out my backpacker's guide to Kathmandu to read about what to expect at the Kathmandu airport.
Visa requirements for Nepal can be found for all countries at iVisa.  
Accommodation Costs in Nepal
Staying in cheap backpacker hostels is a great way to keep your Nepal backpacking budget low. Both Kathmandu and Pokhara, the two main backpacker hubs in Nepal, have some amazing, cheap accommodation options.
Backpackers in Nepal can expect to pay from $2-$6 USD per night for a bed in a dorm room, and about double that for private rooms.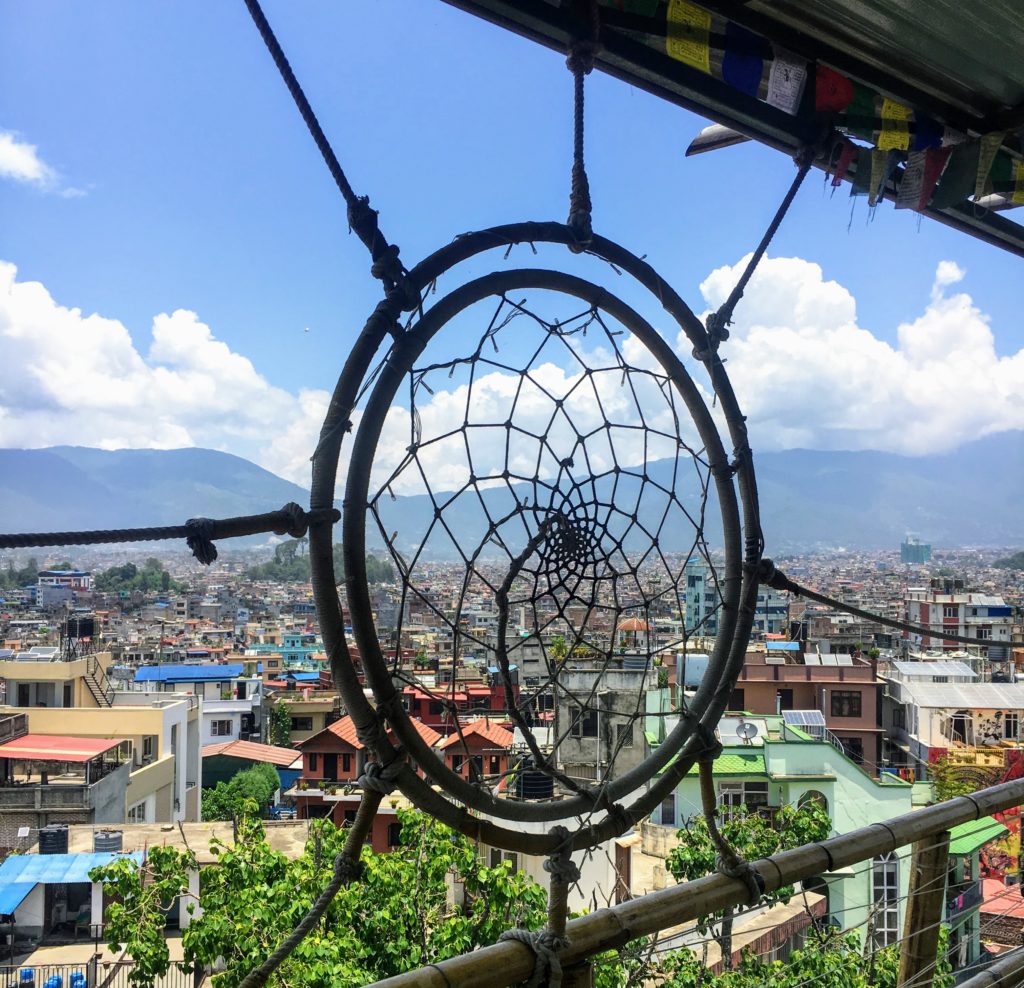 Here are my favorite backpacker hostels in Kathmandu, perfect for meeting other budget backpackers and finding trekking buddies too!
Staying in a luxurious hotel in Nepal doesn't have to break your travel budget either. Check out these luxurious hotel options in Thamel and treat-yo-self after a long Himalayan hike with a bit of budget-friendly luxury:
Oasis Kathmandu – Plush private rooms with private bathrooms from $24 per night. Breakfast included! 
Himalayan Ghar – This aparthotel has super spacious rooms with kitchenettes and TV's from $34 per night.
Apsara Boutique Hotel – This boutique hotel has a spacious garden despite being centrally located in Thamel. Rooms with mountain or city views from $36 per night.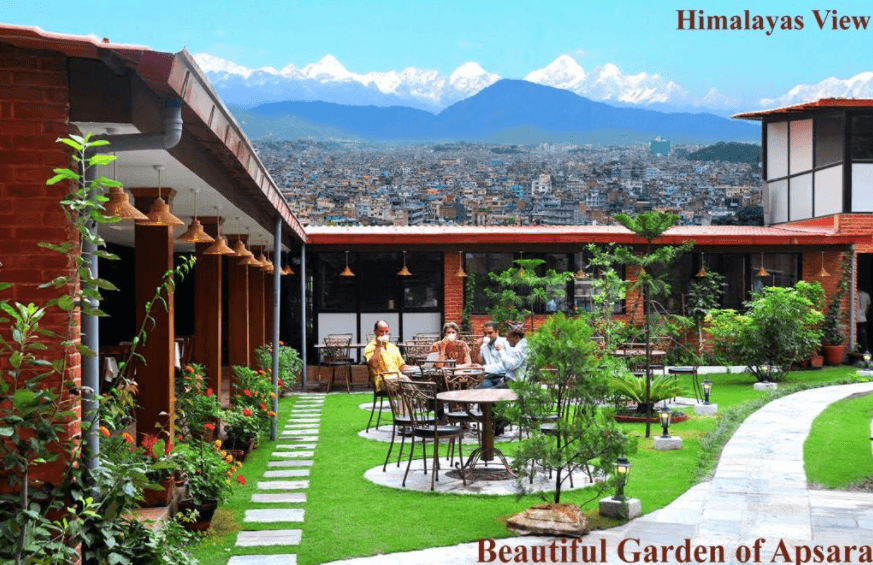 Food & Drink budget for Nepal
Eating like a local in Nepal is another way to reduce your cost of backpacking in Nepal.
Local restaurants all over Kathmandu and Pokhara serve Nepali classic meals for 100 rupees or $1 USD per plate. The most common meals for $1 USD are fried noodles, fried rice, thukpa (sherpa soup) or momo dumplings. Dal baht, one of my favorite vegetarian dishes from around the world, is a Nepali staple dish served with unlimited refills. It can cost anywhere from $1.50-$3 USD per plate but will leave you full for the rest of the day.
Restaurants serving Westernized food such as popular Israeli OR2K, or crepe cafes in Pokhara could cost you $3-$5 for a large meal. The staple Thamel pizza restaurants like Fire and Ice Pizzeria may set you back $5-$8 for a meal.
Standard drinks like tea and coffee won't cost you more than $1-$2 USD in restaurants in Nepal. If going out for beers and cocktails though, expect to pay $4-$7 USD per drink.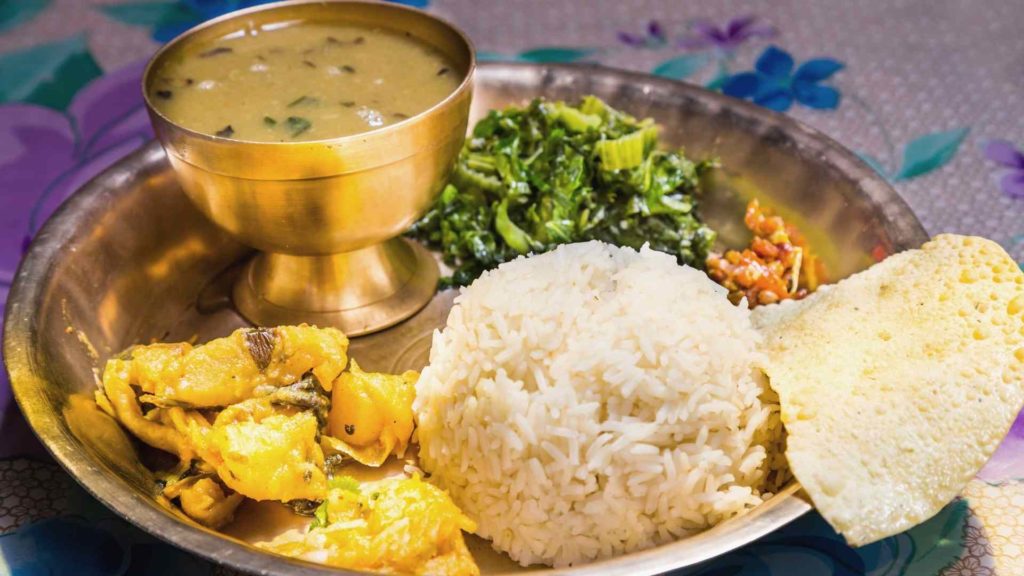 Transportation costs in Nepal
The most common way to get around Nepal is to take local busses and minivans. Local Nepalis and tourists alike take busses that criss-cross Nepal, connecting villages to the big cities. Within the cities, you can also take minivans or private taxis to different transport hubs.
Bus/Minivan: A 1-4 hour bus or minivan ride can cost $2-$5 USD, and overnight busses may cost $10-$15 USD.
Jeep: To get to trekking starting points from Kathmandu such as Besisahar (for the Annapurna Circuit), or Salleri (for Everest Base Camp), a seat in a jeep can cost $20 USD.
Scooter Rental: In Pokhara, you can rent a scooter for 500-600 rupees, or $5-$6 USD per day
Taxi: Taxi rides around Kathmandu usually cost around $2-$5 USD per ride. A taxi from the airport to Thamel, Kathmandu costs a standard 750 rupees ($7.50 USD). At night, drivers may charge $1-$2 extra.
Flights: If you're trekking in the Everest region, many backpackers opt to take a flight from Kathmandu to Lukla, which costs about $150 USD each way. If traveling Nepal on a tighter budget, consider taking a jeep to Salleri or bus to Jiri and hiking a few extra days to reach Lukla. More about that in my 20 Things To Know Before Hiking To Everest Base Camp.
Traveling slow using busses and local minivans instead of paying for private transport and flights will reduce your Nepal travel expenses. I recommend budgeting $10-$15 per week for transport while in Nepal, if trying to backpack Nepal on a budget. If you plan to take taxis and private transport often, budget about $20 per week. 
If flying to Lukla to start Nepal's Everest Base Camp hike, that's another $300 USD to add to your Nepal travel budget.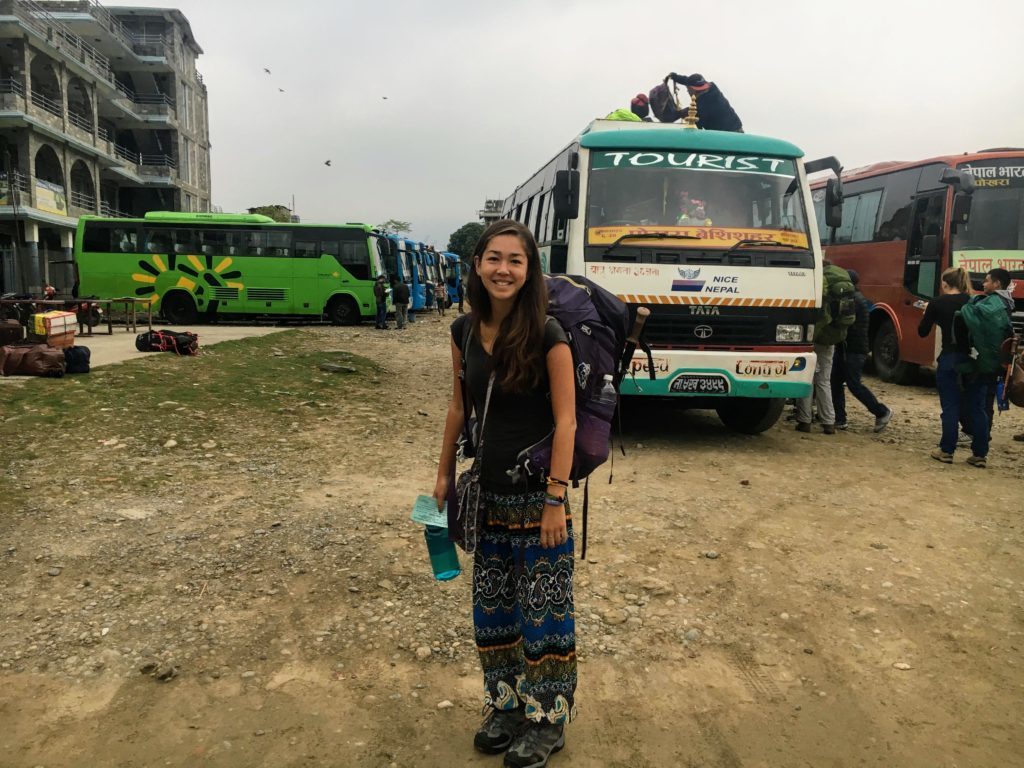 Tours & Activities costs in Nepal
The best way to spend your time backpacking in Nepal is to TREK!  For budget breakdowns of trekking the Annapurna Circuit or the Three Passes Trek + Everest Base Camp, check out my other blog posts about Nepal.
The budgets above are for trekking unguided. If you prefer to join a group to embark on a Nepali trek, they're easy to book online ahead of time. 
Check out this tour on sale for $790 from Klook headed to Everest Base Camp, or the Annapurna Circuit on sale for $435! 
Options from GetYourGuide start at $1000 USD per person for a 14-day trek to EBC.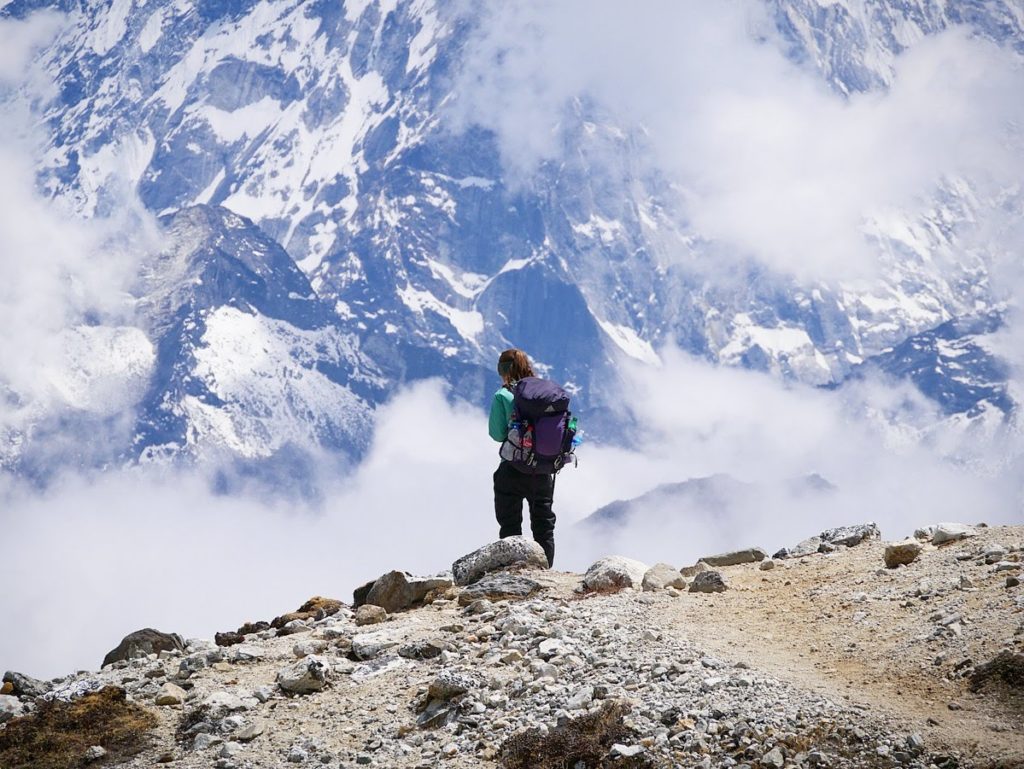 Other tours & activities that should be accounted for in your Nepal travel budget are:
Monkey Temple in Kathmandu – 200 rupees, ($2 USD)

Durbar Square – ~$15 USD entry fee

Bhaktapur day-trip – $30 USD tour or DIY for ~$10 USD transport plus $15 USD entry fee
Most hostels will help backpackers book these activities at their in-house tour desk. 
If you have room in your Nepal travel budget for some more epic adventures, check out these popular activities for backpackers: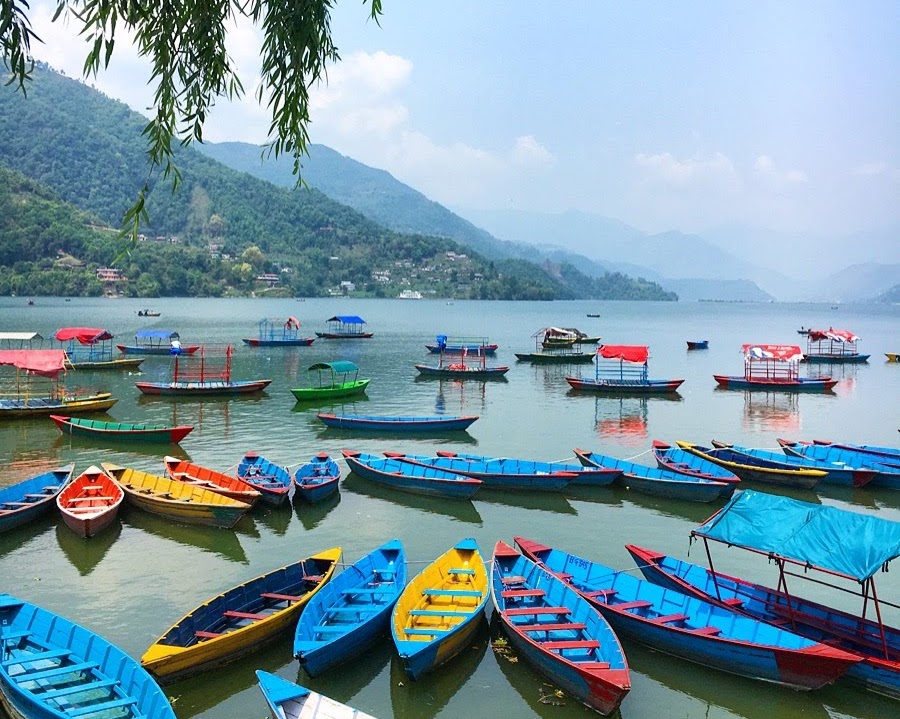 OTHER Nepal travel expenses
SIM card: I purchased a SIM card upon arrival in Nepal from NCell, which I found useful to have especially for navigation. Updated costs depending on duration and GB size can be found on Klook (for example, a 30-day SIM for 16 GB costs only $20 USD. Nothing that will break the bank!) 
Trekking permits: The cost of trekking in Nepal includes purchasing trekking permits, which can range from $40-$50 USD.
Trekking clothes: Purchasing necessary trekking gear in Nepal could set you back $100 USD or more depending on what you need. Kathmandu has endless hiking gear stores though, so it could be cheaper to purchase cold weather gear, boots, and hiking poles after arriving in Nepal.
Gift shopping: The Thamel neighborhood in Kathmandu has plenty of gift shops to satisfy any souvenir shopping needs. A budget of $2-$3 USD for each person you need to gift shop for is plenty, considering you can haggle prices down when buying things like prayer flags, meditation bowls, jewelry, or incense.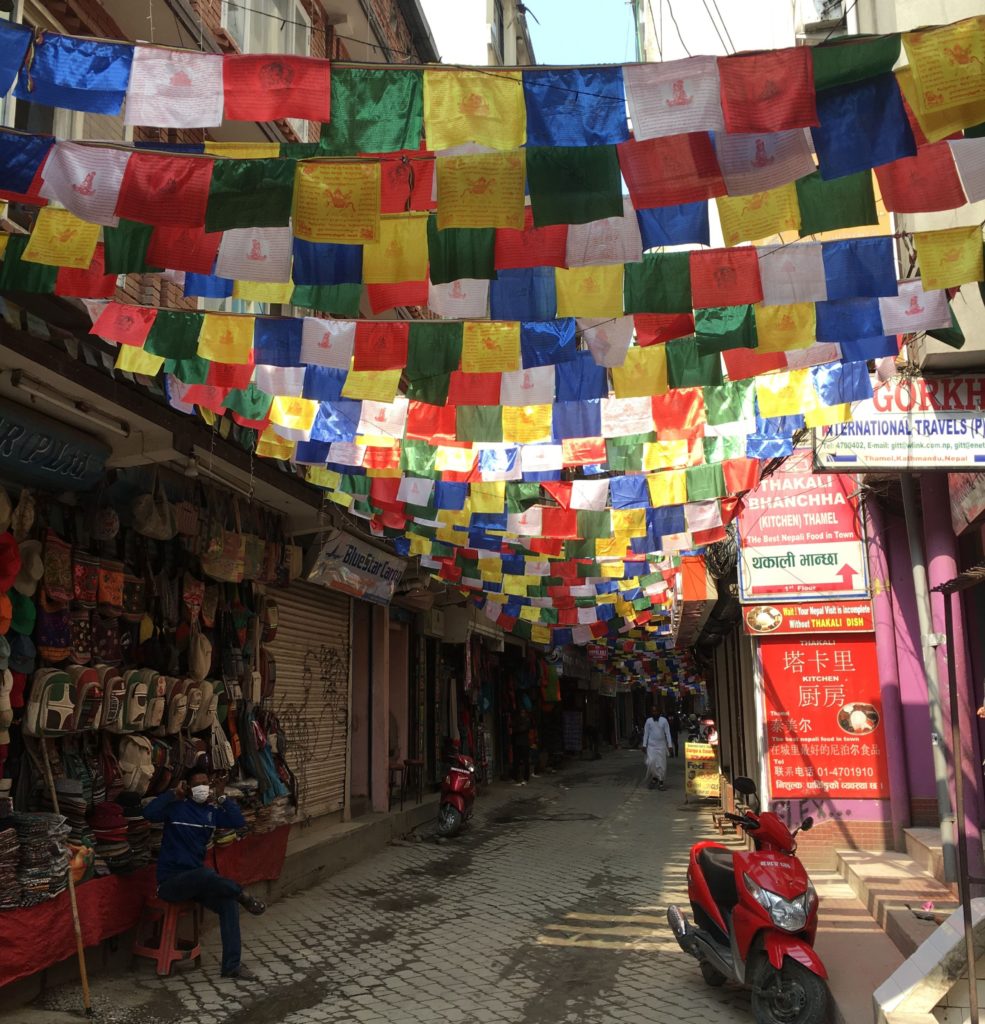 Summary - Total Cost of Backpacking Nepal
Excluding trekking costs, below is a breakdown of my Nepal travel budget for backpackers (in USD):
Visas – $30, $50, or $120 USD depending on duration of stay

Accommodation – $15-$20 per week

Food & Drink – $25-$50 per week

Transportation – $10-$15 per week, excluding flights to Lukla

Tours & Activities – $25 per week

Other expenses – $20 for SIM card (optional), $20 for shopping
Ranges of daily budgets for backpacking in Nepal
For different types of backpackers here's a summary of my Nepal backpacking budget (in USD)
Shoestring budget: $7-$10 per day, $70 per week
Standard backpacking budget: $15-$20 per day, $140 per week
Flashpacker budget (including some luxuries): $25-$35 per day, $245 per week
Remember to add to your Nepal backpacking budget the one-time costs of visas, trekking permits (if needed), key tourist activities, and a SIM card.
For more Nepal travel inspiration and more Nepal travel budget information, check out my other posts about Nepal!
Save this Nepal Travel Budget - Pin this post!