Western River Cove is one of Kangaroo Island's best kept secrets. This beautiful beach, camping area, and snorkeling and fishing spot is tucked away between the jagged cliffs of north western Kangaroo Island. My guide to Western River Cove will tell you all you need to know before visiting this Kangaroo Island gem. 
Learn why this secluded beach and campsite is a perfect place to stay and explore. Western River Cove is a must-visit location during your Adelaide and Kangaroo Island itinerary!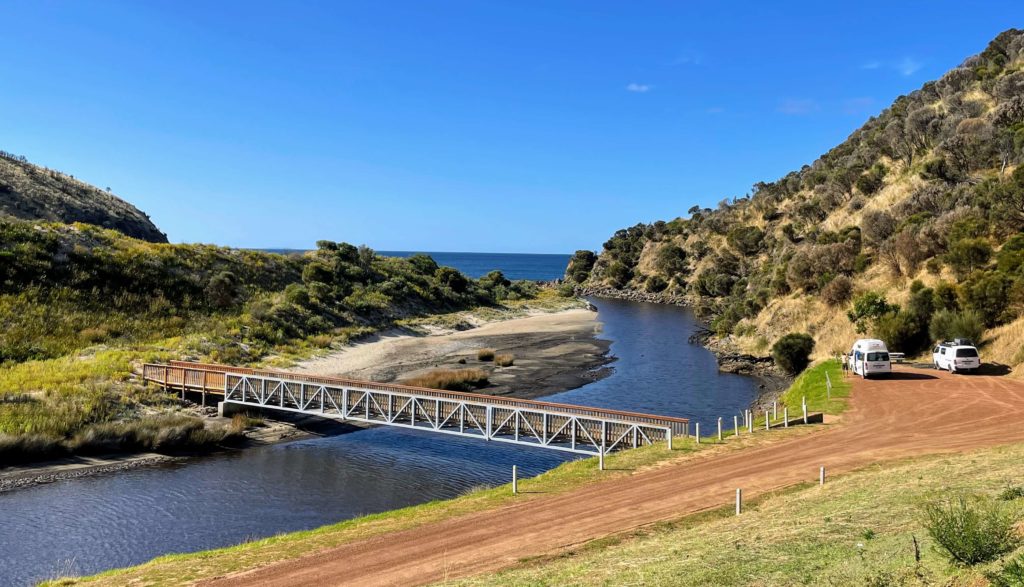 Getting to Western River Cove
Western River Cove (also called Western River Bay) are located on the northern coast of Kangaroo Island in South Australia. It's located to the west of Stokes Bay and Snelling Beach and east of Cape Borda.
From Playford Highway, the paved road that cuts through the center of Kangaroo Island, turn off onto a red dirt road at Gosse. Drive 16 km over bumpy dirt roads, through eucalyptus forests and farmland that Kangaroo Island is famous for.
A sign partway to Western River Cove warns that due to steep downhills (and sharp corners), cars pulling caravans behind them are not permitted.
After a final descent that passes next to a lush green residential lawn, stay to the left hand side of the fork in the road to reach Western River Cove. In addition to the camping spots, Western River has a day-use parking area for visitors not staying overnight.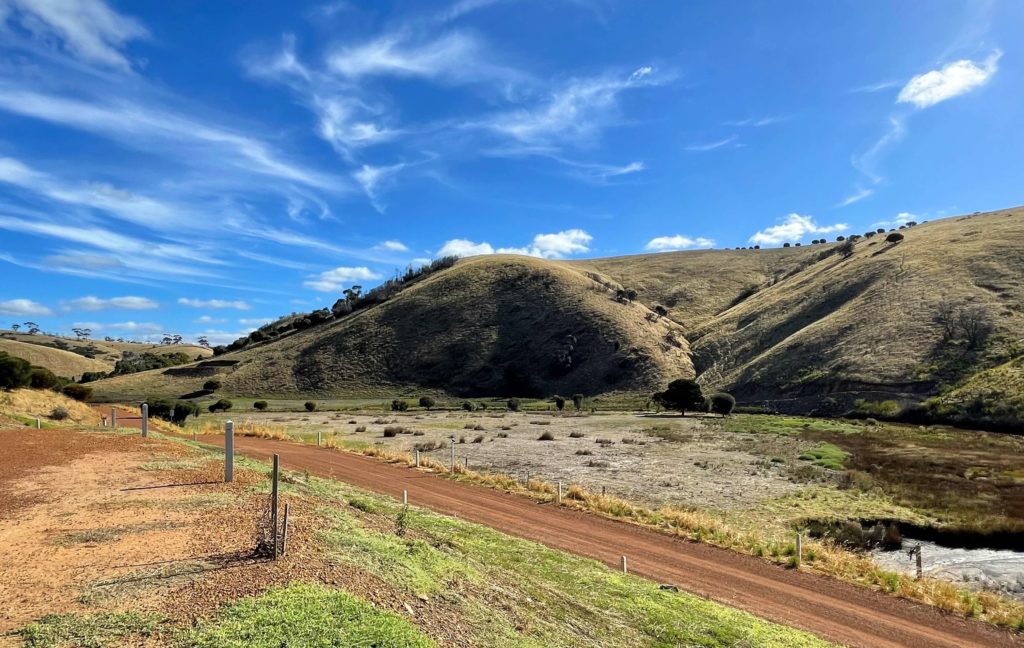 Camping at Western River Cove
Kangaroo Island Council camping facilities are available at Western River Cove. The 3-4 spots available are claimed on a first-come, first-served basis.
Payments for staying at the Western River Campsite are made via an honor system. Visitors place cash and coins in an envelope, tear off a tag to place on your car dashboard, and drop the rest in the "pay here" box to self-register.
The cost for an un-powered site is $22.50 AUD ($16 USD) per night.
For such a remote location, Western River Campsite has some great facilities, listed below.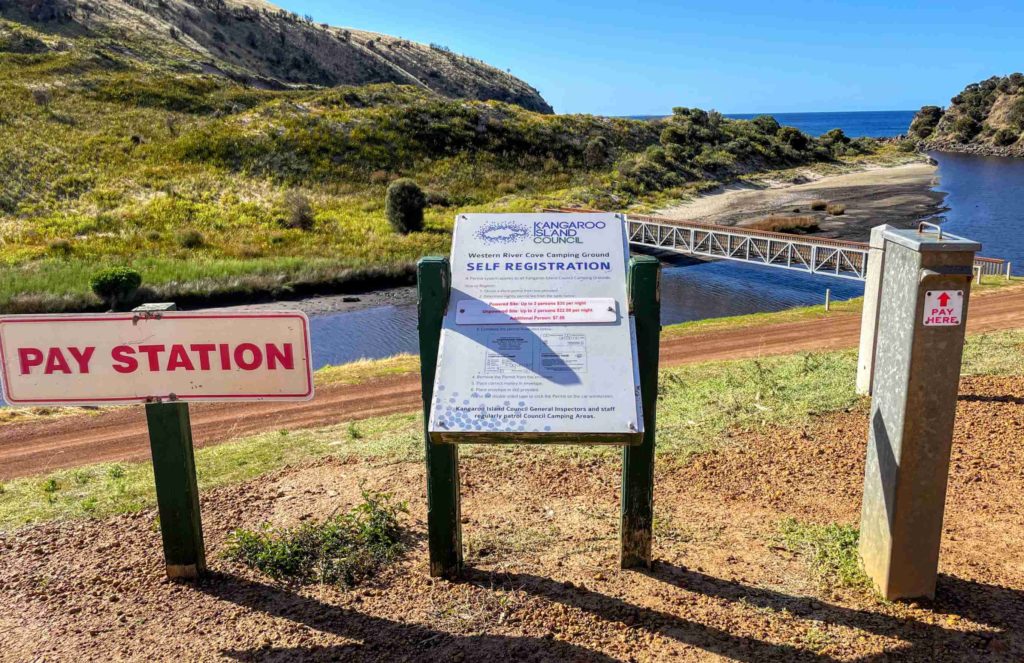 Western River Cove Facilities
Common at Kangaroo Island Council camping spots are a handful of basic facilities that are perfect for overnight stays.
Western River Cove's camping spots have a bathroom and a number of picnic tables, including covered areas where you could take shelter from rain. The large covered picnic area has a free BBQ facility, as well as an AED defibrillator kit in case of emergencies.
The bathroom facilities have a connected gray water tank where you can rinse off your feet or some dirty dishes at a low-hanging spout.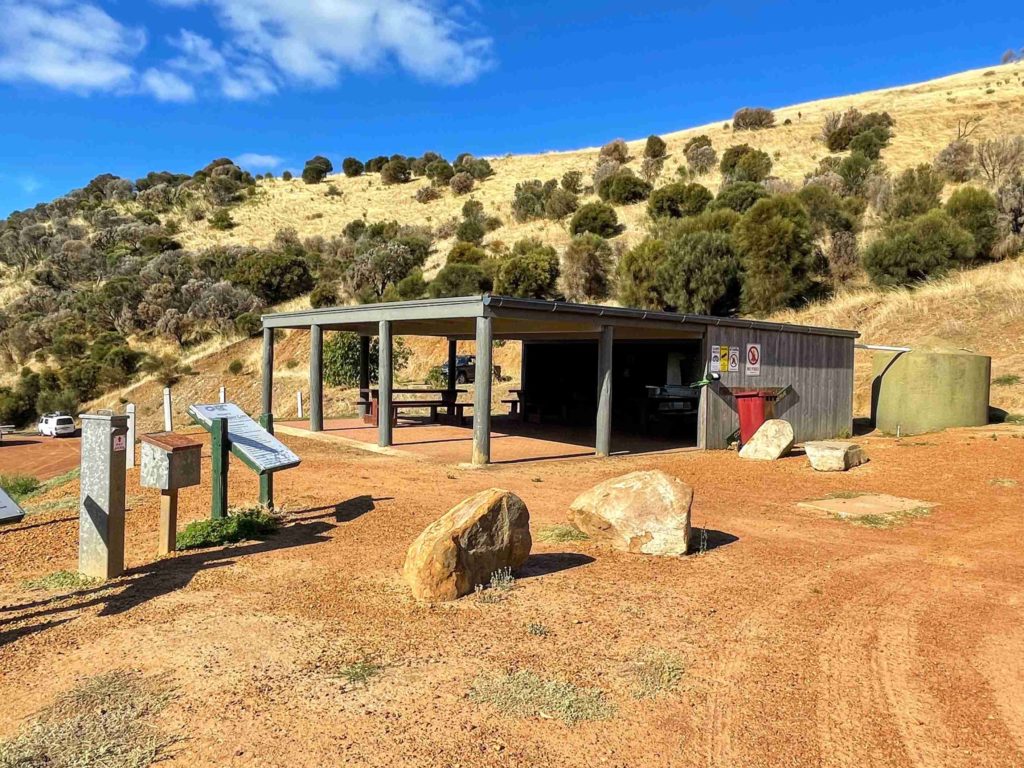 Beach at Western River Cove
The primary sandy beach at Western River Cove is reached from the campground by crossing over a bridge and walking a short distance along the river. Depending on recent rainfall and the size of the river, walking along this path to the beach could be easier said than done!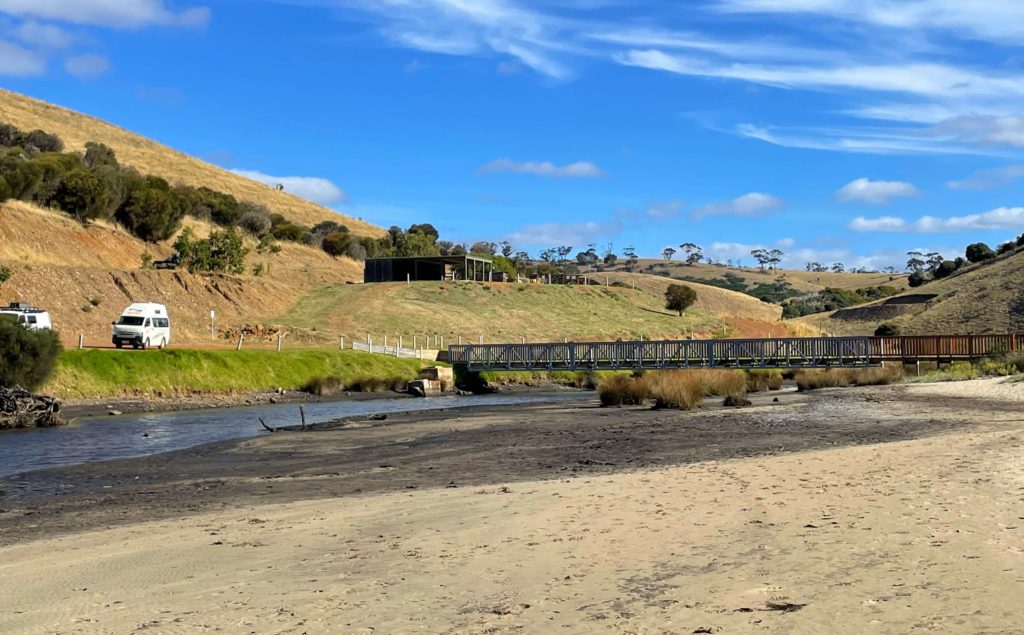 The Western River Cove beach is a wide, flat sand bank nestled between two rocky cliffs. The water is immensely clean and clear, making this a perfect spot for snorkeling and fishing. Although shallow at the beginning, past the sheltered section of the beach there is a big underwater drop-off! 
This part of the island was less affected by the 2020 Kangaroo Island bushfires, however there were some bits of charred foliage on the beach. 
A freshwater river runs into the ocean near the rocky section of the beach.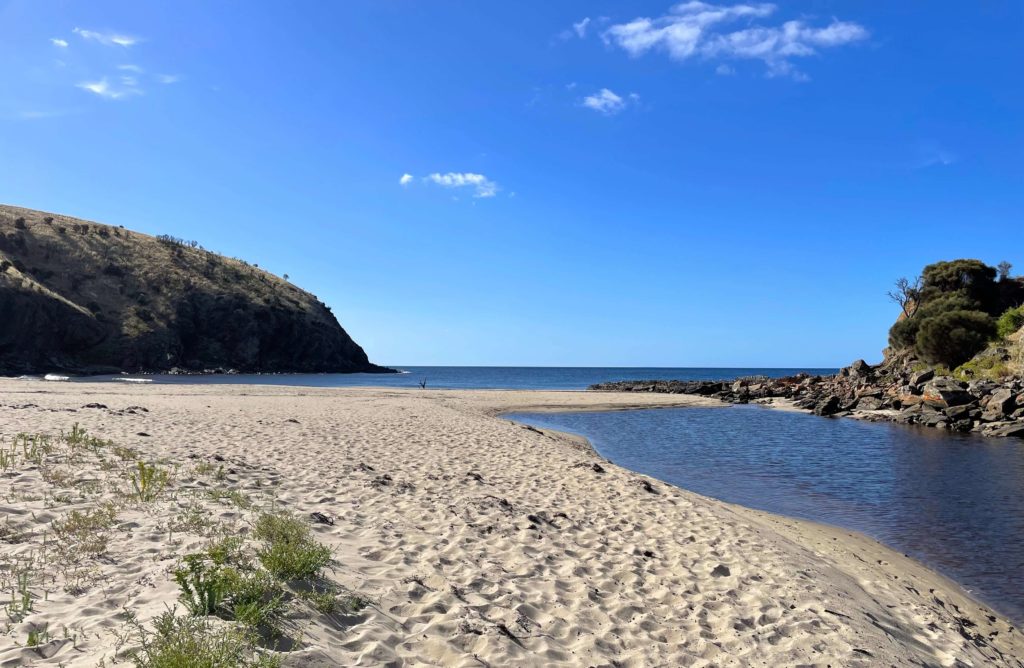 The other half of Western River Cove is a rocky beach, which juts out into the ocean and wraps around the cliffs. Because this "beach" lets you stand close to the water's edge even in deep sections, it's known as a great fishing spot.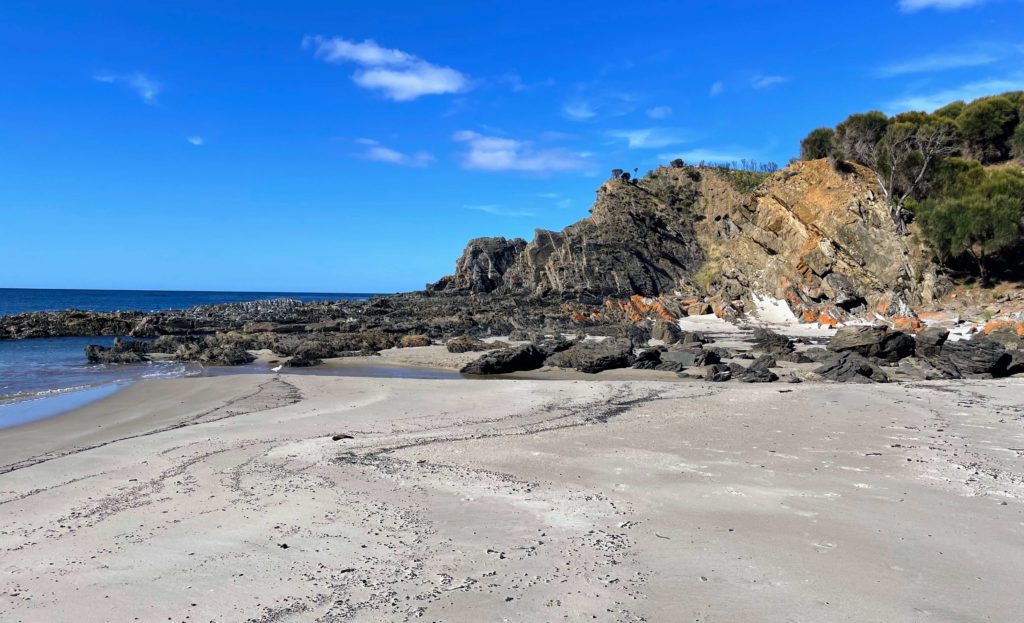 Things to do at Western River Cove
So what are some things to do at Western River Cove besides hanging out at the beach, having a BBQ and chilling at your campsite? Here are some popular activities and ways for you to spend your time at Western River Cove on Kangaroo Island:
Snorkeling – Western River Cove is one of the best places to snorkel on Kangaroo Island according to the Kangaroo Island snorkeling map. The clear ocean waters are well-protected in the bay
Fishing and Spearfishing – Western River Cove is a secret spot for locals to come and catch a meal. When I visited Western Cove Bay, there were two locals
Bushwalk – a number of short trails, including a natural staircase built into the rock face, can be explored while spending time at Western River Cove. The Cove is also the start to
Spot Wildlife – During my visit to Western River Cove, I saw a whole clan of kangaroos hanging out at the base of the road to the campground. Due to the freshwater river and lush green lawns at this location, it's a favorite place for Kangaroo Island's furry locals (kangaroos, wallabies, and others).
Once you've had your fill of Western River Cove on the north side of Kangaroo Island, be sure to visit Flinders Chase National Park! This park is my favorite location on Kangaroo Island and a great place to explore the opposite side of the island. 
Be sure to also check out my 20 must-read tips before visiting Kangaroo Island. One of them includes visited off-the-beaten-path destinations just like this one! 
Are You Prepared For Your Next Travelventures?