Kangaroo Island in South Australia is one of Australia's natural wonders and national treasures. It deserves a spot on every Australia bucket list, especially on any South Australia itinerary. These 20 tips for visiting Kangaroo Island will ensure your travels will go off without a hitch! 
This list includes tips for how to prepare for your visit and how to save money during your travels. It also includes tips for camping on Kangaroo Island, best spots to visit, and overall how to make the most of your Kangaroo Island adventure.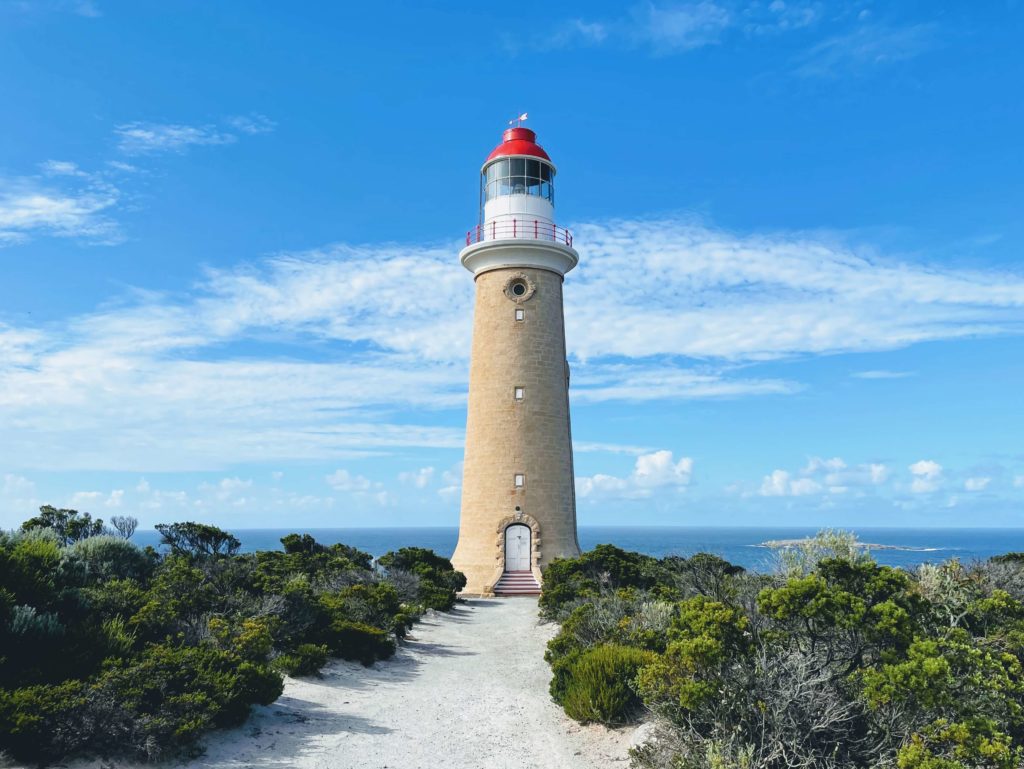 Tips for preparing to visit Kangaroo Island
Here are a few tips to consider before you even visit Kangaroo Island. To make your trip hassle-free, be sure to do some prep work and research before you leave for South Australia. 
1. Book your Sealink ferry tickets ahead of time
Once you've locked in your travel dates to Adelaide and Kangaroo Island, book your Sealink ferry tickets! Especially during busy tourist seasons, some of the peak-hour ferries to Kangaroo Island may sell out, especially for bringing vehicles on board. 
The Sealink ferry is the only option to reach Kangaroo Island from mainland South Australia. It departs from Cape Jervis, and arrives in Penneshaw town. The 45-minute ferry is unfortunately known as the most expensive ferry per distance traveled. Don't worry, once you make it to Kangaroo Island it's all worth it!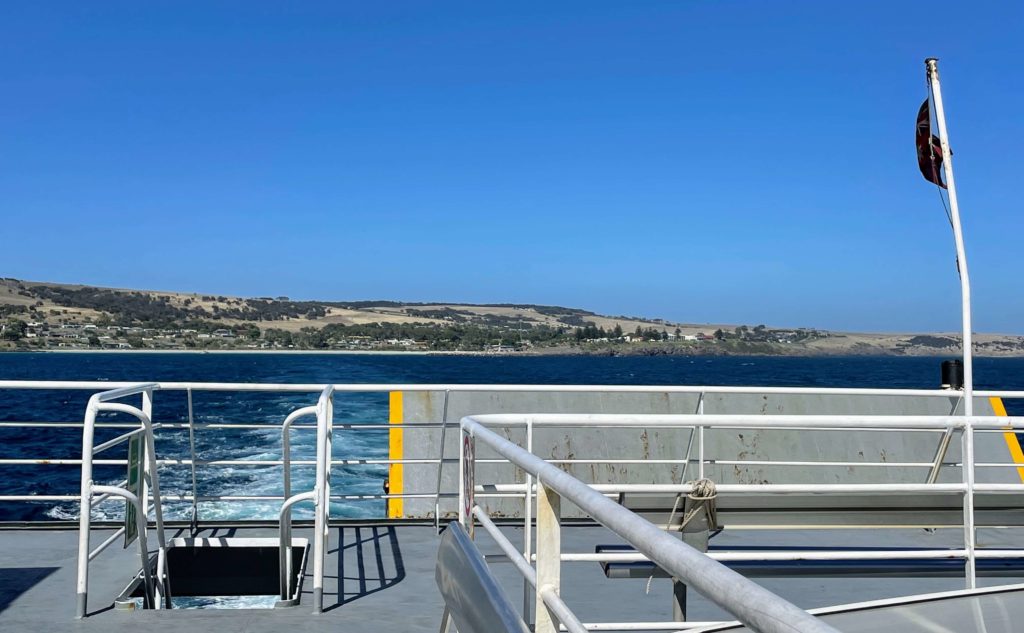 2. Tip for itinerary planning: Kangaroo Island is bigger than you think
Once you've locked in your ferry timings, it's time to start planning where you want to visit on Kangaroo Island! 
One important tip for visiting Kangaroo Island is not to pack too many activities into one day. Many Kangaroo Island highlights of the island are tucked away at the end of long winding roads, at the very ends of the island. 
For example, the must-see Flinders Chase National Park is on the southwestern tip of Kangaroo Island – while Penneshaw, where the ferry terminal is, is on the eastern side. To get to Remarkable Rocks at Flinders Chase from Penneshaw takes 2 whole hours. And that's without any stops along the way to enjoy overlooks, spot wildlife, and check out the beaches. 
For each day you spend on Kangaroo Island, my tip is to schedule only 2-3 activities. This will let you enjoy the slow island life! 
3. Know the limits of your vehicle
Most visitors to Kangaroo Island rent or bring a vehicle in order to get around. Unless you're joining a multi-day tour, it's impossible to see all of the island's highlights without a vehicle.
Kangaroo Island only has a handful of paved roads that cross through the island. Visitors are almost guaranteed to have to drive on dirt, rock, and sandy roads to reach their campsite or other destinations. When booking a rental car or van, or bringing your own, be sure to know the limits of what the vehicle can do. Some sections of Kangaroo Island restrict large caravans and trailers because of how steep the roads are. Other areas are recommended only for 4×4 vehicles or all-wheel drives. 
During our visit to Kangaroo Island, our Apollo rental van (a Toyota Hiace) was able to handle most of the dirt road and hilly sections. I had to floor it sometimes though! 
Tip: consider adding windshield protection insurance to your rental bill as well, because of loose gravel on the dirt roads.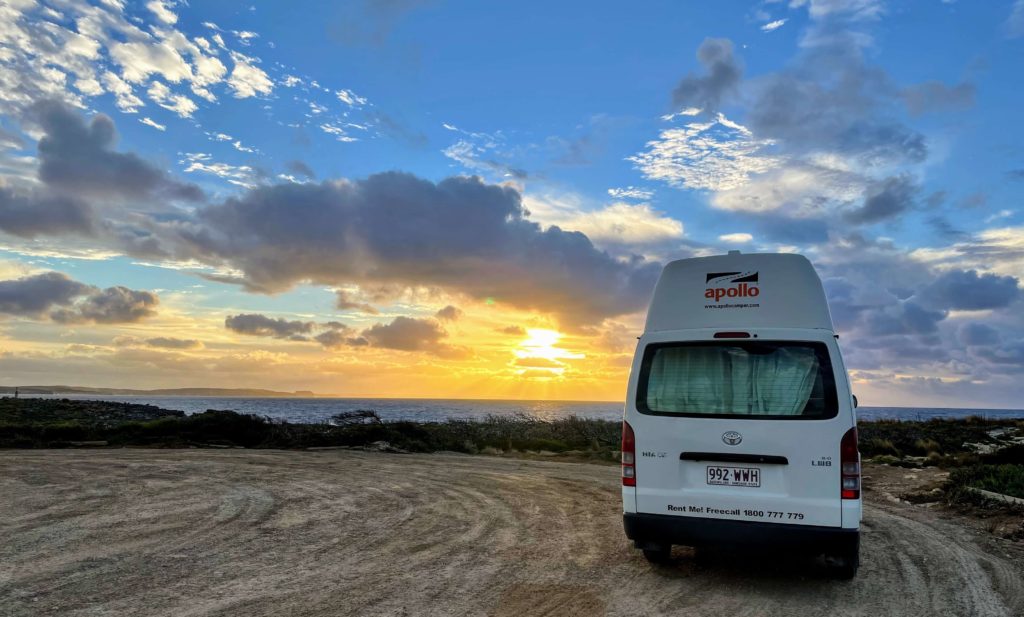 Tips for supporting Kangaroo Island locals
To travel sustainably, it's important to respect the destinations you're visiting. Looking after the places, people, and animals that call your destination home should be top of mind for every traveler. 
This is especially true for Kangaroo Island, which is home to various small local communities, and Australian wildlife of all shapes and sizes. It has a fragile ecosystem that all travelers are asked to respect.
4. Follow Kangaroo Island biosecurity rules
Kangaroo Island is far enough away from the mainland that a separate environment has developed here in isolation. The island doesn't have a variety of pests, diseases, and invasive species that are common throughout the rest of Australia. Strict biosecurity rules are in place to protect the native environment and existing agricultural industries on Kangaroo Island.
To Kangaroo Island you may not:
Bring bees, bee handling equipment or honey products
Bring unwashed or dirty potatoes 
Bring foxes or rabbits. Dogs and cats are ok but they must be registered with the KI council and microchipped.
Read the full list of Kangaroo Island biosecurity considerations here.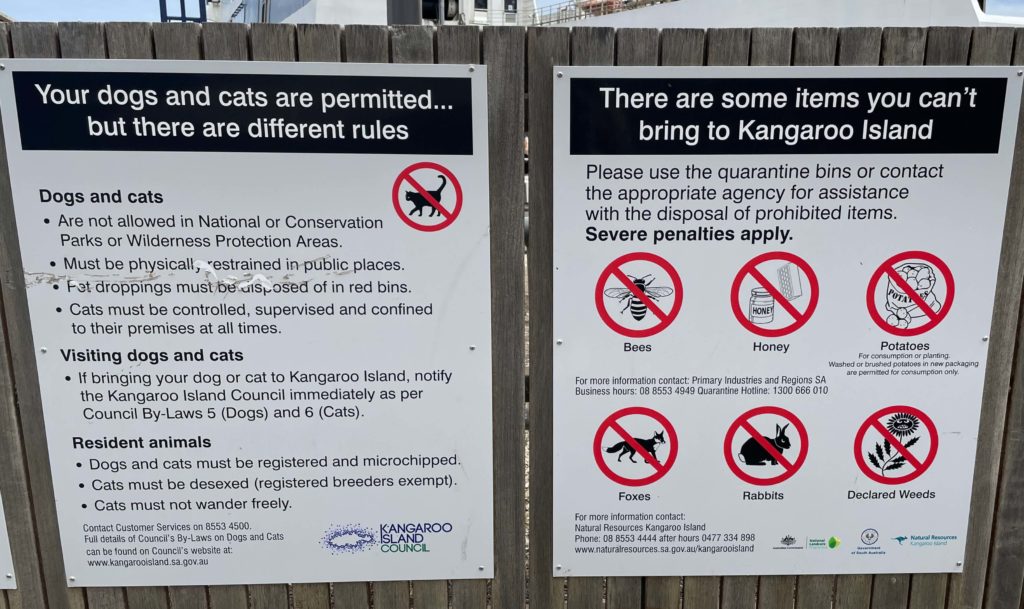 5. Safety tip: Drive with a wildlife spotter
Kangaroo Island's paved roads are long, straight, and barren. It's easy to get lost in music or conversation and pay attention less to the road. DON'T! 
I was devastated by the number of dead animals and carcasses I saw on the side of the road on Kangaroo Island. Be careful when driving on Kangaroo Island, and make the most of this travel tip: use your passengers as wildlife spotters. This will help protect Kangaroo Island wildlife and prevent more roadside deaths.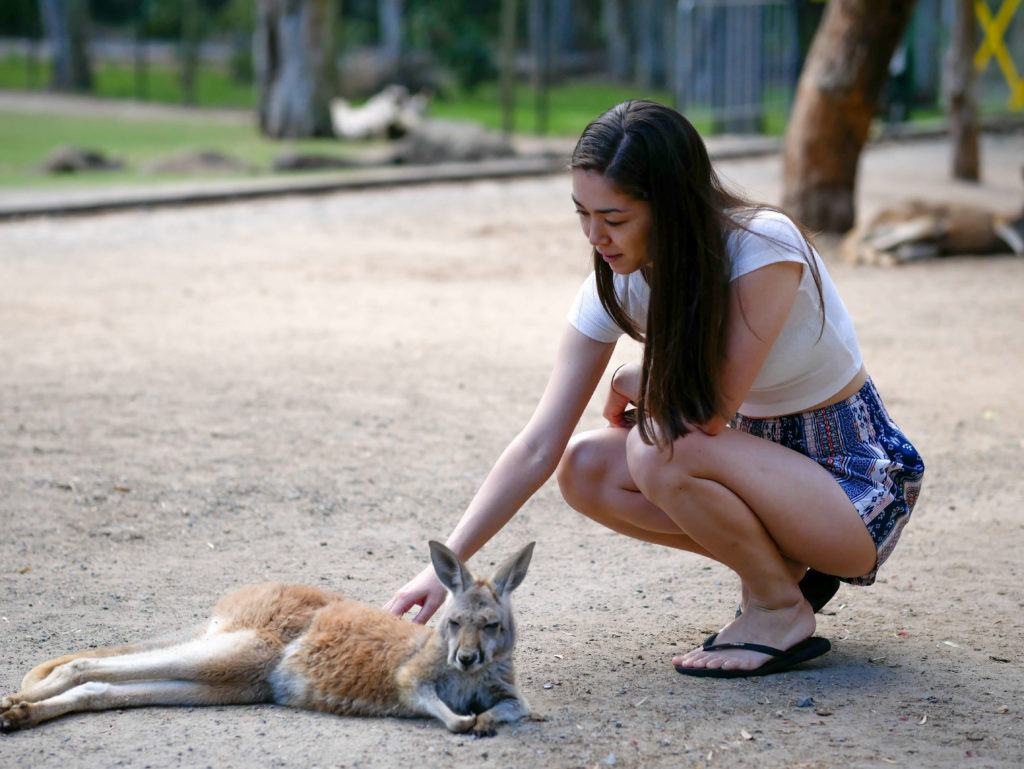 6. Stay on marked trails and boardwalks
Kangaroo Island's environment is in a restorative state after the 2020 bushfires that destroyed much of the island. When visiting areas of Kangaroo Island with trails and boardwalks – be sure to stay on those trails and boardwalks! 
Don't veer off the paths because you may be damaging areas that are trying to rejuvenate. Nature cannot thrive with heavy boots tramping all over it.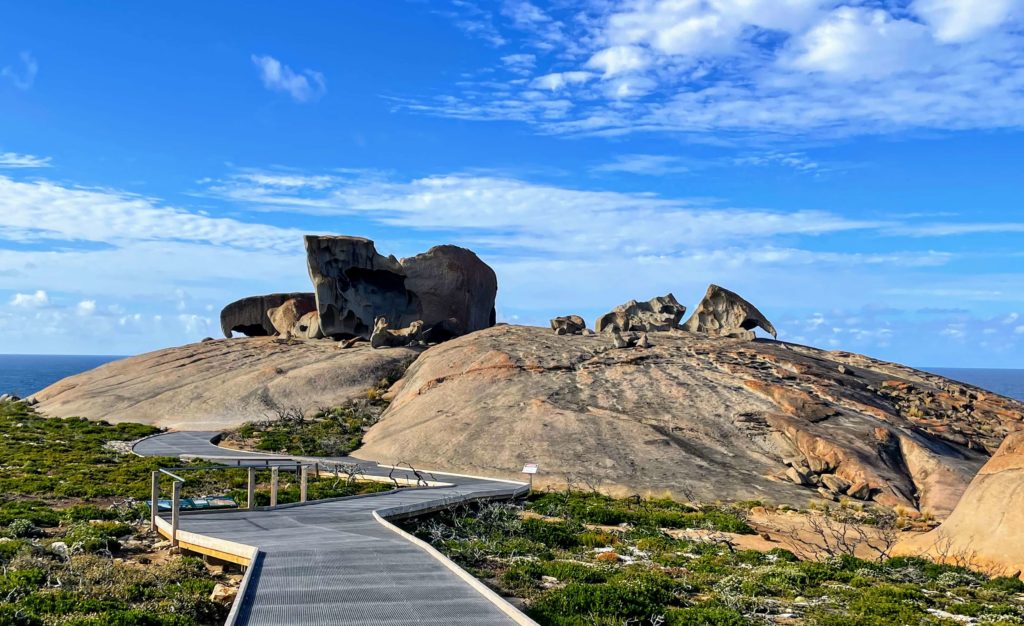 7. Support Kangaroo Island locals
A number of incredible small businesses call Kangaroo Island home. If you want to take home a lovely KI souvenir or have a chat with some locals, check out their stores that are dotted across the island.
Some examples of local KI enterprises include:
Tips for making the most of your Kangaroo Island trip
Kangaroo Island travel tips aren't just about getting there and getting around. These tips will ensure you make the most of your trip by enjoying all the best parts (and hidden gems) of Kangaroo Island. 
8. Get off the beaten path and find hidden gems
Kangaroo Island has dirt roads that lead to every nook and cranny of the island. If you're visiting for a short time and just want to see the highlights, check out my tips below on the must-visit sights of Kangaroo Island. If you have more time to explore though, my tip is to get off-the-beaten-path. 
For example we discovered the peaceful Western River Cove on the north side of Kangaroo Island when going off-the-beaten-track. This beautiful, remote beach has a tiny campground, a resident mob of kangaroos, and feels completely isolated from the more touristy parts of the island.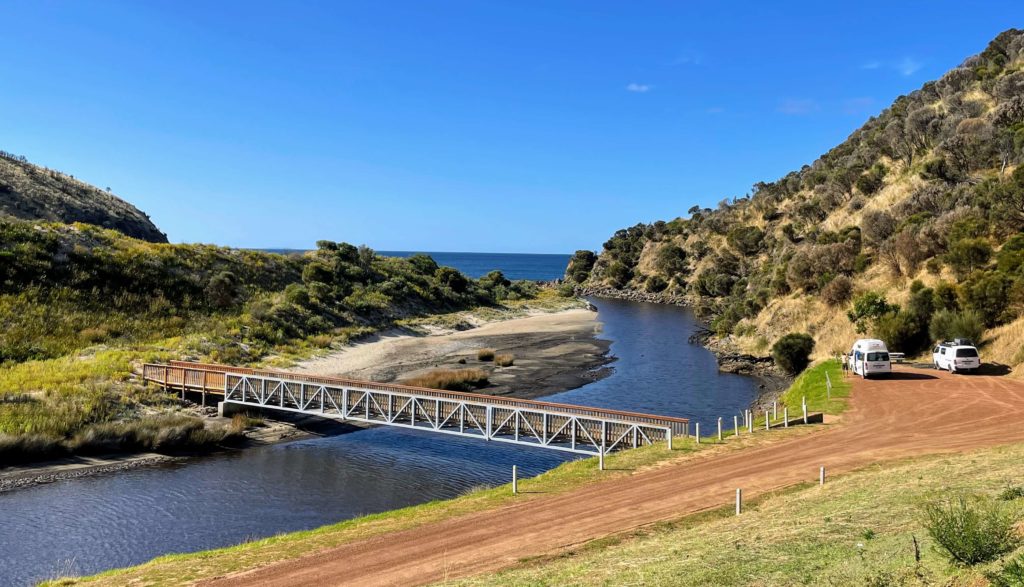 From Caye Caulker, Belize to Thailand and Croatia the "Go Slow" attitude seems to permeate every island around the world. Kangaroo Island in Australia is no exception. Part of enjoying your time on Kangaroo Island is experiencing the island vibes and escaping from the day-to-day stresses.
The natural beauty of the island and its countless spotless beaches makes KI a great place to unwind. Grab a beach towel and relax at Pennington Bay or Bales Beach. Pack a picnic basket and enjoy the views at Remarkable Rocks or Cape Willoughby. Have a flight of wine and brunch at the beautiful Dudley Wines cellar door. 
If you're visiting Kangaroo Island because you're in need of a little self-care, here's a KI travel tip: Remember to go slow. Your trip is only as stressful as you make it.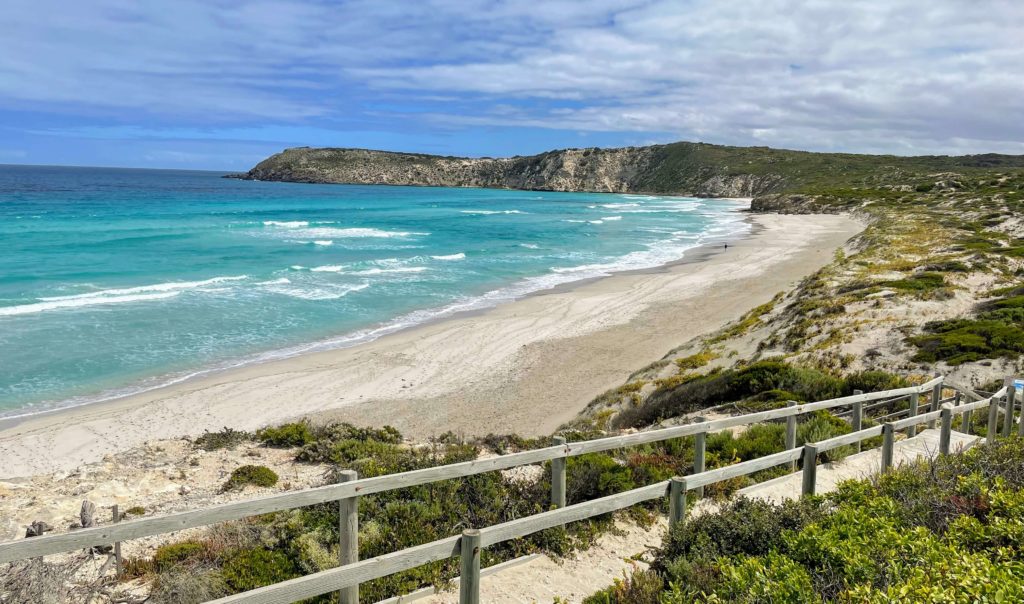 10. Wear lots of sunscreen
The UV index on Kangaroo Island is really high! Even on cloudy days I got sunburned while exploring Kangaroo Island. So here's a tip for visiting Kangaroo Island that can be used on all your travels – be sun smart and wear sunscreen.
Try these Sum Bum sunscreens, which are reef and marine-animal safe (Octinoxate and Oxybenzone free), vegan, and paraben and sulfate-free too. This is important to protect the local marine life and fragile ecosystems of South Australia.
You can use these sunscreens again if you visit another natural wonder of Australia, the Great Barrier Reef from Cairns, North Queensland. 
Tips for things to see on Kangaroo Island
Kangaroo Island has some incredible destinations to visit. From nature and wildlife experiences, to national parks, to hanging out with the locals, here are some tips for things to see on Kangaroo Island. 
11. Flinders Chase National Park
Flinders Chase National Park was my favorite part about visiting Kangaroo Island, and my tip is to visit here no matter what. From beautiful coastlines, the iconic Remarkable Rocks and Admirals Arch, and the amazing wildlife and nature walks, Flinders Chase National Park showcases all the highlights of Kangaroo Island all in one place.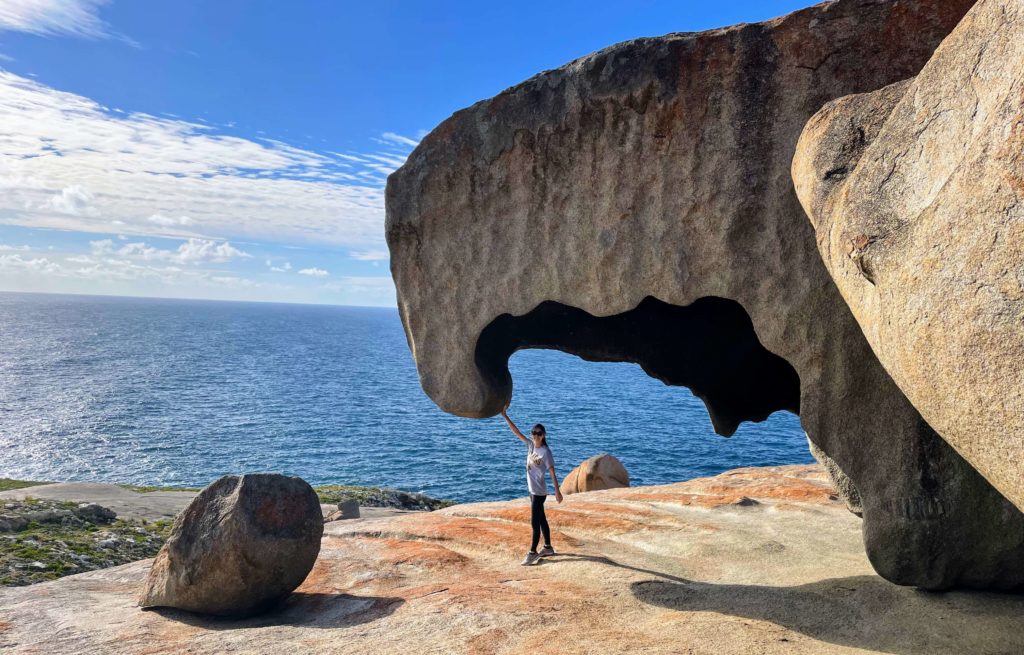 12. Snorkeling with Dolphins and Sea Lions
One epic experience I would love to go back to Kangaroo Island to try is the snorkeling tour. Kangaroo Island is home to so many incredible creatures, including friendly pods of dolphins and curious sea lion colonies. 
A 2-hour snorkeling tour departs from Penneshaw every day at noon to take adventurous travelers on a one-of-a-kind ethical animal experience. Swimming with dolphins and sea lions! 
For families with young kids visiting Kangaroo Island or those not too keen on getting wet, there's also a 75-minute ocean safari where all the animal viewing happens from the boat. 
13. Seal Bay Conservation Park
Seal Bay Conservation Park is located right in the middle of the southern Kangaroo Island coastline. It's home to a large colony of Australian sea lions that love to lounge on the sand and play in the water. Visitors can view them from a raised platform or join a guided tour to get right on the beach with these gentle creatures. 
Entry to the park is not free despite what their website says. A fee applies for both the boardwalk and the tour, but the money goes towards continued conservation and protection of these Kangaroo Island loveable locals.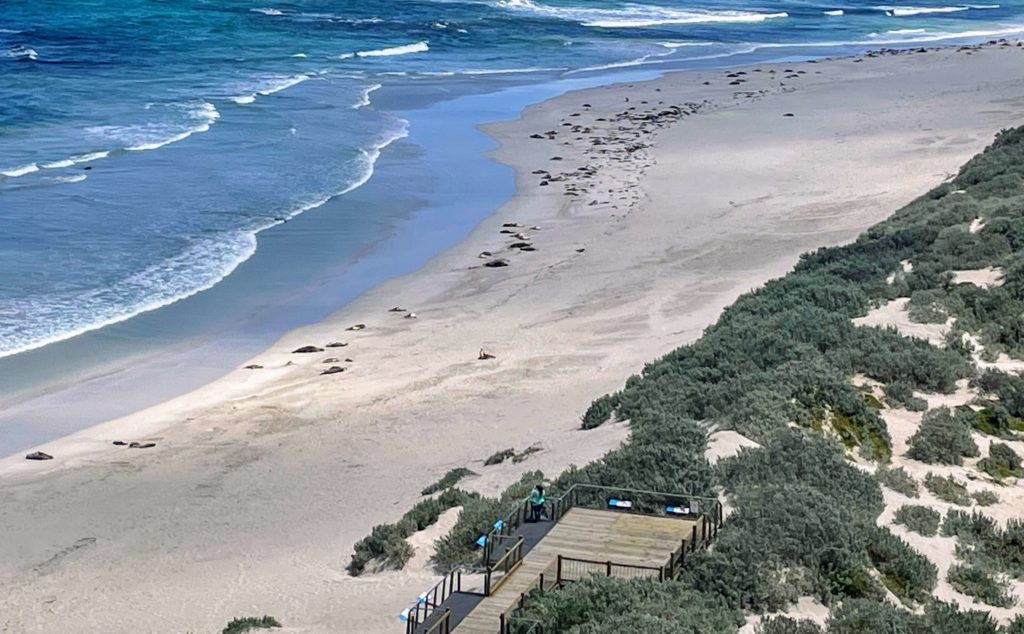 Vivonne Bay is another great place to stop by, or even spend the night, during your Kangaroo Island itinerary. 
It has a bit of everything – a general store to stock up on supplies, gasoline, or grab a burger or ice cream, a large campground, a beautiful beach, and some short hiking trails to a rock pool and lighthouse.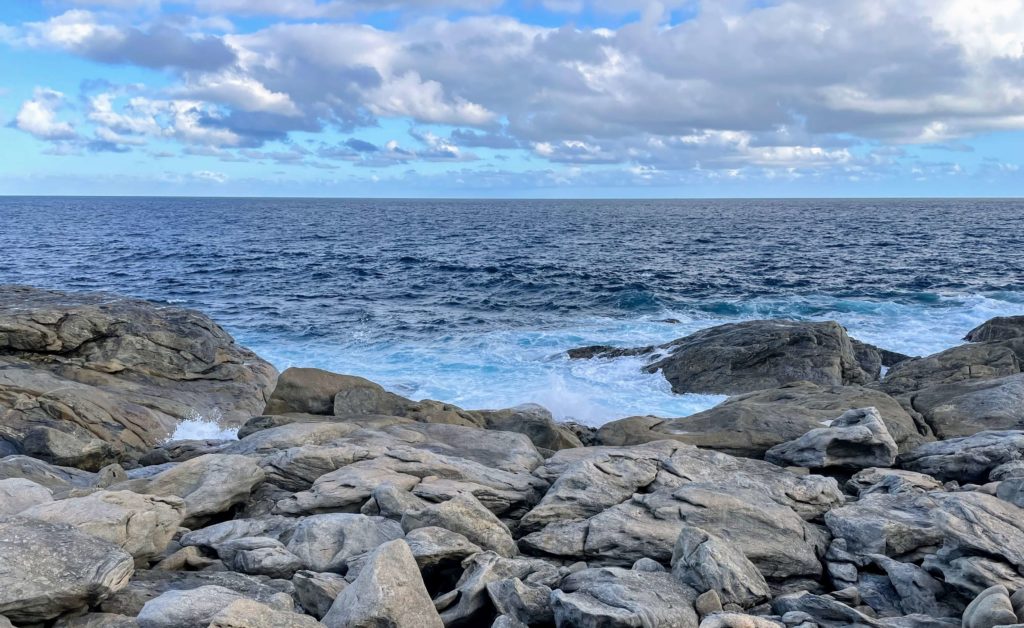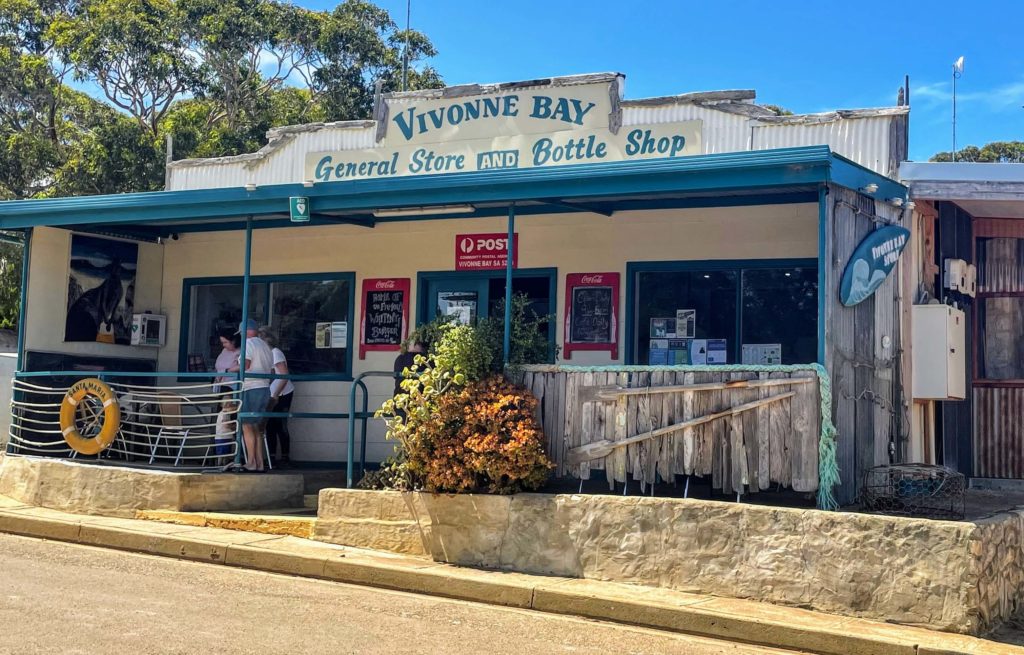 Penneshaw is not just a drive-through town for visitors arriving on the ferry. It has a number of shops, restaurants, and authentic Kangaroo Island experiences of its own for visitors to enjoy. 
Tip: Stop by the Kangaroo Island Visitor information center to pick up some maps and pamphlets for your trip. 
Stop by Millie Mae's Pantry for some delicious brunch and drinks too. 
Penneshaw is also home to a colony of Little Penguins (yes, that's the name of the breed), which are the smallest type of penguin in the world. If you're staying the night close to Penneshaw, take part in a penguin tour (they are more active at dusk) led by the Penneshaw Penguin Centre. Visitors can also walk along a boardwalk and some trails to try and spot penguins for themselves.
Tips for Kangaroo Island camping
Many visitors to Kangaroo Island choose to camp, either in their vehicles or in a tent. The cool and breezy evenings make Kangaroo Island a great place to spent more time in nature by camping too. 
If camping is on the cards for you, here are some tips for camping on Kangaroo Island. 
16. Bring cash for camping at council-owned campgrounds - and $2 AUD coins
Seven Kangaroo Island Council-owned campgrounds are available to visitors on Kangaroo Island. The campgrounds have basic facilities that are great for campers: barbecues, toilets, shaded picnic areas, and sometimes shower facilities too. Both powered and unpowered sites are available, but only some sites can be booked in advance. 
Paying for campsites can be done using a credit card if a card-machine is available on-site. Many campgrounds though, have simple pay stations with an honor system. Drop your cash ($22.50 AUD for an unpowered site) in the payment box and keep the proof of payment slip on your car dashboard. 
So my tip for visiting Kangaroo Island: campers should bring $22.50 in cash for each night, to pay for campsites.
Showers at campsites can be used by all visitors too, not just the paying campers. Showers cost $2 AUD for every 3 minutes. Bring a few $2 gold coins on your Kangaroo Island trip too.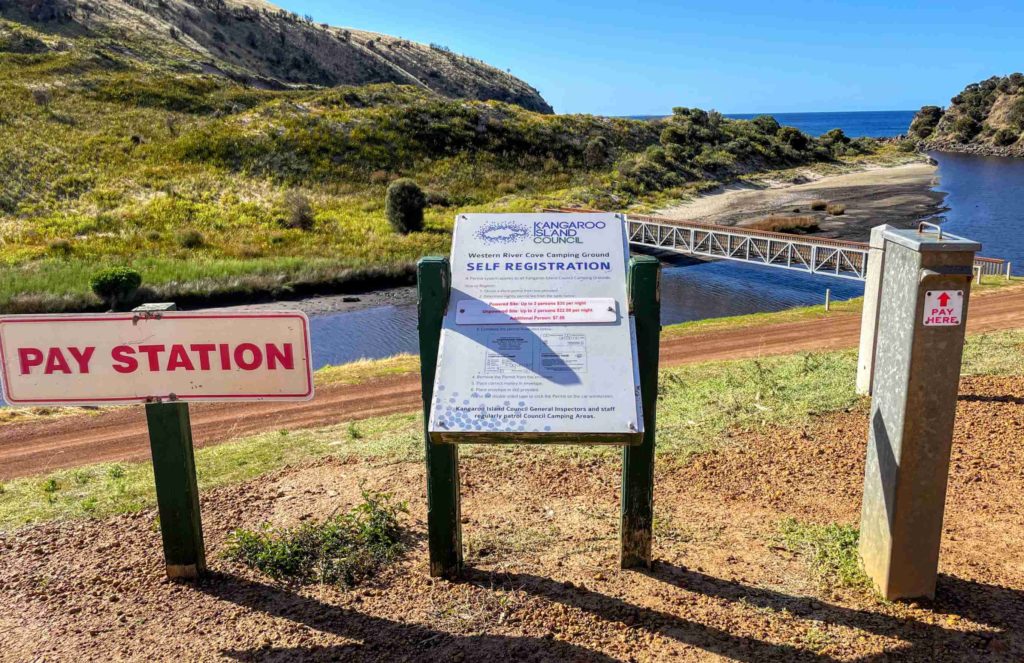 17. Arrive at campsites early
Due to the limited number of camping locations on Kangaroo Island, spots can fill up fast! All of the council campgrounds are only available on a first-come, first-served basis only. At some busier locations, you'd be very lucky to get a spot if you arrive late in the evening. 
If you intend to stay at a council campground overnight, plan to arrive early in the afternoon or have a Plan B ready to go.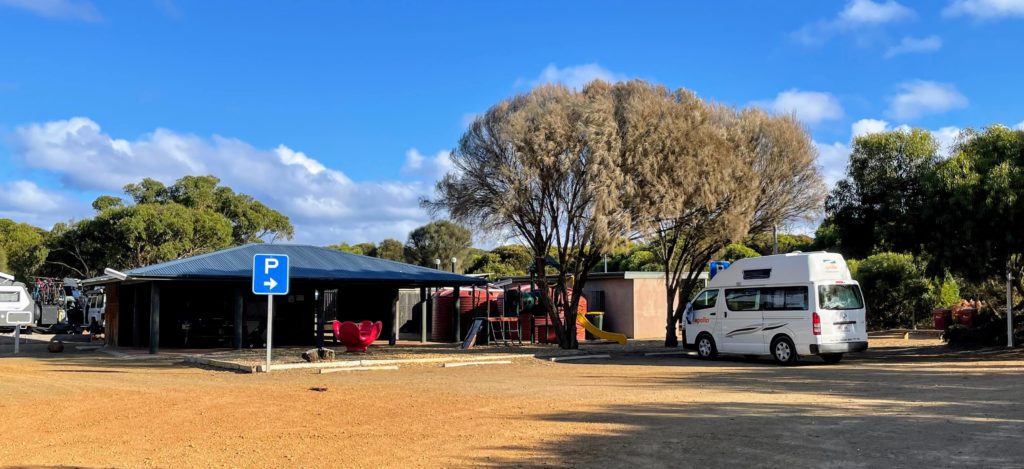 Tips for saving money on Kangaroo Island
Kangaroo Island is not exactly a budget-friendly destination, starting with the hundred-dollar ferry ticket. If you want to travel on a budget, these tips for saving money on Kangaroo Island will help to give your wallet a break.
18. Fill up on gas and groceries ahead of time
As expected on any remote island, the cost of all commodities on Kangaroo Island are much higher than on mainland Australia. I recommend filling up on gasoline (or petrol) before taking the ferry to Kangaroo Island. When gas in Adelaide was $1.70 per liter, it cost about $2.10 on Kangaroo Island. A number of gas stations are available along the drive from Adelaide to Cape Jervis. 
Kangaroo Island has two grocery stores, an IGA in Penneshaw and a Drake's in Kingscote. If you want to save a bit of coin (and also not waste your time grocery shopping on Kangaroo Island) purchase your groceries on the mainland as well. 
19. Rent a campervan to sleep in
Accommodation on Kangaroo Island leans towards the luxurious side, and is not very budget-friendly. Even the campsites cost $22.50 for unpowered sites.
In order to save money on Kangaroo Island, rent a self-contained campervan that you can sleep and drive in! Vans are ceahper to rent from Adelaide and bring over the KI if you're planning on staying for more than two nights on the island. 
Although free camping is not allowed on Kangaroo Island to protect the ecosystem, there are plenty of open roads, parking areas, and roundabouts where you can park the van and stay the night without disturbing anyone.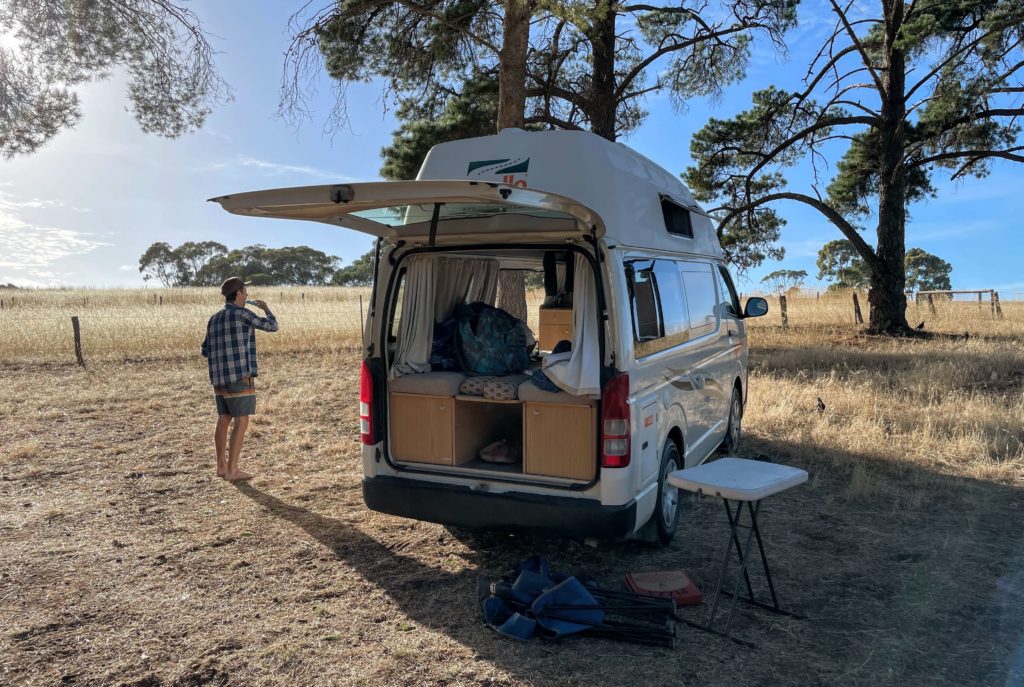 20. Bring lots of drinking water
During my visit to Kangaroo Island I made sure to consider tips #18 and #19 to save money. One thing we ran out of though, was drinking water! Some of the nicer campsites like the Western KI Carvan park have potable water available for their paying guests. Basically all other public taps on the island are non-potable water, unsafe for drinking.
If I were to visit Kangaroo Island again, I would bring several more liters of drinking water for each day on my Kangaroo Island itinerary. 
Bonus: Support bushfire relief efforts on Kangaroo Island
Kangaroo Island was significantly impacted by the catastrophic "Black Summer" bushfires, which devastated many parts of Australia in 2019-2020. The 2020 bushfires, were the largest in the island's history and devastated much of the island, including 96% of Flinders Chase National Park.
Help out the Kangaroo Island community by donating to some of these great causes: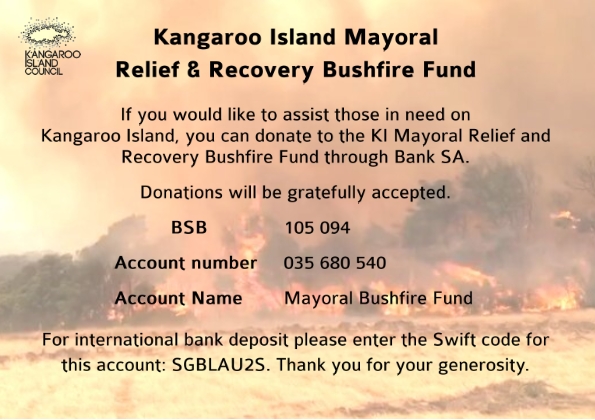 Pin these Tips for visiting Kangaroo Island for later!