So checked off everything on my Top Things to do in Tokyo list including visiting Sensoji-Temple, Shibuya Crossing, Shinjuku Gai. Now what? It's time to visit off-the-beaten-path Tokyo. 
Tokyo has a myriad of things to do for first-time visitors to Japan. But for second-time visitors, or those staying in Tokyo for a long period of time, it's nice to explore the hidden side of the city.
Here are 16 off-the-beaten-path Tokyo places to visit, for the seasoned Tokyo-ite.
Looking for other things to do in Tokyo?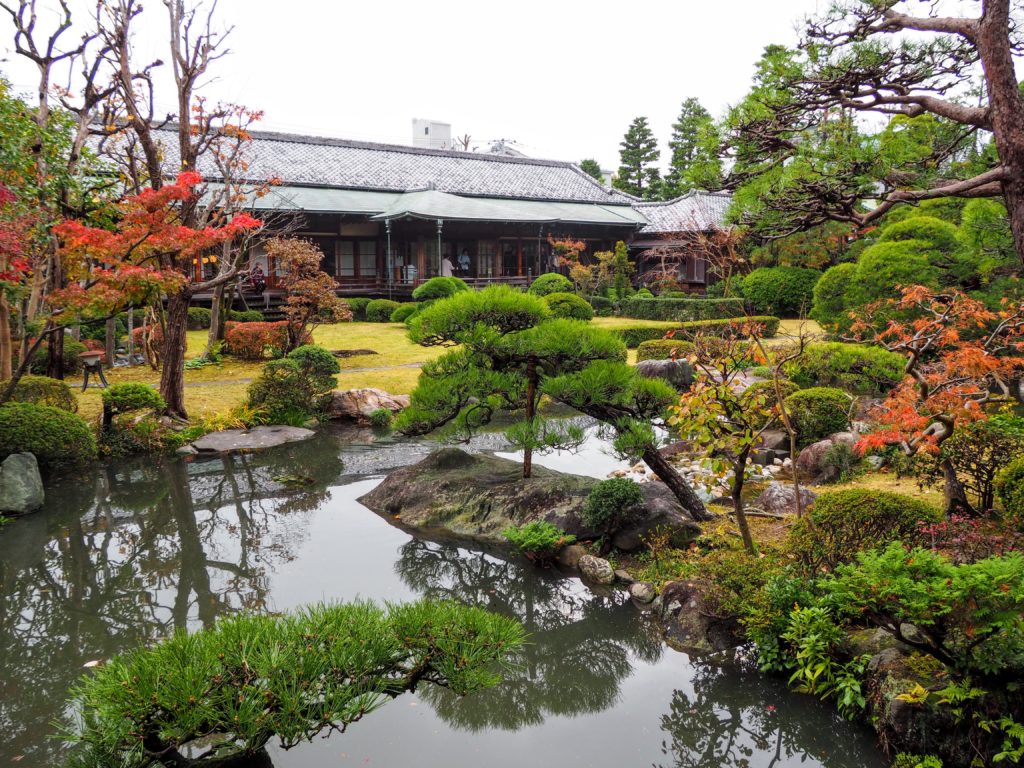 1. Shibamata Neighborhood
Shibamata is an old neighborhood in Eastern Tokyo, reachable in 30 minutes from the Tokyo Skytree. Shibamata famous because of an old Japanese TV-show about Tora-san, a traveling salesman. Even if you're not a Tora-san fan, the small local shopping street and old temple Shibamata Taishakuten are worth a visit when looking for a quiet place in off-the-beaten-path Tokyo. 
Many of the shops along the shotengai are historic, some having been there for over one hundred years. It's a great place to sample some classic Japanese snacks and street food, such as senbei soy sauce crackers and dango chewy rice balls. 
The Shibamata Taishakuten temple was built in the 1600s, and is home to a pine tree famous for its long branches. Enter the beautiful backyard garden and view amazing wooden carvings for 400 yen per person.
After visiting Shibamata's shopping street, temple, and nearby river, I was surprised how it is still an off-the-beaten-path Tokyo neighborhood. Visit Shibamata before more people find out about it!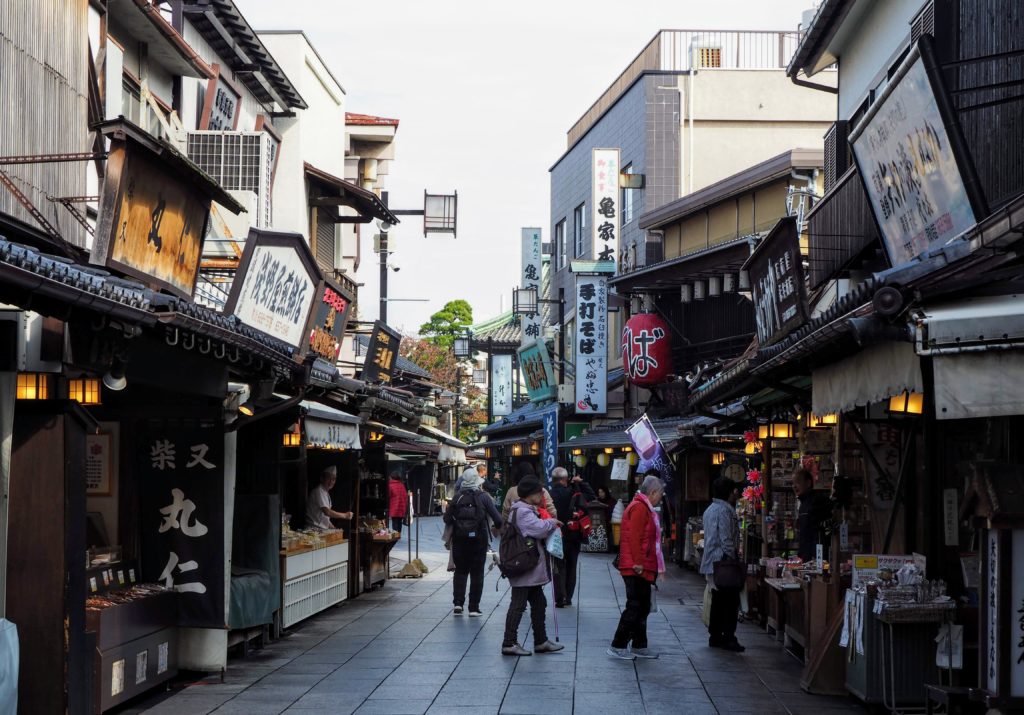 2. Yanaka Ginza Neighborhood
Visiting the Yanaka Ginza neighborhood is a unique Tokyo off-the-beaten-path location. Even among Tokyo locals, it's a lesser-known area that retains its old-Japan charm. Edo-era shops and restaurants line a small shotengai shopping street. Though the shops include modern 100-yen stores, there are many handicraft, ceramics, and street food stores too.  
Yanaka Ginza's famous inhabitants are its stray cats. A handful of shops here are dedicated to these friendly felines. They only sell goods plastered with cute cat images!  
Although you'll find many Tokyo locals coming on dates here, for tourists it is an off-the-beaten-path Tokyo gem.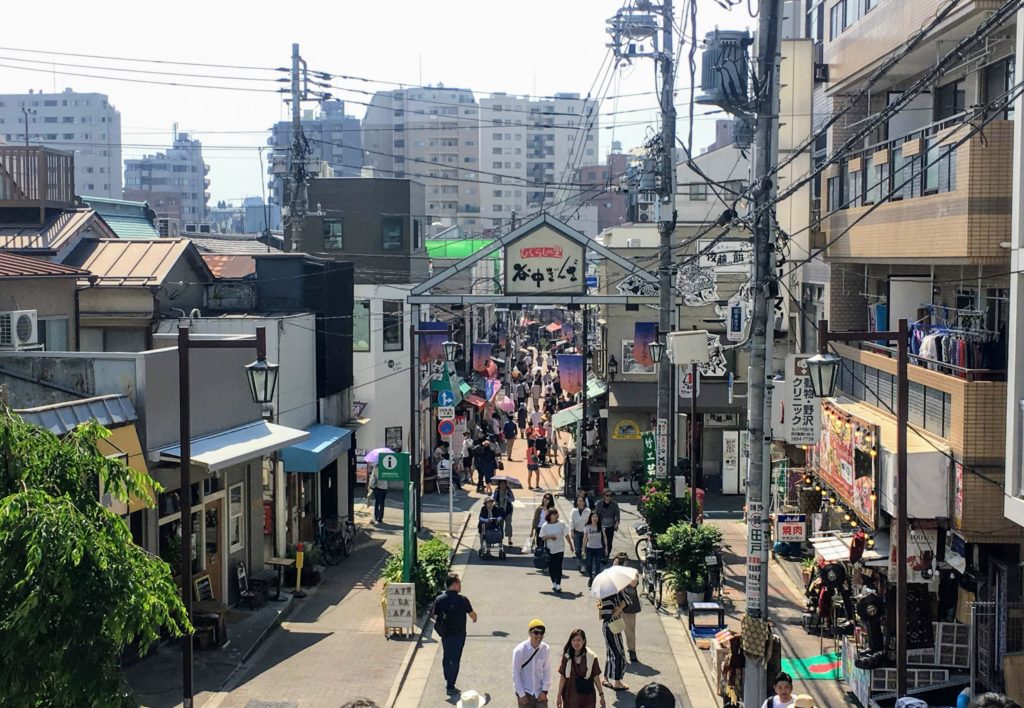 If you're looking for off-the-beaten-path Tokyo destinations, try ducking in to some lesser known Japanese gardens. Often the gardens that you have to pay to enter (usually no more than ¥200-¥300, or $2-$3 USD per person) are nearly empty and a perfect escape from the tourist crowds. 
Near Komagome Station on the Yamanote Line are the Rikugien Gardens, a quiet place to spend time in Tokyo. At this Japanese garden, several paths loop around a central lake – picturesque from all angles. Imagine twisted pine trees, traditional teahouses, koi fish, and many benches where you can enjoy the view. 
If you're visiting the Rikugien Gardens in the winter, it is open until 9 p.m. for winter illuminations. Glowing lanterns light up the main path, and spotlights beam up the pine trees for a relaxing evening at the park. 
4. Kichijoji Neighborhood
Kichijoji is a west Tokyo neighborhood that is popular with young Tokyo-ites. It has somehow stayed a Tokyo off-the-beaten-path neighborhood even though it's very close to the Studio Ghibli Museum in Mitaka. If the Ghibli Museum is on your Tokyo itinerary, I suggest getting off the train one stop early and wandering through Kichijoji before or after your museum visit.
Walk down the street connecting Kichijoji Station to Kichijoji Park. You'll pass by many antique stores and boutique cafes before you reach a large lake in the center of the park. There's a small zoo here famous for its interactive squirrel exhibit, and a small temple where you'll see many neighborhood locals coming to pray.
A favorite date or family activity is to rent a swan boat (or a normal boat) to paddle around the lake. This is especially popular during sakura season, when all the trees lining the lake are in full pink bloom. Beware of a local Tokyo urban legend that if you go on a swan boat with your significant other here, that you'll break up soon after!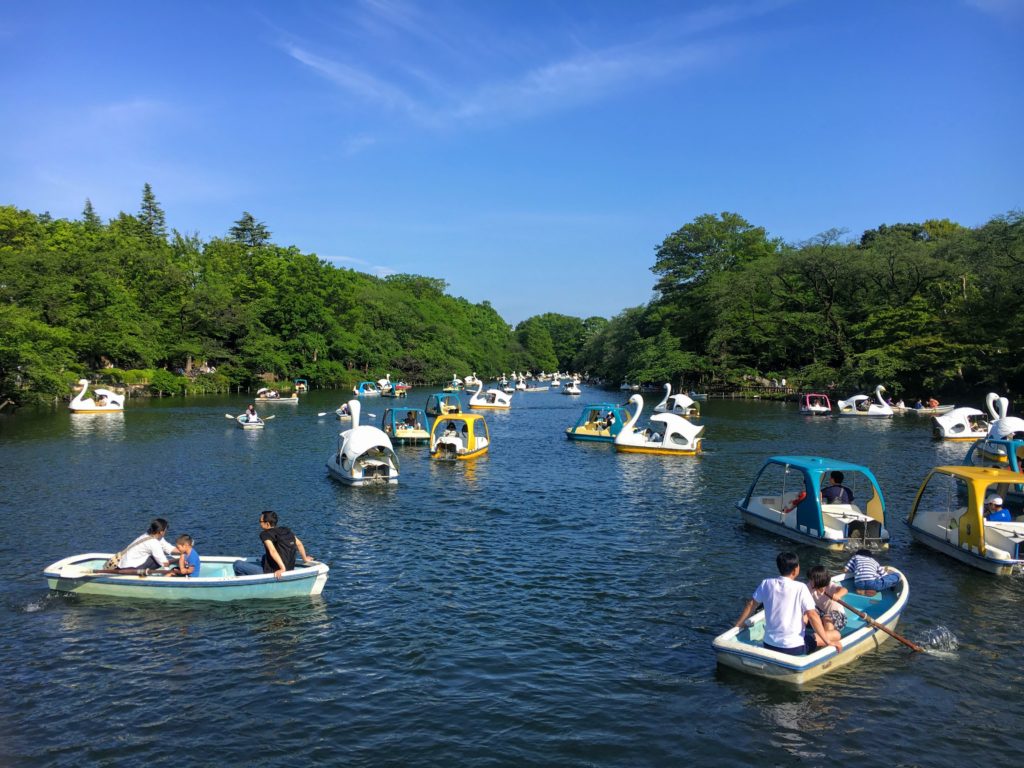 Southeast of Tokyo's city center is Todoroki Ravine park, an off-the-beaten-path Tokyo park that makes it hard to believe you're still in the city.
The ravine is located on the banks of the small Yazawa River, where you'll have to descend some stairs in order to reach it. Even on the hottest days, the drop in elevation and the tree canopy will make you feel much cooler than you're used to.
Inside the park is about 1.3 km of walking trails, plus a few small shrines and a teahouse. Wander through the Japanese garden of the tea house, then have a rest for free inside its main traditional building.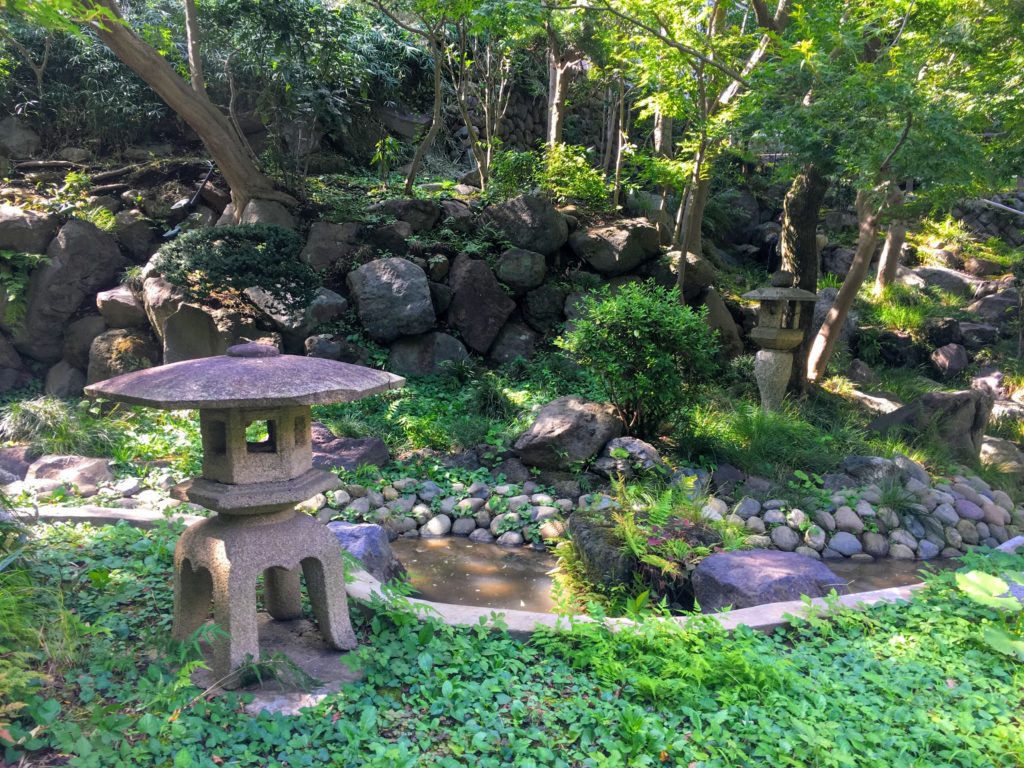 Gotokuji Temple is a unique temple, and a great Instagram and photography spot. It's home to hundreds of maneki-neko, or beckoning cat statues. These cats are believed to bring good luck and fortune, and are often placed outside of businesses to bring in more guests. Reachable within 20 minutes from Shinjuku Station, Gotokuji Temple is a quiet, off-the-beaten-path Tokyo temple to admire Japanese culture and get a breath of fresh air.
Gotokuji Temple is also featured on my list of Weird & Unique Things to do in Tokyo. Nowhere else in the world will you see this array of beckoning cat statues! Purchase a cat to leave at Gotokuji temple yourself for as little as ¥300. You'll be blessed with great fortune.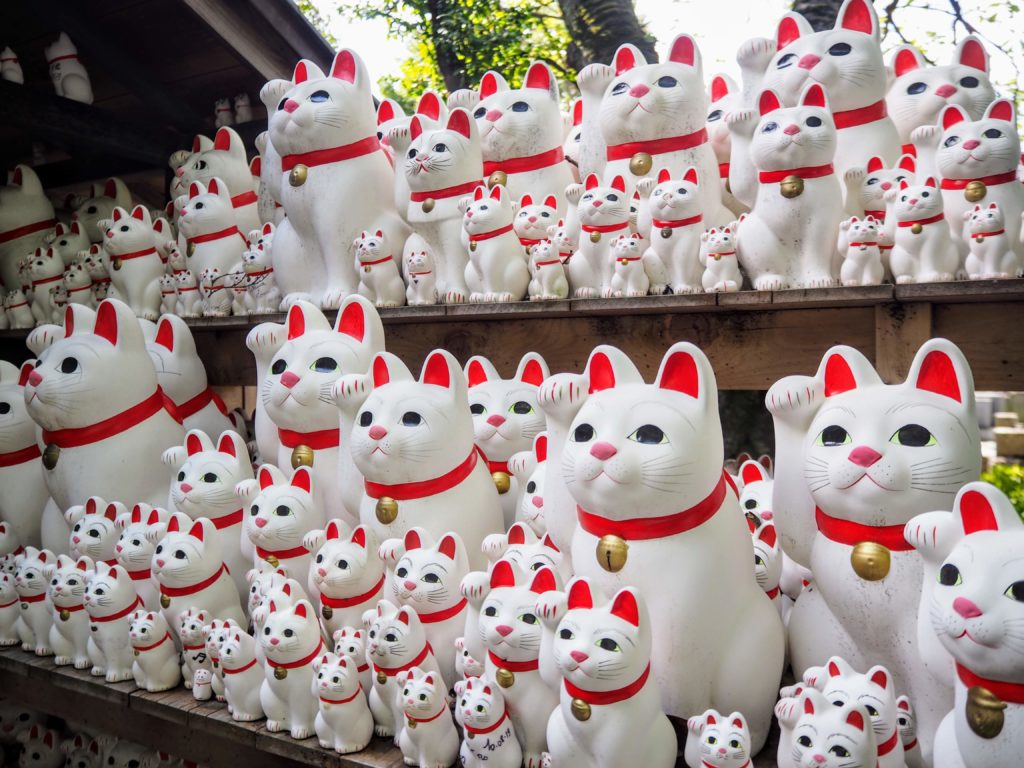 Visiting Asakusa is undoubtedly one of the top things to do in Tokyo, but consider escaping the crowds by heading to this off-the-beaten-path Tokyo shopping street: Kappabashi-Dori. 
If you've become a fan of Japanese food during your travels, here's a place to bring home something to cook or serve your own Japanese food with. Kappabashi is a long street lined with kitchen shops, plus the occasional fake food display store and noren cloth store.
Find great souvenirs in Kappabashi like Japanese sake cups, ramen bowls, tea cups, chopsticks, soy sauce dishes, and mugs. You can also find Japanese cooking staples like a fish griller, takoyaki octopus ball shapers, taiyaki fish-shaped pastry makers, and serving plates for sushi or soba.
8. MORI Art Museum and Tokyo City View
Out of all the different Tokyo viewpoints, the MORI Art Museum and Tokyo City View may be the most off-the-beaten path Tokyo viewpoint. Tourists flock to Tokyo Skytree and Tokyo Tower, while artsy locals and Roppongi residents head to the MORI building.
A ticket to the MORI Art Museum includes both entrance to the main art exhibits, and to the Tokyo City View, a 360 degree look at Tokyo. Because of Roppongi's out-of-the-way location, you'll have great views of famous Tokyo neighborhoods like Shinjuku and Tokyo Station, plus you'll see Tokyo Tower too.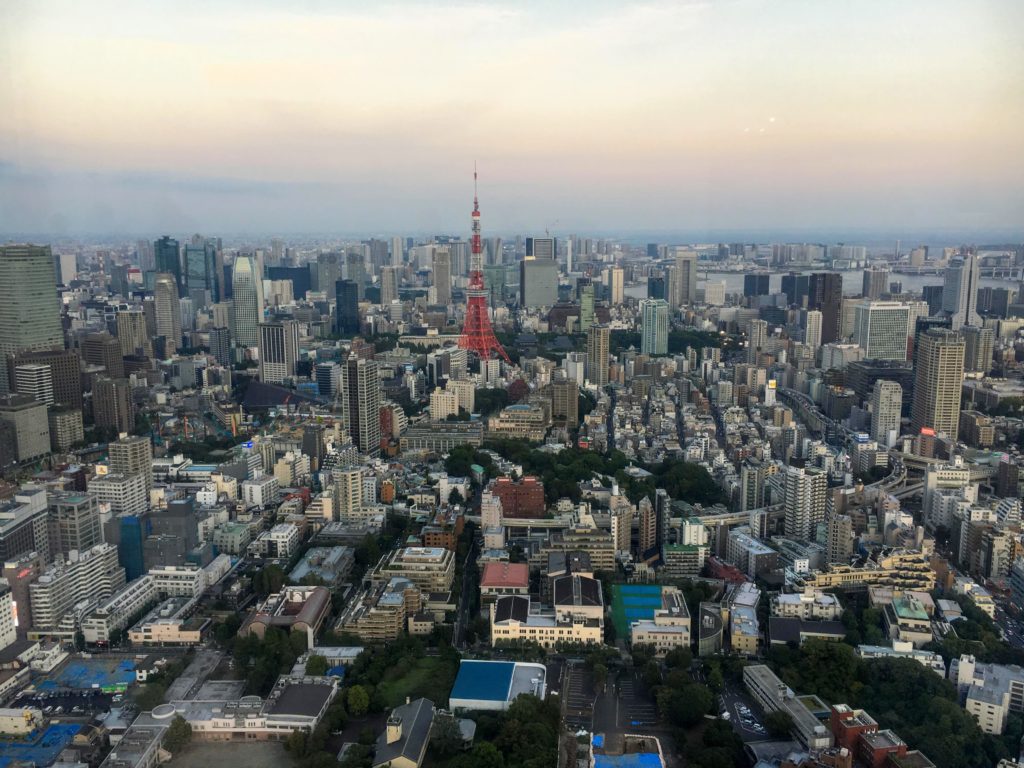 Odaiba is an artificial island built in to the Tokyo Bay, most famous for being home to Teamlab Borderless (which is definitely not Tokyo off-the-beaten-path). Odaiba is reachable by taking the driverless Yurikamome monorail from Shimbashi station. It is also connected to Toyosu, home of the tuna auction within Toyosu fish market.
Many tourists to Tokyo visit Odaiba, but only for a Teamlab Museum. For an off-the-beaten-path Tokyo experience, hang out in Odaiba a bit longer! There are many wide parks and seaside walkways, perfect for spending time outside with the family.
Teamlab Borderless or Teamlab Planets is definitely worth a visit. But make sure to check out more off-the-beaten-path Tokyo museums there, including the Miraikan Museum of Emerging Science, the Museum of Maritime Science, and the Tokyo Water Science Museum.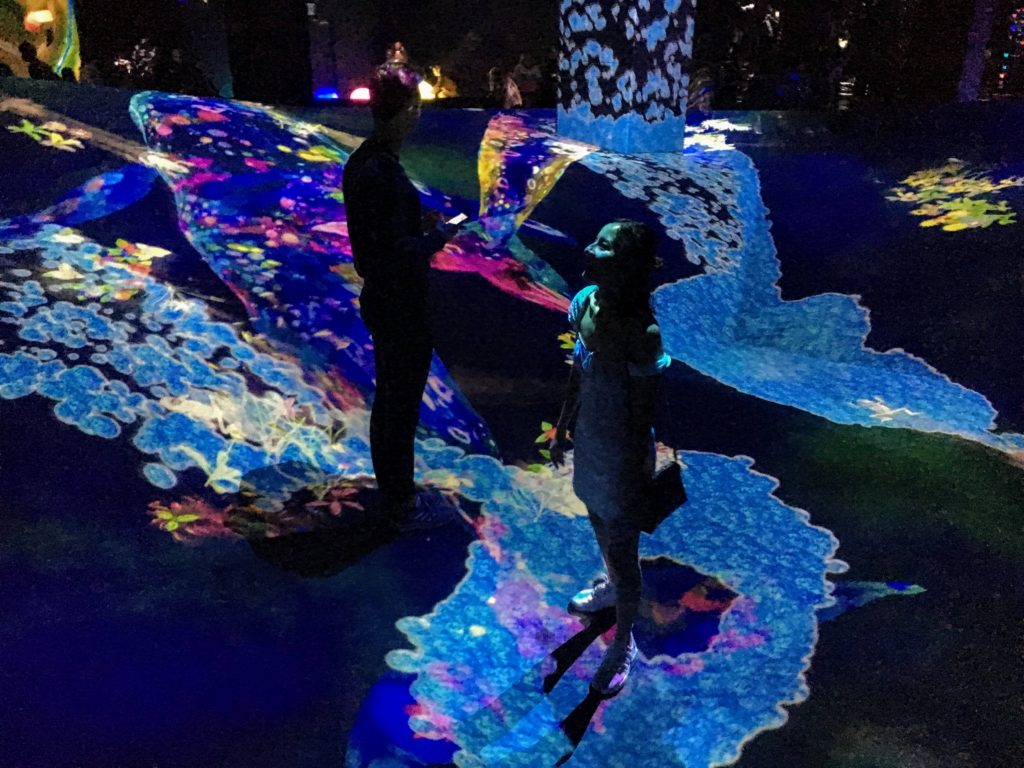 Situated along the Yamanote Line, Sugamo is a neighborhood famous for its "Old People's Takeshita" shopping street. You'll see many older locals shopping here, but it's Tokyo off-the-beaten-path for Western tourists. Unique shops here include traditional senbei or soy sauce flavored rice cracker shops, shops selling sesame-flavored ice cream, and a shop selling red underwear.
Red underwear, and red clothing in general, is said to give the wearer extra strength and confidence. It's believed to be a power color amongst the elderly, and all other visitors to Sugamo who pick up a pair of these vibrant undies.
Sugamo wouldn't be the "Old People's Takeshita Street" without selling a few elderly staples like walking sticks, antique (but non-hipster) clothing, and teas promising longevity and youth. Grab a gift for grandma and grandpa here!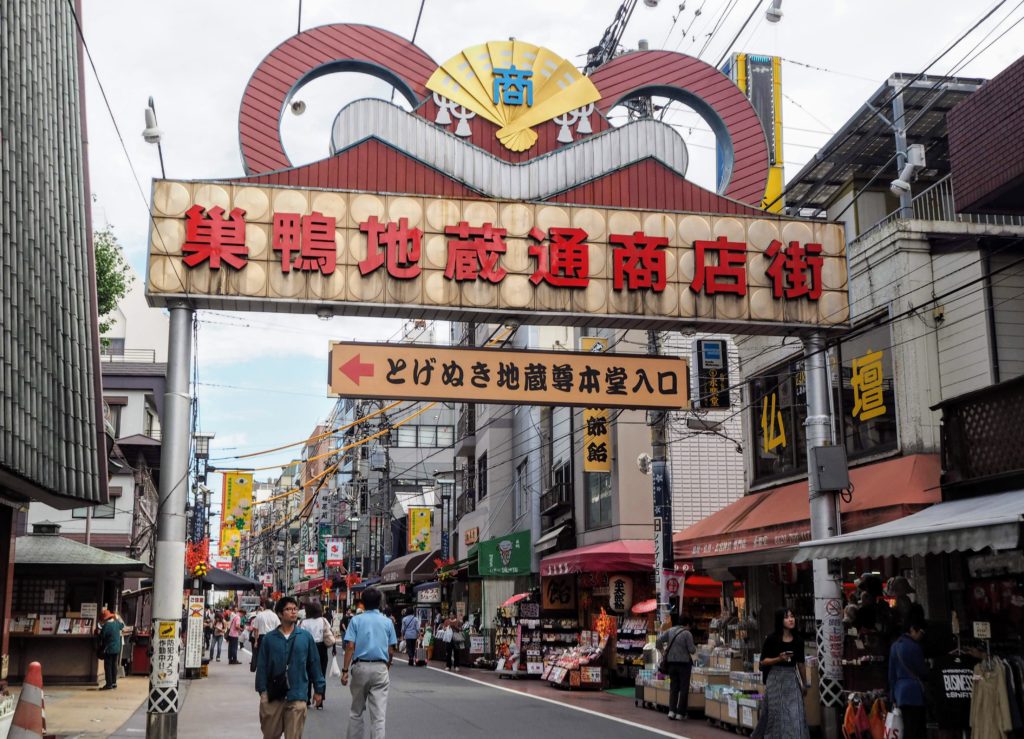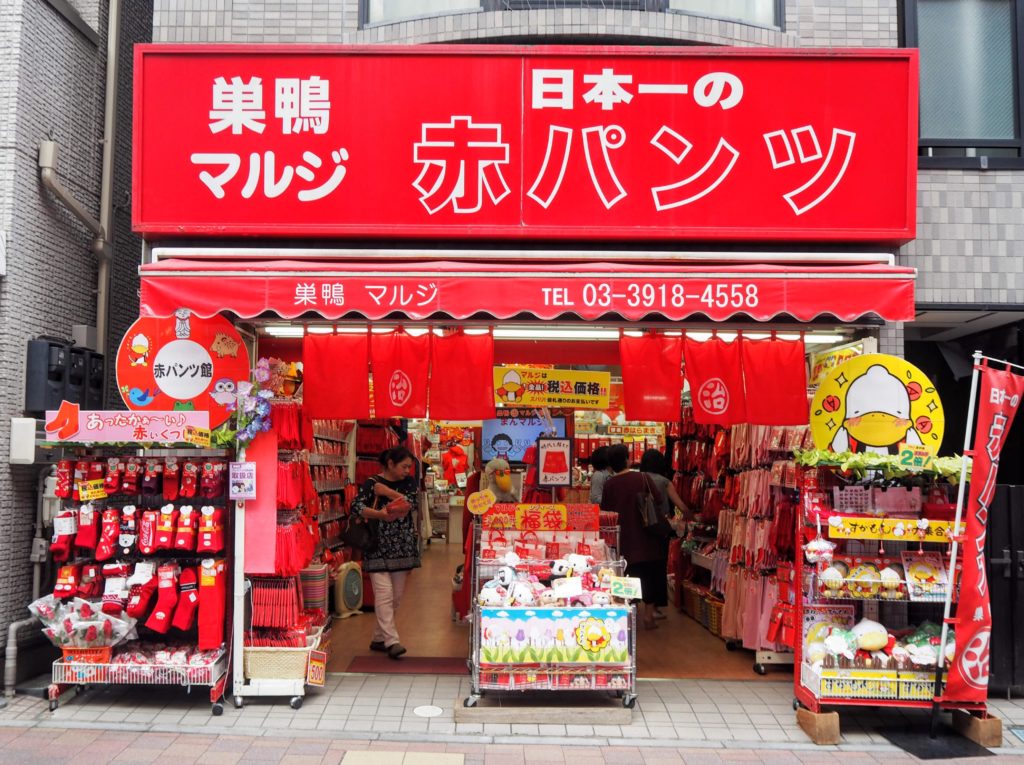 Mt. Mitake is a holy mountain located west of Mt. Takao. It's and a much less crowded version of Mt. Takao where you can experience nature and Tokyo off-the-beaten-path.  Although Mt. Mitake is a bit harder (and more expensive) to reach on the Chuo line from Shinjuku Station, you'll feel as soon as you get off the train that you're in the Japanese countryside. Agricultural fields stretch in to the mountains, creating a beautiful green backdrop for the small traditional town near Mitake Station. The turbulent Tama river cuts through the area, where you'll see locals fishing and families picnicking on nice days.
If you're a hiker, you can hike the old pilgrimage trail up to the Mt. Mitake summit. If you'd rather not, there's a colorful cable car that can take you up and down as well. Read about hiking Mt. Mitake as an off-the-beaten-path Tokyo hike here.
Mt. Mitake's summit has several temple accommodation options, as well as traditional restaurants and cafes. Pray at the many shrines here, and enjoy the view overlooking the surrounding mountains.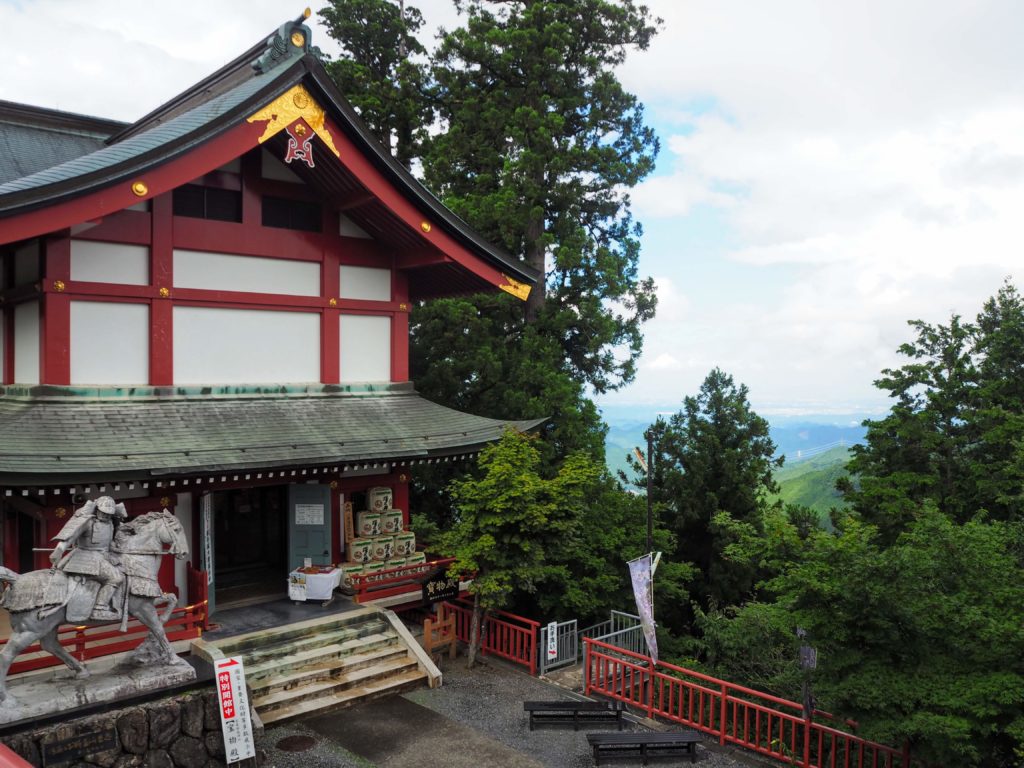 Nicknamed "Little Edo", Kawagoe is a quick 30 minutes by train northeast of Ikebukuro Station. With so many day trips from Tokyo to choose from, most visitors prioritize Yokohama or Kamakura to visit, leaving Kawagoe a quiet off-the-beaten-path Tokyo gem. (Ok, technically it is in Saitama prefecture, and not Tokyo, but it's close enough)
Kawagoe is has all the perfect attractions to be a touristy place, but without the hoards of tourists! 
At a large information center in Kawagoe, you can try different types of Japanese sake from a vending machine, and buy snacks unique to Saitama and Kawagoe. There are several beautiful temples and shrines to visit, including Kawagoe Kumano Shrine where visitors can wash their coins in the water of a fountain, promising their 'fortune' to return five fold as a result.
Kawagoe is most famous for its "Little Edo" shopping streets, where old buildings have been preserved for centuries. The vibe feels similar to the back streets of Gion, the historical neighborhood of Kyoto. Don't miss Candy Alley, where most of the old buildings are, and have been for centuries, Japanese traditional candy stores!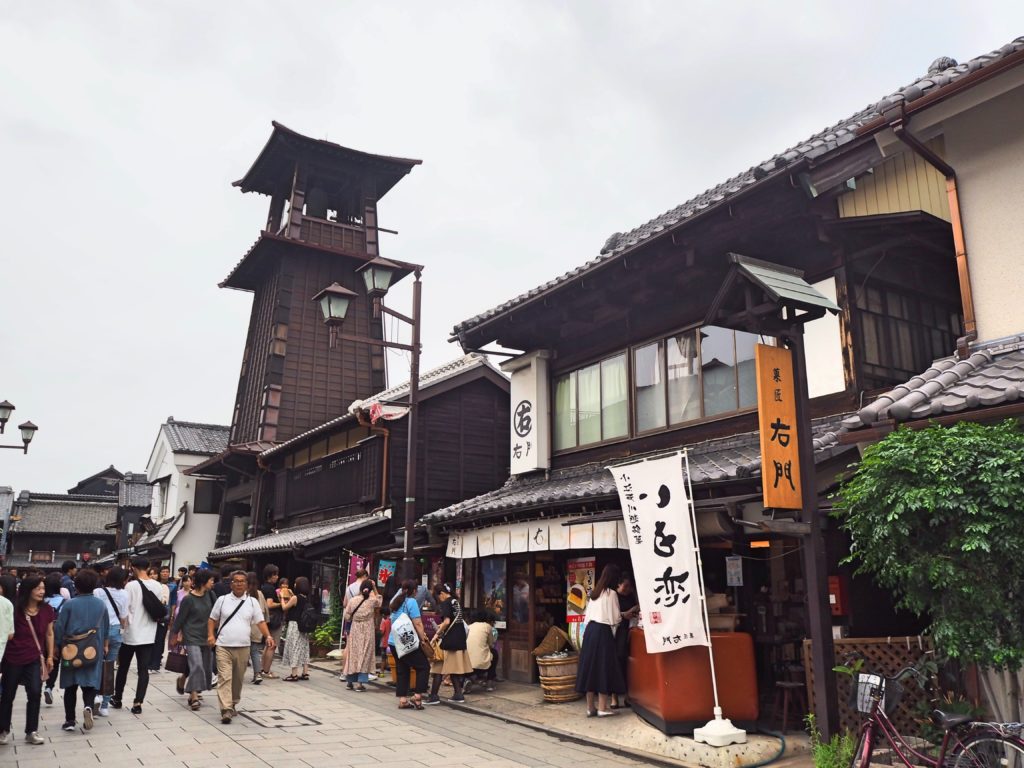 Near Tsukiji Fish market south of Ginza is the Hamarikyu Gardens, another off-the-beaten-path Tokyo garden. After eating your fill of street seafood in Tsukiji or shopping in bustling Ginza, you can take a break from the crowds here.
Hamarikyu Gardens feels like a small Shinjuku Gyoen, with a pond in the middle and several well-preserved Japanese homes. It borders a canal that feeds in to Tokyo Bay, so you can see (and hear) some large ships in the distance. A long path loops around the park, plus there are  small paths you can follow into forests and over small hills. Tokyo Tower is nearby too!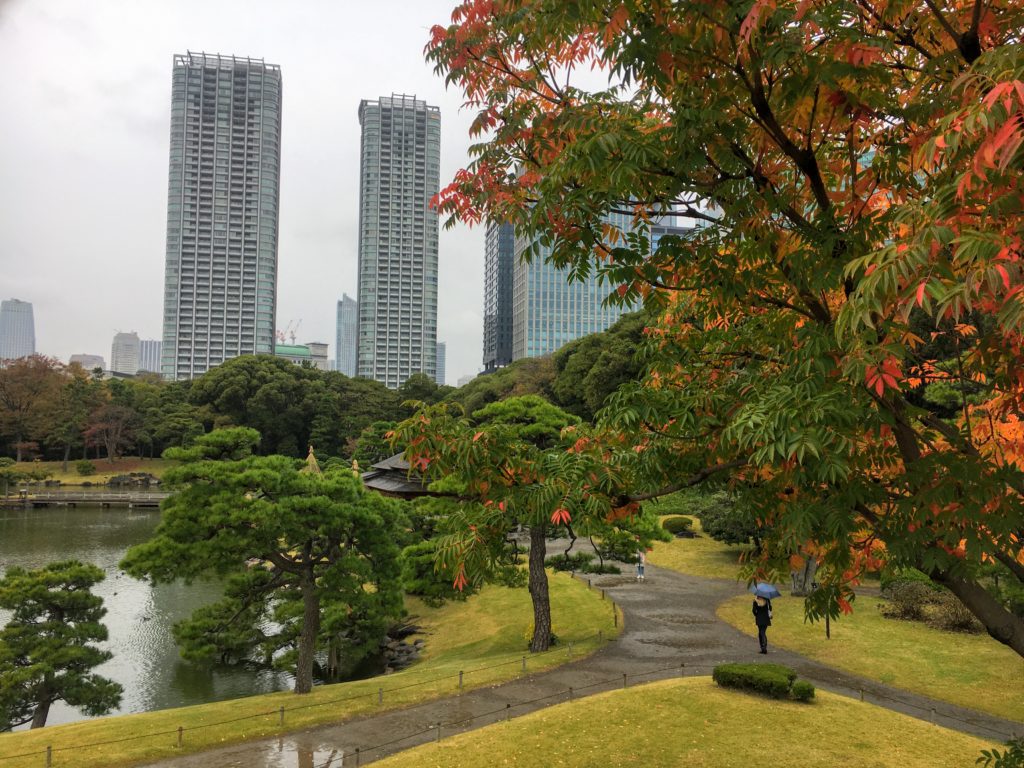 Nezu Shrine is an impressive off-the-beaten-path Tokyo shrine, hidden in the Ueno area of Tokyo. This shrine's claim to fame is the row of red torii gates, the most famous ones in Japan being the Fushimi Inari Shrine in Kyoto. It's also a common place for locals to come and take their official wedding pictures.
It's a great alternative to Senso-ji Temple in Asakusa, and it's still an off-the-beaten-path destination in Tokyo.
If you are visiting Nezu Shrine in April, you'll experience the azalea season, where a wall of purple, red, and white flowers line one side of the shrine. A path runs through the flowers, and a koi pond sits at the base, making it one of the most picturesque places in Tokyo in April.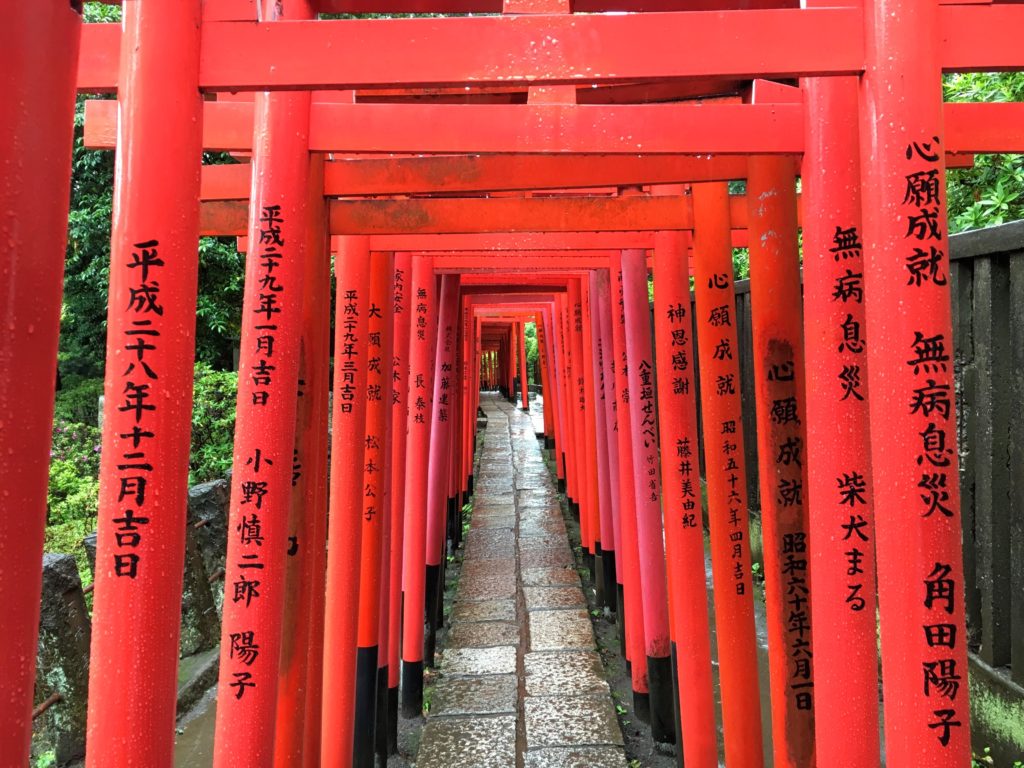 Tucked away at the base of Tokyo Tower is Zojoji Temple. It was built in the 1300's, then moved to Tokyo in 1598 by Tokugawa Ieyasu, the first shogun of the Tokugawa Shogunate. 
Zojoji Temple is famous for its rows of jizo stone statues, which represent unborn or stillborn children. They wear knitted hats and parents sometimes bring them children's clothes to keep them warm or toys to ease their journey in the afterlife. 
The temple has a large grounds area but few visitors, giving it the full feel of Tokyo off-the-beaten-path. 
16. Jimbocho Book District
Jimbocho is an off-the-beaten-path Tokyo neighborhood that's filled with bookstores. Walking distance from both Akihabara and the northern gardens of the Imperial Palace, Jimbocho is a book-lover's dream where you'll hardly see any tourists.
The bookstores here range from large, high-end stores like Books Sanseido, to just shelves built into alleyways. The larger stores will sell both Japanese and English books, plus some classy gifts for your book-loving friends.
You might be hard-pressed to find any English books in the smaller stores, but you can still admire the tattered pages of old Japanese classics. In an age where bookstores are dying out, check this Tokyo off-the-beaten-path destination off your Japan itinerary before it's gone.
Looking for Off-The-Beaten-Path Tokyo? Pin this post!
Are You Prepared For Your Trip To Japan?
Be sure to check out my Japan home page for Japan travel information, insider tips, reading list, and must-haves for traveling to Japan!