Colorado Springs, Colorado is a charming college town located just an hour's drive south of Denver. The town is bordered to the west by the Rocky Mountains, so visitors are spoiled by the number of wonderful outdoor activities that can be enjoyed there. Colorado Springs also has a number of trendy restaurants and cafes, and a growing downtown and urban area. A one day itinerary for Colorado Springs allows visitors to enjoy nature, the town, and some of the beautiful mountains that Colorado is famous for.
Whether you have an overnight stay scheduled in Colorado Springs or are visiting on a day-trip from Denver, this one day Colorado Springs itinerary will get you on your feet, hitting the town, and enjoying the town's many highlights and hidden gems.
This post contains Amazon.com affiliate links. If you choose to purchase anything through these links, I may receive a tiny commission at no extra cost to you. Thanks for supporting my site!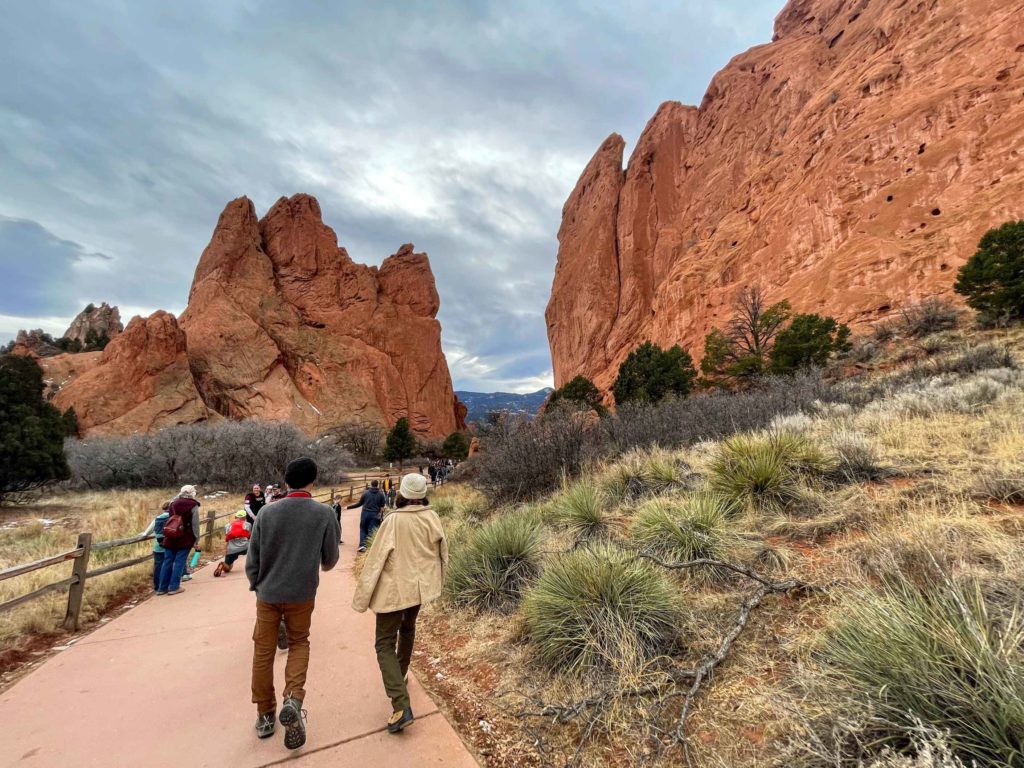 Colorado Springs Day Trip and One Day Itinerary
Morning - Pikes Peak Summit
Start your one day in Colorado Springs itinerary by hitting the road and heading up to the Pikes Peak summit drive. Pikes Peak is one of the most accessible of the "14-er" peaks in Colorado, with an elevation reaching a whopping 14,115 feet above sea level. The long windy road to the summit is an experience in and of itself. Be sure to spot the "bigfoot crossing" sign too!
At the Pikes Peak summit is a large Visitors Center which includes a restaurant, restrooms, a gift shop, and an information center that showcases the history and geology of Pikes Peak and the Rocky Mountains. Along the road to the summit are a number of souvenir shops that sell local goods such as Native American jewelry and pottery, local-made honey and wine, and more.
Want to experience something incredible during your Colorado Springs itinerary? Consider going on an unforgettable sunrise hot air balloon ride over town and the Rocky Mountains!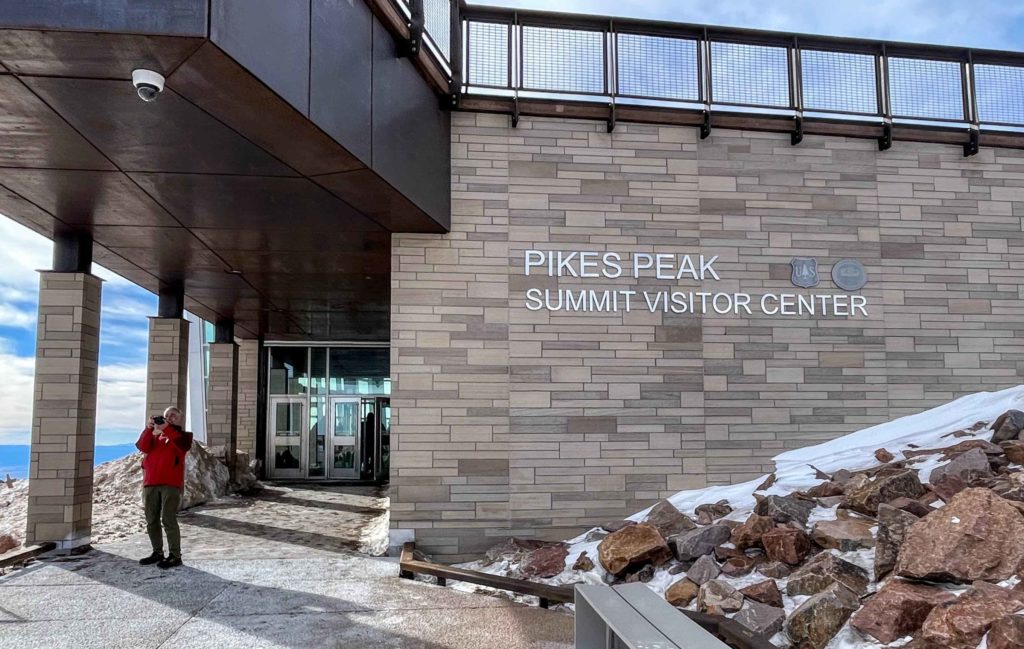 This activity costs $10-$15 per person (or $35-$50 per car) depending on the season and can be paid by cash or card at the entrance to the Pikes Peak State Park. The summit sometimes closes during periods of dangerous wind, rain, or snow conditions. Consider going up as part of a Jeep tour if you don't have a car to take yourself. 
If you'd prefer to summit Pikes Peak in style, consider boarding the Pikes Peak Cog Railway train. The train services an incredibly scenic, 9-mile track to the Pikes Peak Visitors Center at the summit. The flashy red train ensures amazing mountain views with much less stress than driving yourself. Buy tickets here.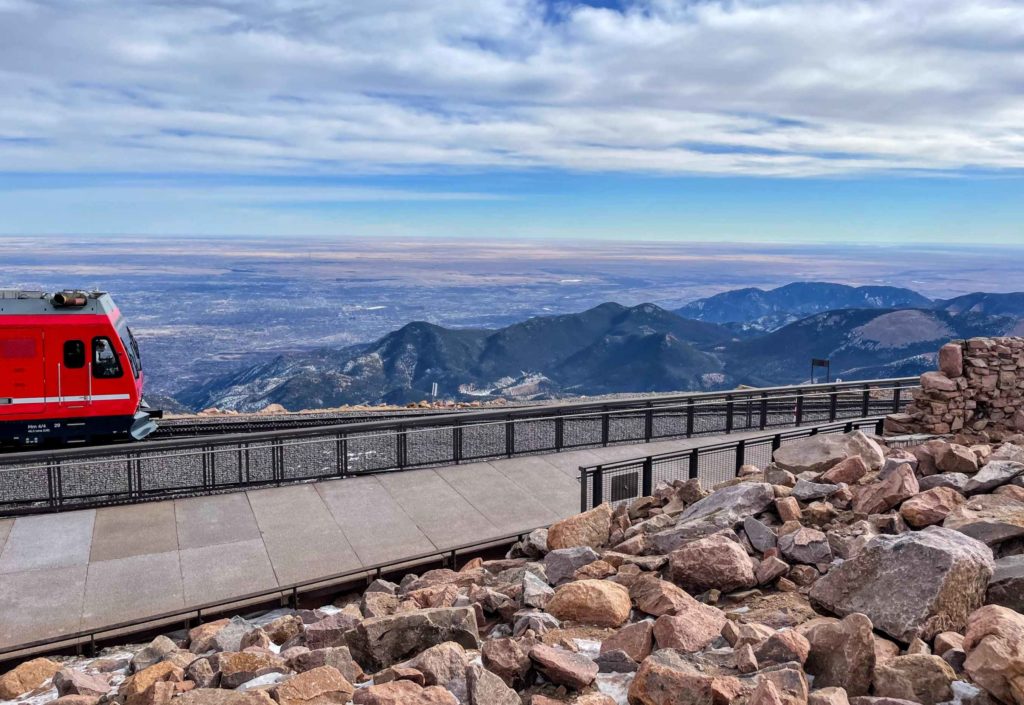 Lunch - Downtown Colorado Springs and Urban Egg
Head to Downtown Colorado Springs for lunch, which is home to a number of great eateries. Local cafes, restaurants, and breweries line the colorful streets here, and draw in students, families, and young professionals alike.
Urban Egg is my recommendation for an incredible lunch or brunch stop in Colorado Springs. Not only do they serve American breakfast classics such as eggs, pancakes, and full American breakfasts, they also have an amazing selection of Mexican-inspired food such as tacos and burritos (in their respective breakfast versions too). As a state with a large Mexican and Latinx immigrant population, Urban Egg Colorado Springs showcases some of the best of both U.S. and Hispanic foods.
Afternoon - Garden of the Gods
No one day in Colorado Springs itinerary is complete without stopping off at the Garden of the Gods, which is a geological wonder to behold, unique for its size and grandeur, and something that can hardly be seen anywhere else in the world.
The best and amazingly accessible way to see the Garden of the Gods in Colorado Springs is to drive through the Juniper Way Loop. This one-way road loops around the most impressive rock formations here and also has a number of adjoining parking lots and parking areas, perfect for stopping off and having a walk through the rocks yourself.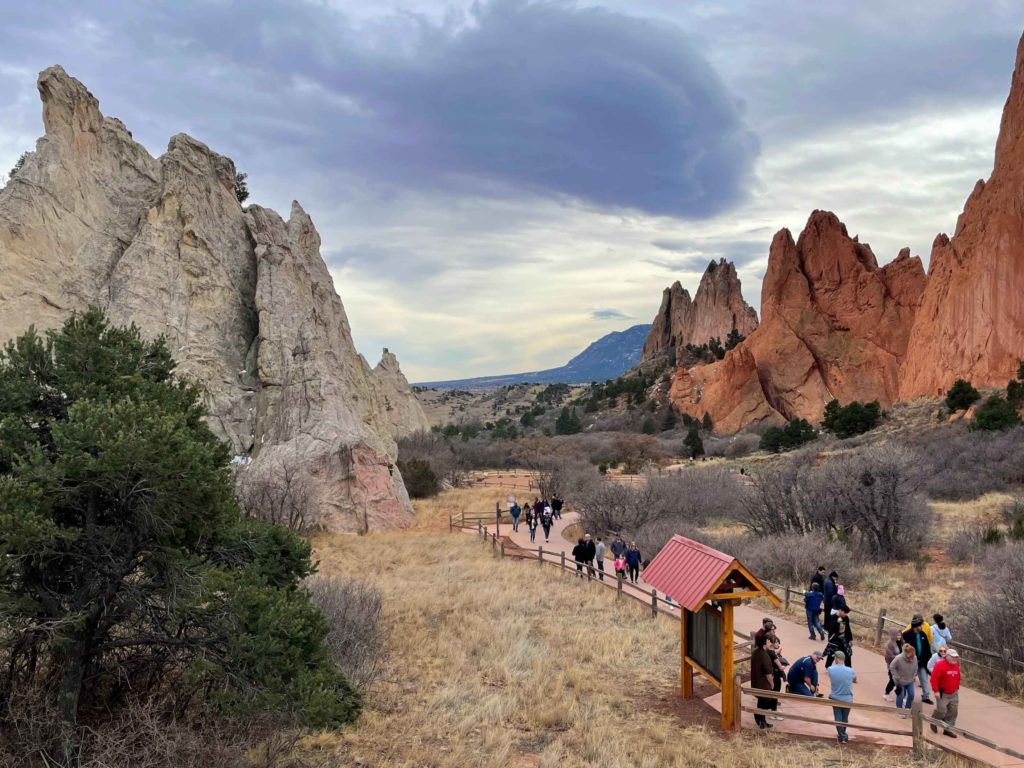 If you're up for a walk or have a bike with you, the less crowded way to get around the Garden of the Gods is to park at the entrance or at the visitors center, and then walk or bike along the network of trails through the rocks. The park is dog-friendly too, so you'll see many happy Colorado pooches on their daily walks through this park.
Across the way from the Garden of the Gods is the slightly less crowded Red Canyon Loop. This second Colorado Springs state park is another great place to enjoy the outdoors and climb around some of the dazzling red rocks of central Colorado.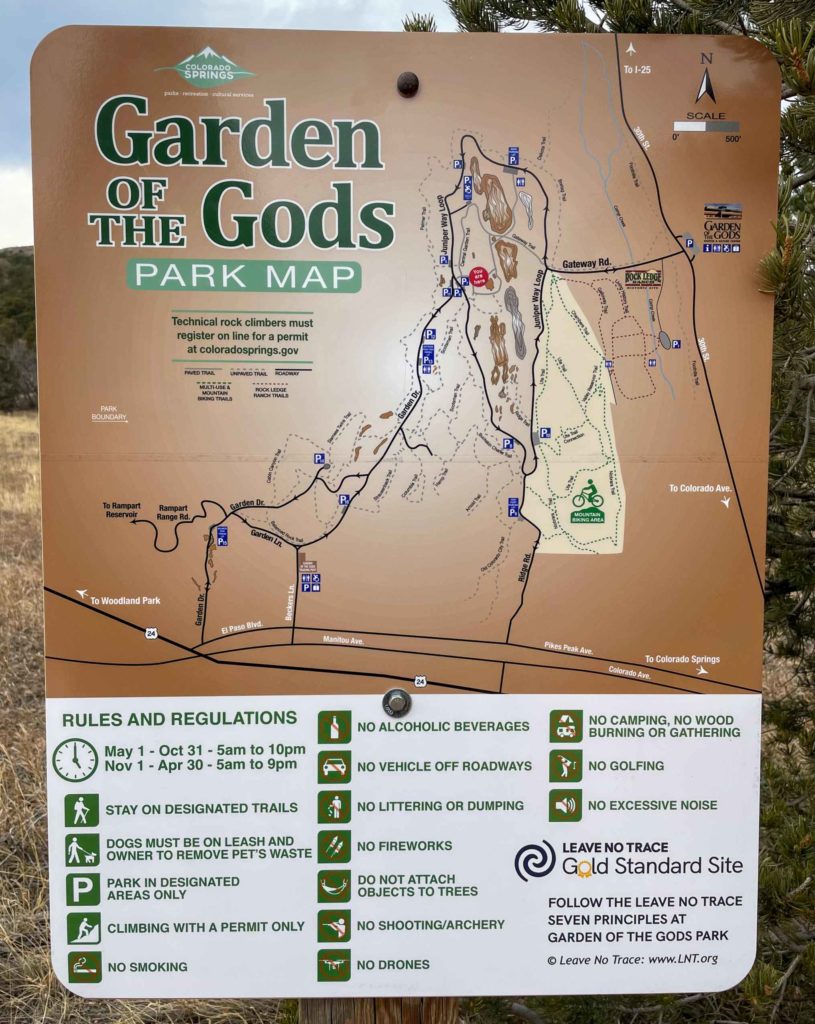 This
one day in Colorado Springs itinerary
ends with a bit of urban fun in town. Colorado Springs' Tejon Street extends south of the town's downtown area, and is also home to a number of great restaurants and places for young people to hang out.
For dinner, check out the trendy 
Coati
, a colorful food hall and (on some nights) live music space that
houses various different eateries under one roof. Coati is a perfect place to gather with friends and family who may have different tastes or food requirements. Eateries here serve Korean food, Greek, Mexican, Hawaiian, and more, each serving a
 variety of dinners, snacks, drinks, and desserts. With two stories worth of family-style tables and bar stools, good vibes, and awesome decor, Coati easily rivals some of Denver's most trendy food halls too.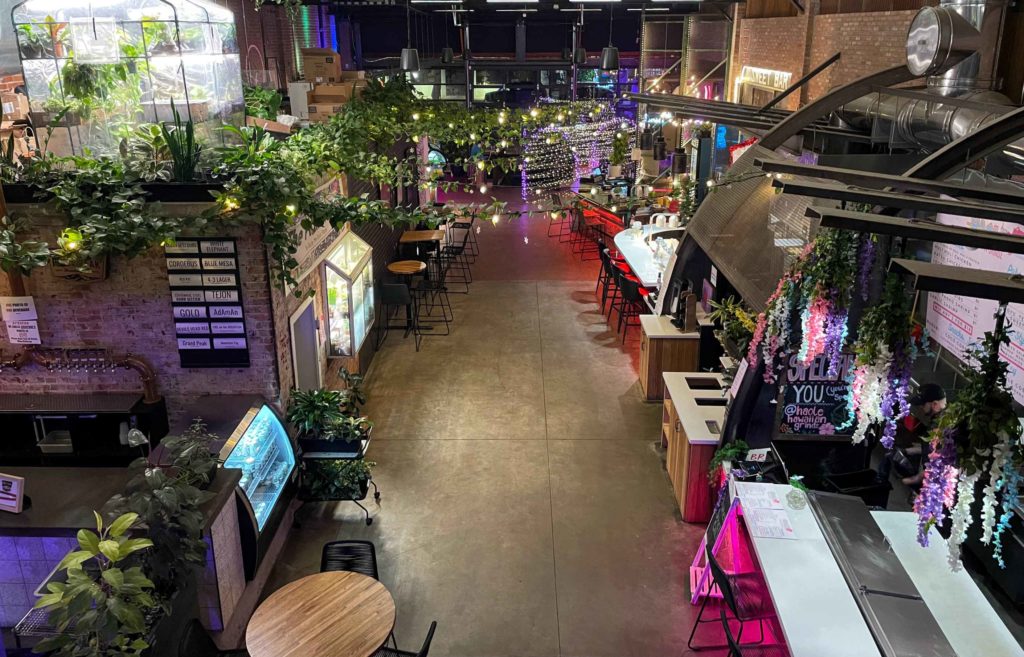 Looking for a night cap during your one day in Colorado Springs itinerary? Head to the unique Ivywild building south of town. Ivywild is an old school that has been converted to a bar and marketplace, and houses a number of accomplished restaurants and eateries. 
GetYourGuide also offers a full-day Colorado Springs day-trip tour from Denver. If you're short on time for planning a one day Colorado Springs itinerary, leave the driving and the planning up to the guides as part of this Pikes Peak and Garden of the Gods tour of Colorado Springs from Denver.
If you're heading to Denver after Colorado Springs, be sure to check out my guide to visiting Meow Wolf, a one-of-a-kind interactive exhibit located in Denver's Convergence Station near downtown. You won't want to miss it!