To ring in 2022 and the return of domestic travel in Australia, I traveled from Brisbane to Adelaide to visit an Australian bucket-list destination: Kangaroo Island. To reach and explore this remote island, I rented a Toyota Hiace campervan from Apollo motorhome rentals with a friend from the U.S. With our Apollo campervan, we got to experience van life in Australia!
About Van Life in Australia
Van life is becoming an ever-popular lifestyle, pursued by adventurers and people seeking a nomadic way of life. Many vans are self-sufficient, with battery systems and solar panels to keep amenities like fridges and interior lights on. Attached gas bottles and pull-out burners, plus fold-out beds means eating and sleeping in the van is a breeze too. In one trusty van, nomads have everything they need to travel far and wide across Australia. 
Van life in Australia is popular with backpackers, who are often not tied down to any job or location, and prioritize exploring Australia above finding an apartment to rent and "settle down". 
Many "van-lifers" in Australia are also "grey nomads", or old-time backpackers, now retirees, who travel far and wide off-the-beaten-path around Australia.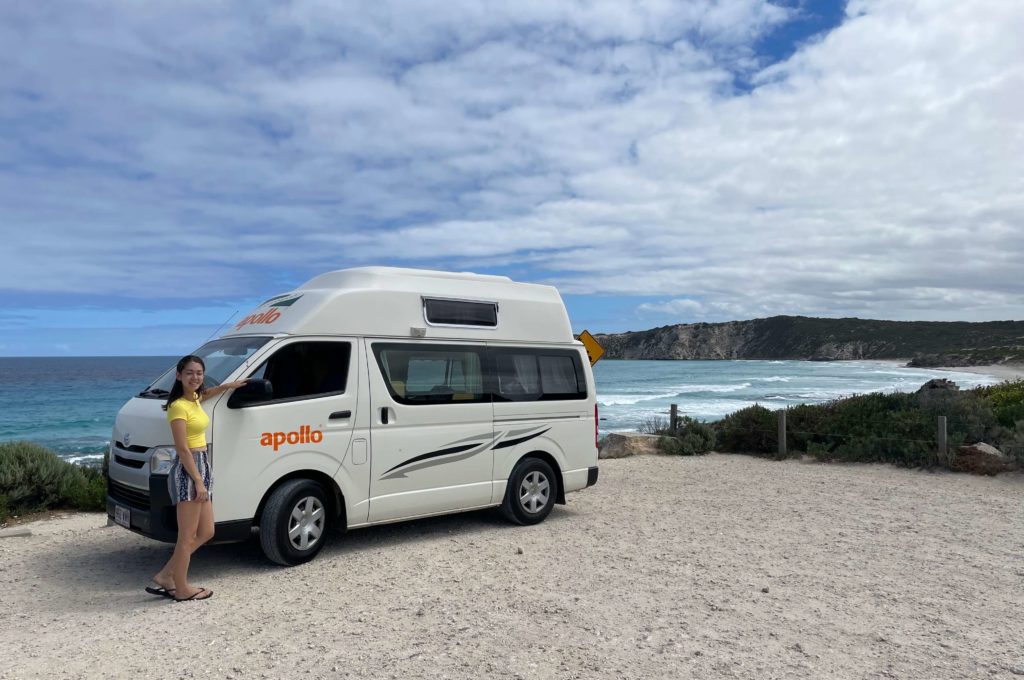 Apollo campervan and motorhome rentals
Apollo motorhomes is a company that operates all across Australia. Locations include Brisbane, Cairns, Melbourne, Perth, Sydney, Hobart, and Adelaide. They also have some international locations including New Zealand, North America, and Europe.
Rental options include campervans that fit anywhere between two to six people. During our trip to Adelaide and Kangaroo Island, we rented the Hitop Camper, a Toyota Hiace which was the cheapest option for two travelers. 
Apollo also rents out 4×4 campervans for more off-road or sandy destinations. You can also rent full-on XXL motorhomes for too – perfect for van life with a large family or group of friends.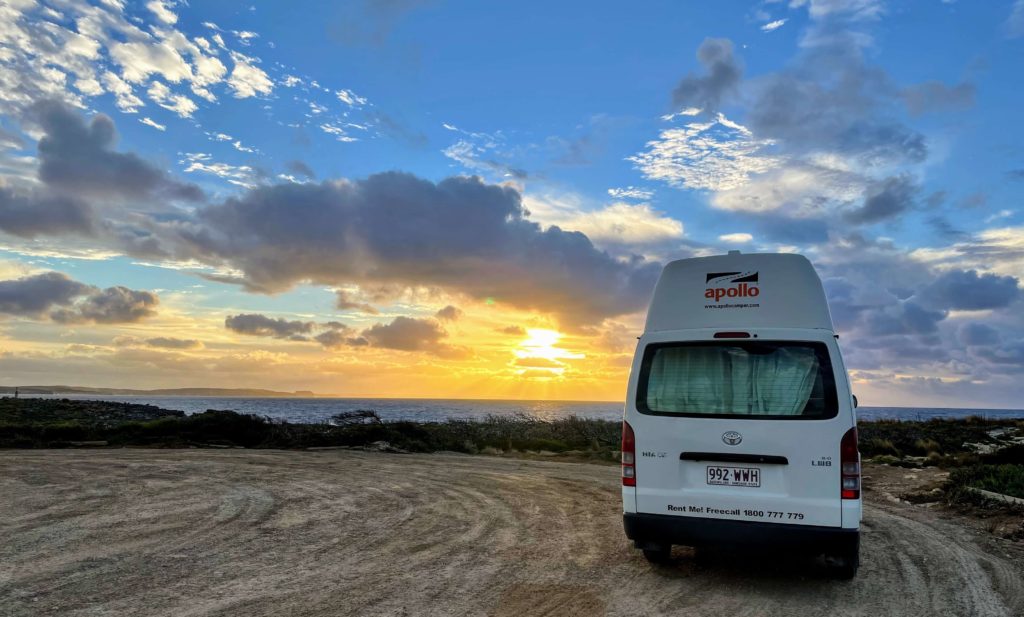 Campervan Insurance & Add-Ons
When driving around Australia, it's important to have proper insurance in case of accidents. Luckily when renting from Apollo campervans, basic insurance is included in the cost you pay for the rental. From about $30-$50 AUD per day, you can add additional insurance options, which reduces the refundable bond you need to pay at van pickup, and reduces your out-of-pocket costs if an accident happens too. 
Other add-ons you can select when renting a campervan include windscreen and tire protection for $7 AUD extra per day, or a toll package so you don't need to worry about those pesky tolls. Depending on where you're traveling with the campervan, one or both of these options might be a smart idea. 
For our road-trip to Kangaroo Island with Apollo campervan rentals, we opted for the windshield and tire protection because we knew we'd be on rocky and gravel roads.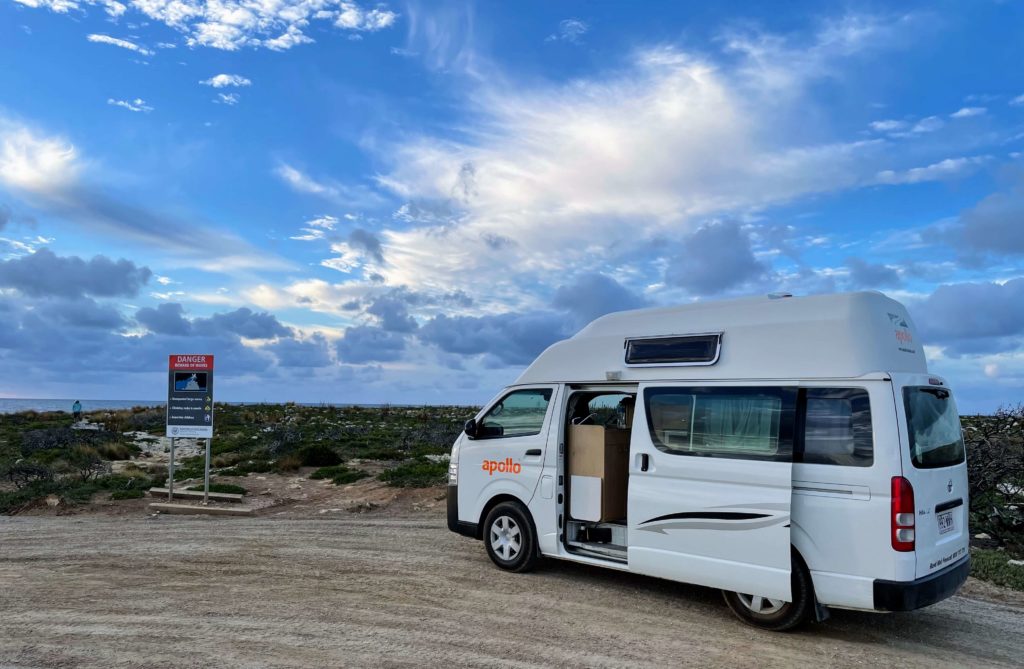 Other Apollo Campervan Rental Extras
If it's in your budget, you can add on a number of convenient extras with the campervan rentals. These include things like drop-and-go, where you don't need to worry about cleaning the van before bringing it back to Apollo rental company. 
Extras like camping equipment – chairs and tables, are an option, and so is renting a satellite phone, perfect for ensuring safety in remote destinations.
An extra that I booked was linens, including pillows, sheets and blankets for $20 so I wouldn't need to bring my own from Brisbane. Because campervan rentals hadn't picked back up yet, Apollo rentals in Adelaide also threw in a free camping chair and table set for us.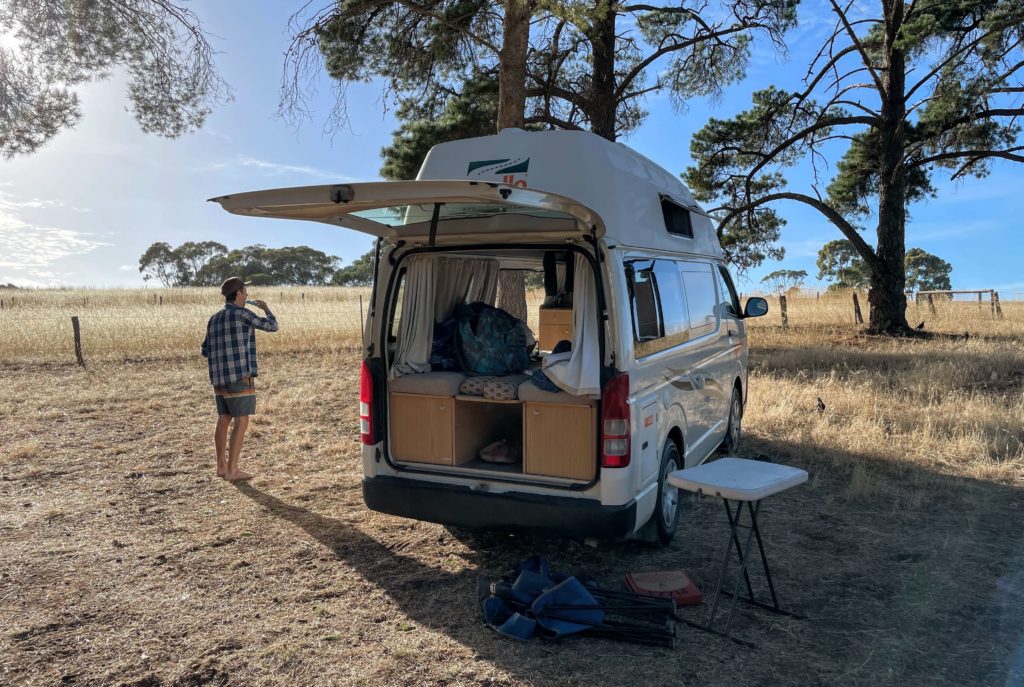 Apollo Van Life facilities and storage space
I loved how self-sufficient our Apollo campervan was! Every detail around what you might need while experiencing van life in Australia was considered. Here is a snapshot of the different facilities that the Apollo Hitop campervan offered, in the body of the Toyota Hiace:
Cooking – A gas bottle and 2-burner stovetop, with a lid, were included in the van rental (keep windows open while cooking!) plus a grey water sink. A full set of utensils plus a cutting board and knives, a wine bottle opener, and a number of cooking staples like pots and pans, strainer, and kettle were included too.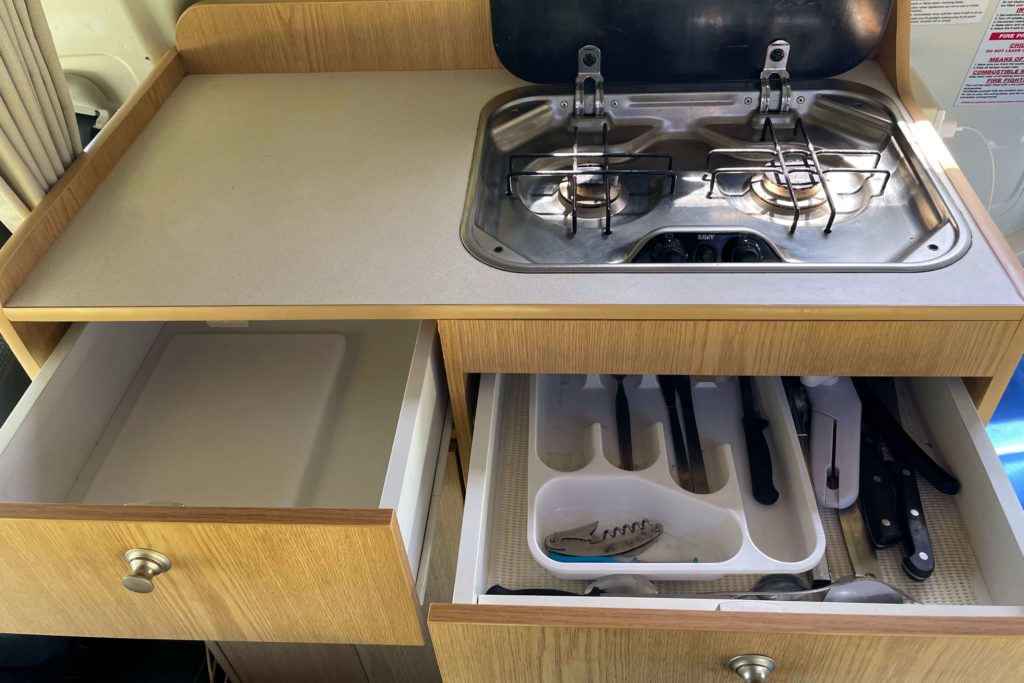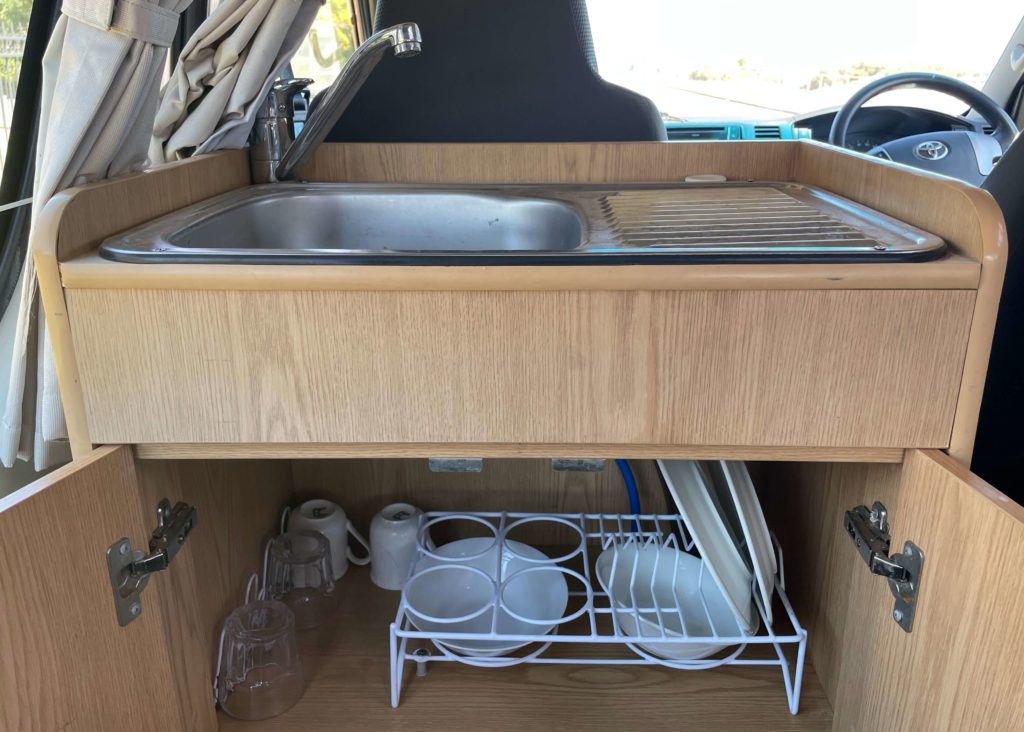 Eating – A set of two plates, bowls, mugs, and glasses were included – everything you need to eat van life meals! We received a rental set of camping chairs and a table for free which we used to have our meals. Although the back of the van had a table set-up, we put this down to make the bed so didn't end up using it for eating on. 
The dual-battery system in the van meant one battery was dedicated to keeping a small fridge running. A microwave and two outlets in the back meant we could stay connected even while the van wasn't running. A dial at the bottom of one of the benches showed us how much battery juice was left, to ensure we wouldn't kill the whole van.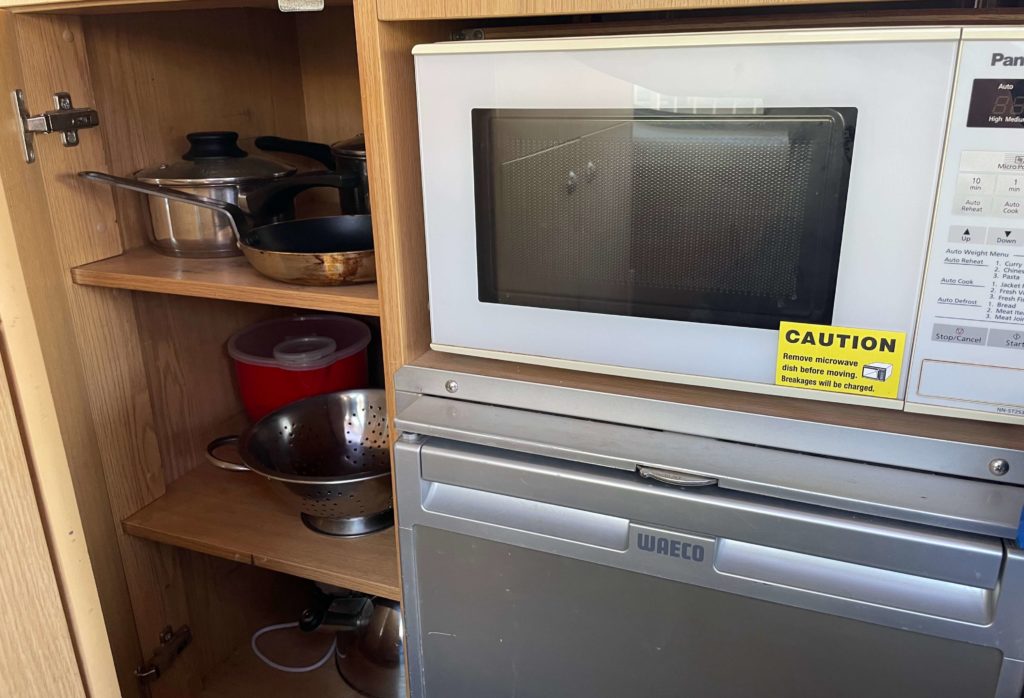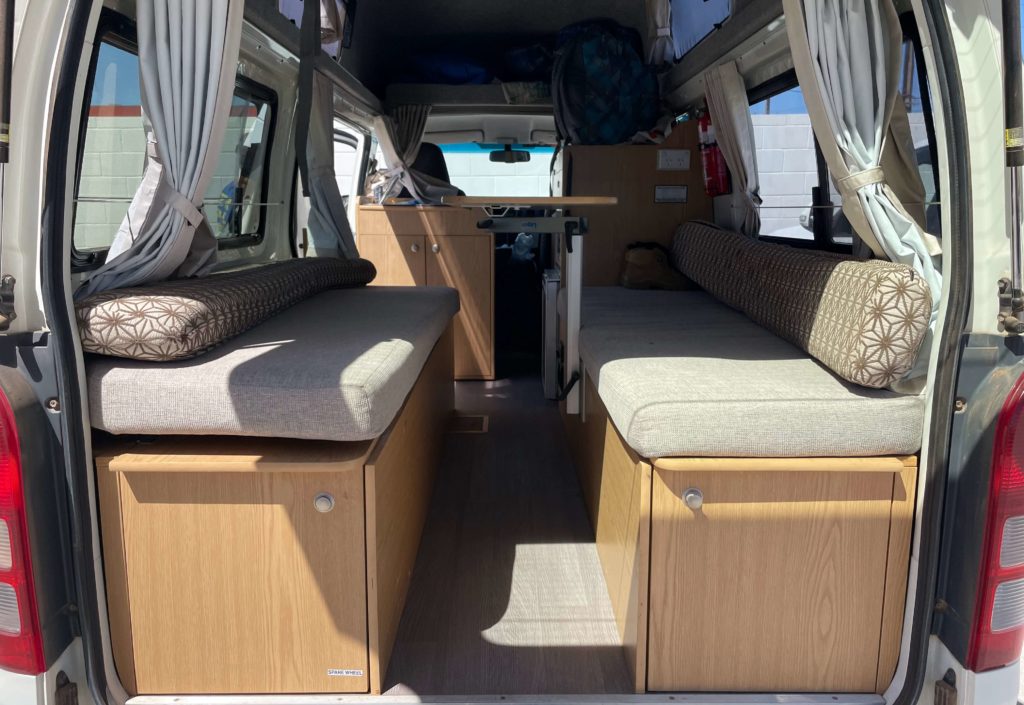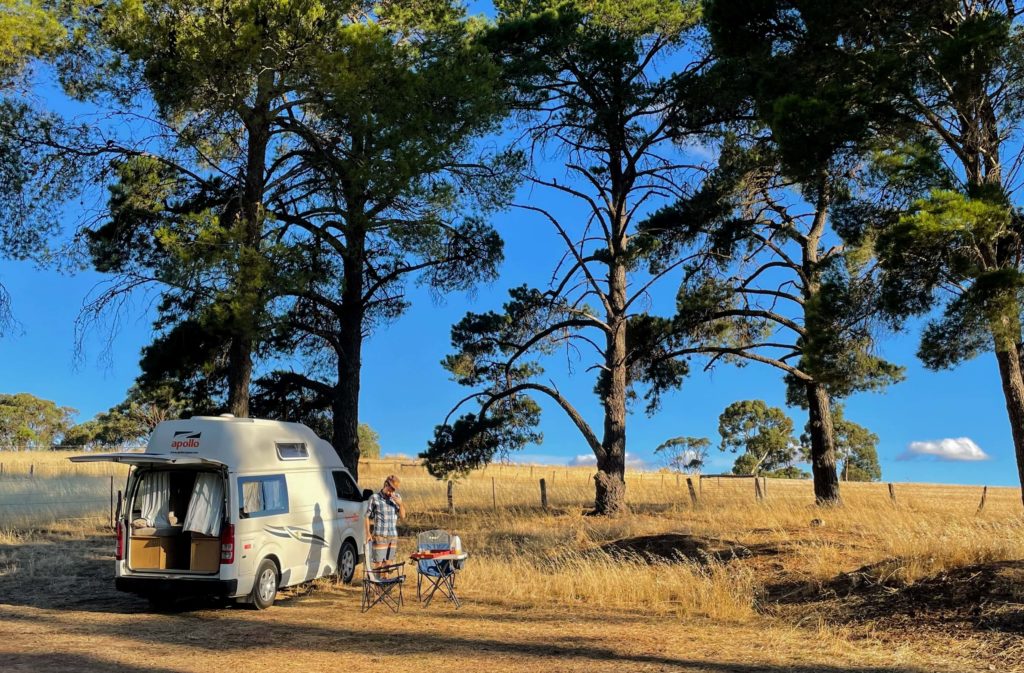 Sleeping – The back of the van converted from two benches and a table to a double-sized bed, perfect for two people to sleep. All of the windows in the back had curtains so that could be secured for privacy. Curtains that divided the front seats from the rest of the van helped to keep the sunlight out in the early mornings too. 
Storage – The Apollo Hitop campervan had a surprising number of storage areas, including under both benches, and on a large up in the hi-top. Although I only rented the van for a few days, it had enough space to pack for much longer trips.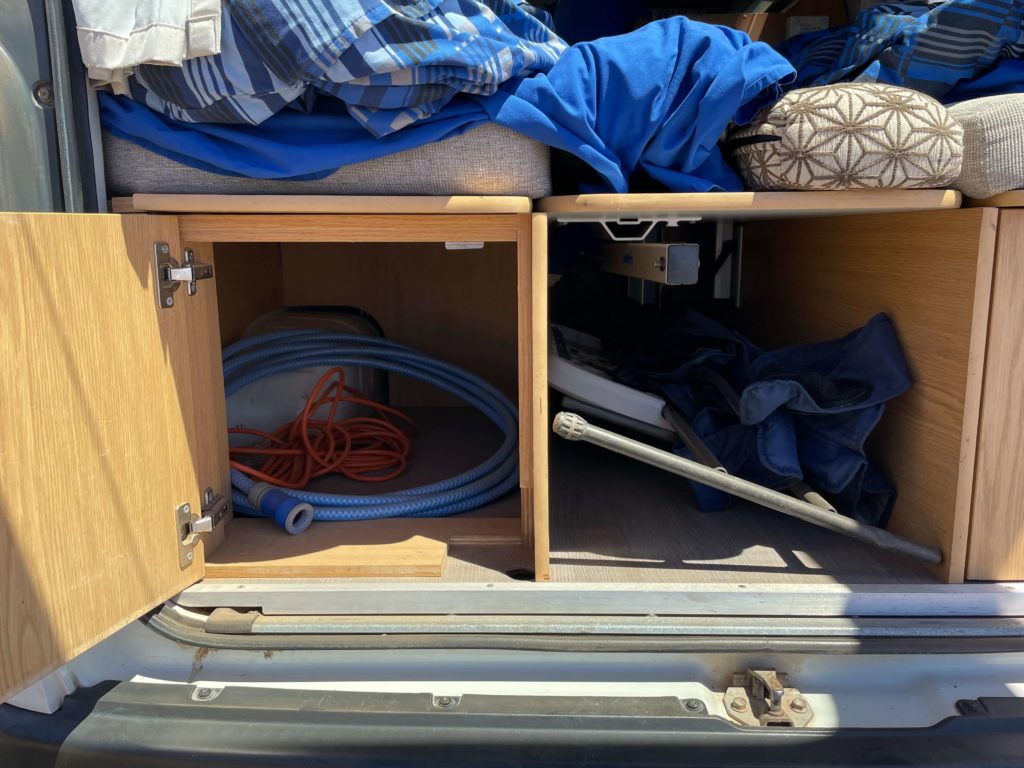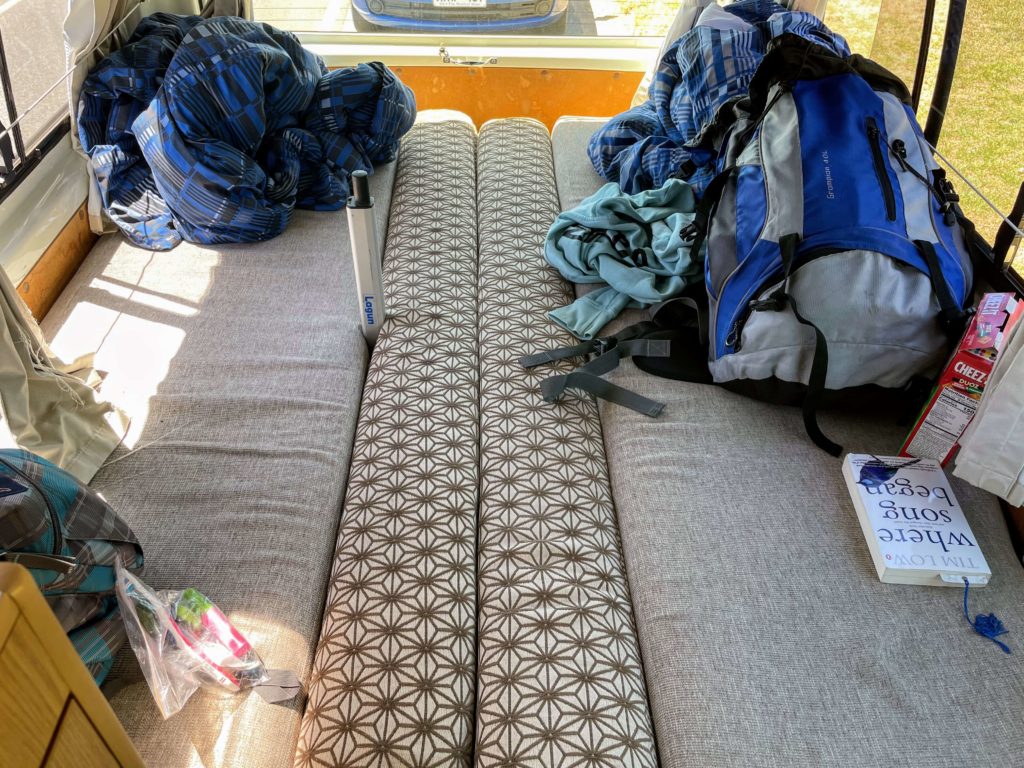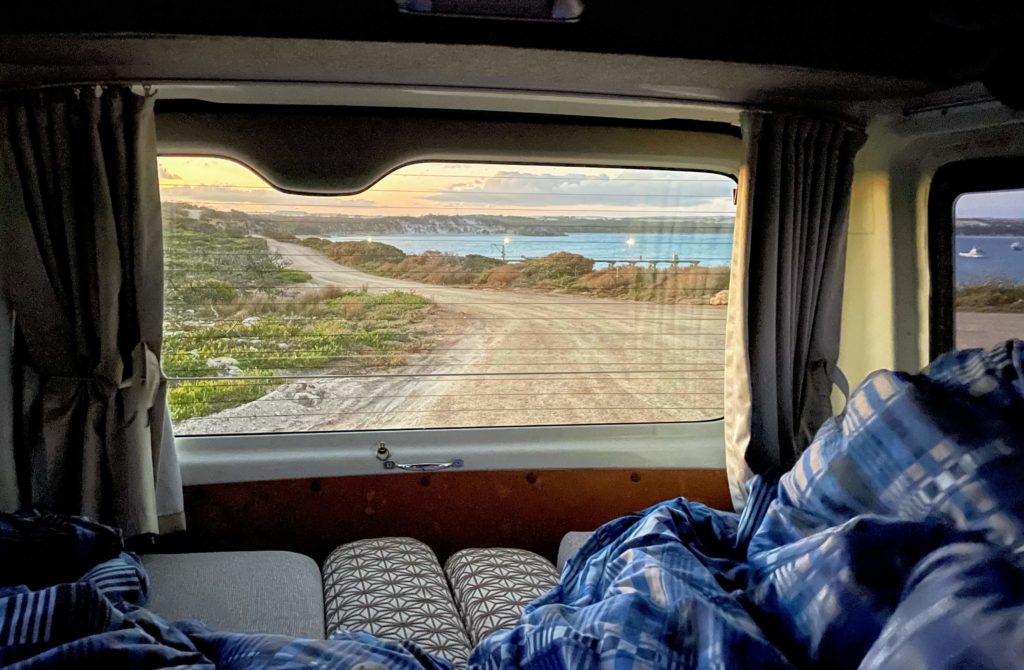 Driving around Kangaroo Island in a campervan
My experience with van life in Australia consisted of this five-day itinerary from Adelaide to the Barossa wine valley, to Kangaroo Island. During the three nights and four days with the van, we slept each night in the back, had morning coffee and all of our meals with the van, and drove far and wide with our trusty Apollo van. 
Kangaroo Island is a secluded island with only a handful of main paved roads. The Apollo van did well on gravel roads to scenic beaches, twisted roads through Flinders Chase National Park, and uphills to viewpoints.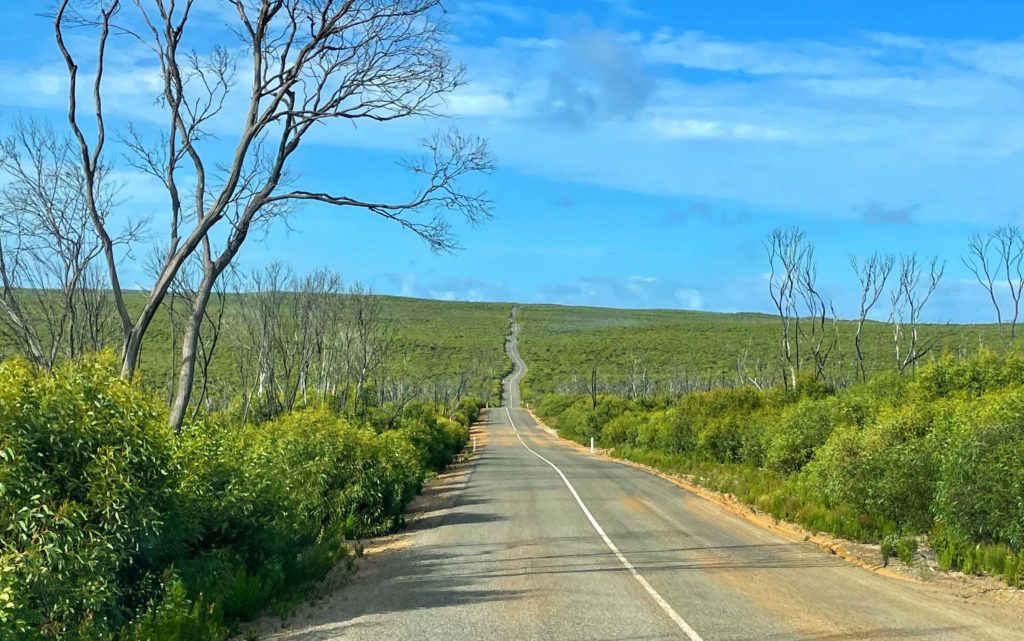 The most that the campervan struggled was to and from Western River Cove, a remote campground and beach location known as a great snorkeling and fishing spot. A signpost at the beginning of the Western River Cove road warned against cars pulling trailers from continuing down the road, due to steep gravel roads and tight turns. Apollo needed to be driven carefully, and sometimes with the gas pedal to the floor, in order to get up the steep roads. 
If you're taking a campervan to Kangaroo Island, here's a tip: fill up on gas and groceries before heading to the island! Your wallet will thank you. Check out my other tips for visiting Kangaroo Island before you go too.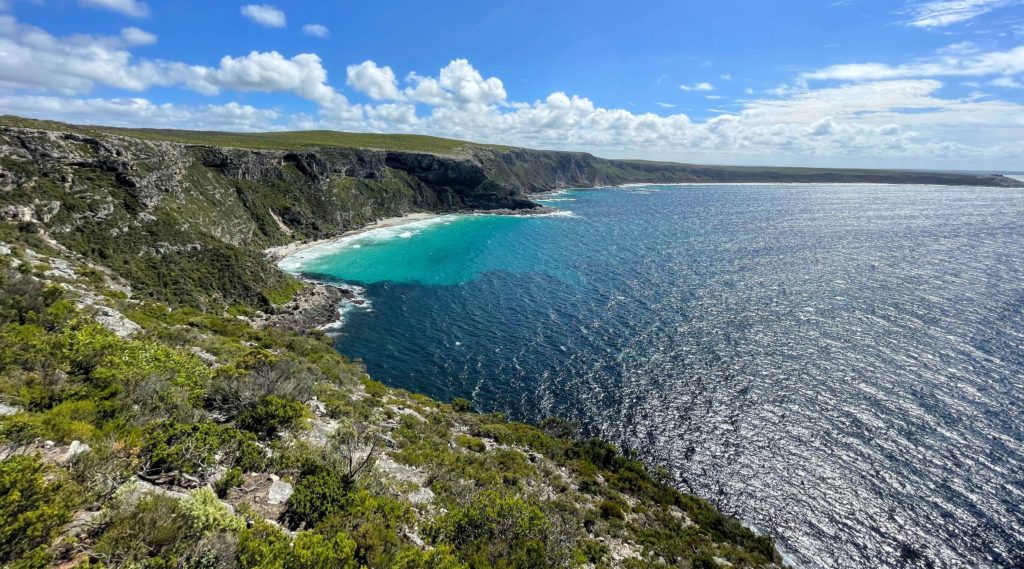 How to start your own Van Life in Australia
If you're interested in van life for a month or less, consider renting a van from Apollo motorhomes or any other van rental company in Australia. Other popular van rental options in Australia include Jucy, Mighty Campervans, and Britz. Some websites like this one allow you to search for camper van rental deals across all companies at once. 
If you want to purchase your own campervan to fully experience van life in Australia, Facebook groups like Backpacker Campervans for Sale are a great place to start. 
I hope you enjoyed this sneak peek of van life in Australia, and have some ideas on how to start your own travelventures in a van. Whether it's just for a weekend or for to become a permanent vanlifer, renting a campervan in Australia is everything you'd dream it would be! 
Are You Prepared For Your Next Travelventures?