After completing two big treks in Nepal, I spent two months traveling Western Europe watching World Cup matches in June-July 2018. It wasn't long before I was craving to be in the mountains again – so I was off to Switzerland to the the Alps! I had heard so many great things about Interlaken and the Jungfrau region of the Alps, so that's where I went.
When I was looking for a trek in the Alps, I was looking for a circuit-trek instead of a through-trek. Almost all of the information I could find online were for through-treks only: Hike from one village to another, then take the train to the next destination. 
After doing some research, I came up with my own circuit trek in the Alps that hits on many of the highlights in the area. You can read up on my itinerary and recommendations here!
Finding home base in Interlaken
I arrived in Interlaken via train from Basel, and checked in to Balmer's Tent Village. It was the cheapest accommodation at $20 USD (20 CHF) in Interlaken especially for the weekdays I was there. But it's a great hostel! They have a pool, jacuzzi, a luggage storage, on-site bar, fridge, and kitchen appliances. They also gave me access to Balmers Hostel (15 mins walk down the street) where there's a larger kitchen open to backpackers. Across the street from the Tent Village is a shopping complex that has two grocery stores on the basement level, where I stocked up on snacks and bread for my trek.
The most important quality of this hostel for me was the luggage storage. I planned on only bringing a day pack with me for my trek in the Alps, so I need a place to store my big bag for a couple of days.
During my free time in Interlaken I wandered by the scenic Lake Brienz on the east side of the town, and watched the paragliders landing in a grassy park, a popular activity in Interlaken.
Alps Trek Day 1: Schynige Platte to Grindelwald
I caught the 7:04am bus from Interlaken to Wilderswil train station, to catch the first train up to Schynige Platte at 7:25. I bought a one-way ticket at the office here for 32 CHF, and boarded a cute little train with bench seats. These retro trains have been bringing people up to Schynige Platte for over a century! 
An hour of sitting in the train saves three or four hours of trekking uphill to Schynige Platte.
The view of the Alps at the top is stunning. Many people got off the train and start hiking immediately without taking in the view. I chose to take a short walk up to the restaurant, where there is a really nice panorama view of the Jungfrau mountain range (and free public wifi).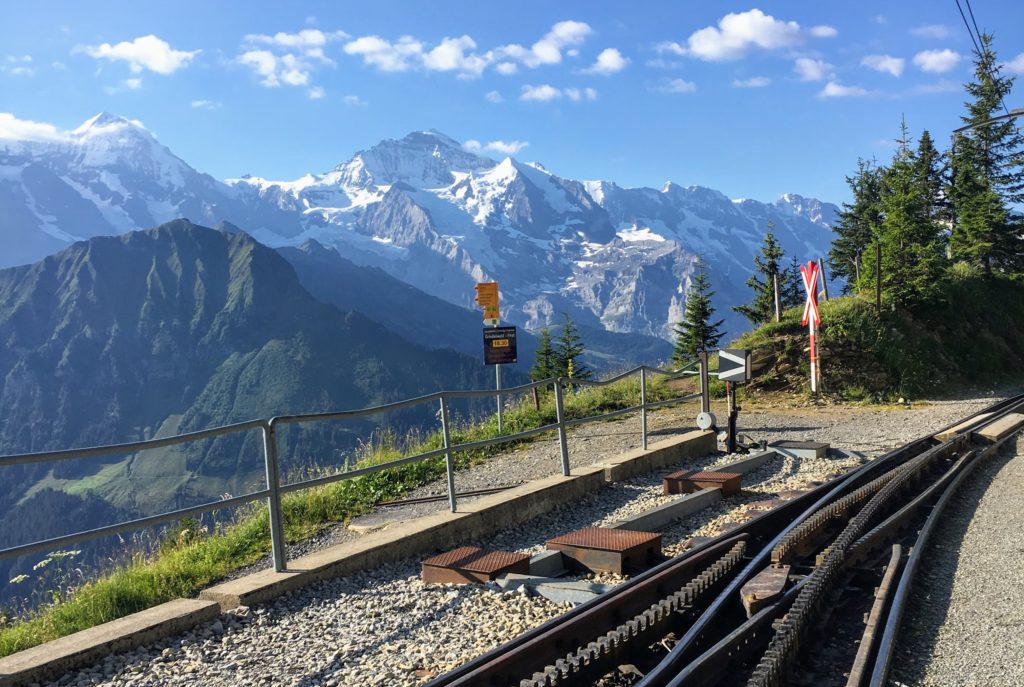 When I started my Alps trek to Grindelwald, I was blown away by the mountain views around me. The trail runs alongside the top of a valley, and the contrast of colors opening up below me were spectacular. Wildflowers, bright green grass and darker pine trees, and the blues of the mountain and the sky are all incredibly picturesque. To make the experience even better, I could hear herds of cows with bells around their necks, somewhere in the valley below me.
On parts of this trek near Schynige Platte I was able to see a panorama view of Interlaken and its two lakes.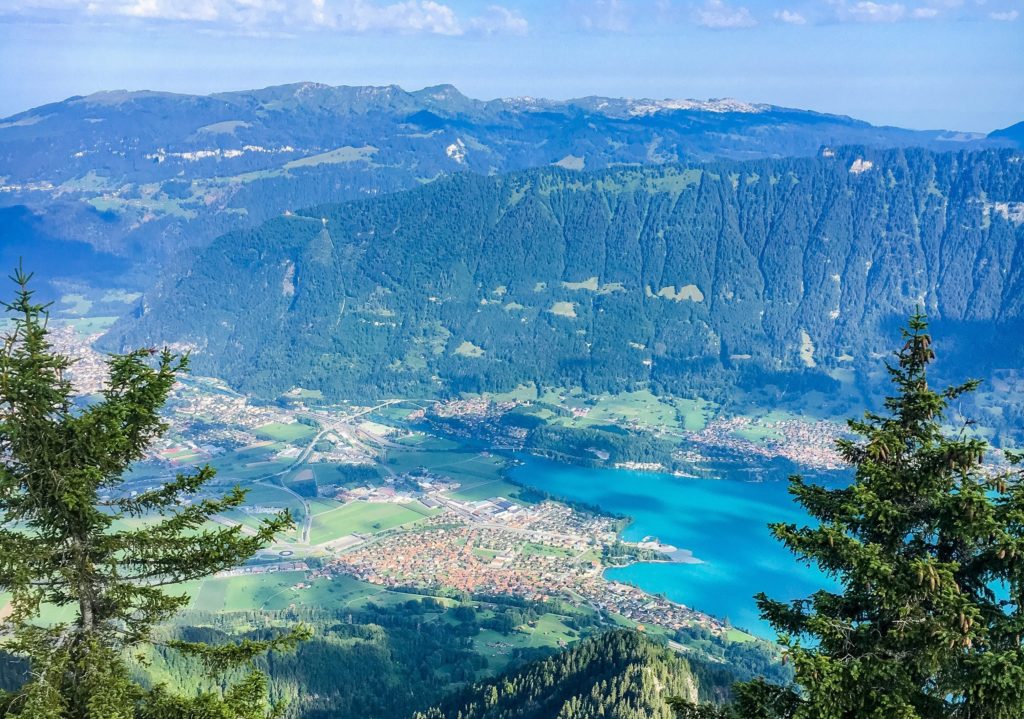 The trail eventually bent around a rocky corner where I walked through a bit of snow, to reach what's approximately the halfway point to Faulhorn. There was a restaurant and restroom (which costs 2 CHF to use) here where others were resting. After here it was mostly uphill to get to Faulhorn, which I started to see from the distance as a building built onto a intimidatingly massive peak.
Although there's a path that goes to the side of the Faulhorn, what's the point of going past such a beautiful view that I've worked so hard to get to? It was a surprisingly quick 10-15 minute incline to the top of Faulhorn, where there's another restaurant and lodge, free toilets, and the most amazing 360 degree view of the Alps! It was a great place to eat my packed lunch. There are benches and a platform at the top next to a fluttering Swiss flag.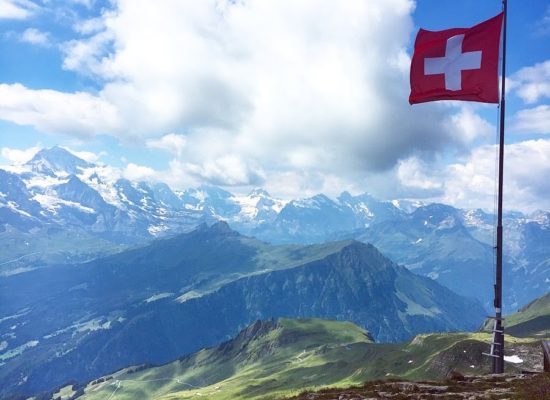 It was all downhill from here – a really damn steep one that ended up hurting my knees quite a bit. The next sight along the way from Schynige Platte to First is the Alpensee, a large lake that reflects the surrounding mountains or valley depending on how you look at it. It got really crowded from this point on with people who come up from Grindelwald to Alpensee: taking selfies, having picnics, riding bikes, walking their dogs. The lake is surrounded by rolling green hills, so to be fair it's a great place to just hang out like you're at the beach for a little while (no swimming in the lake though).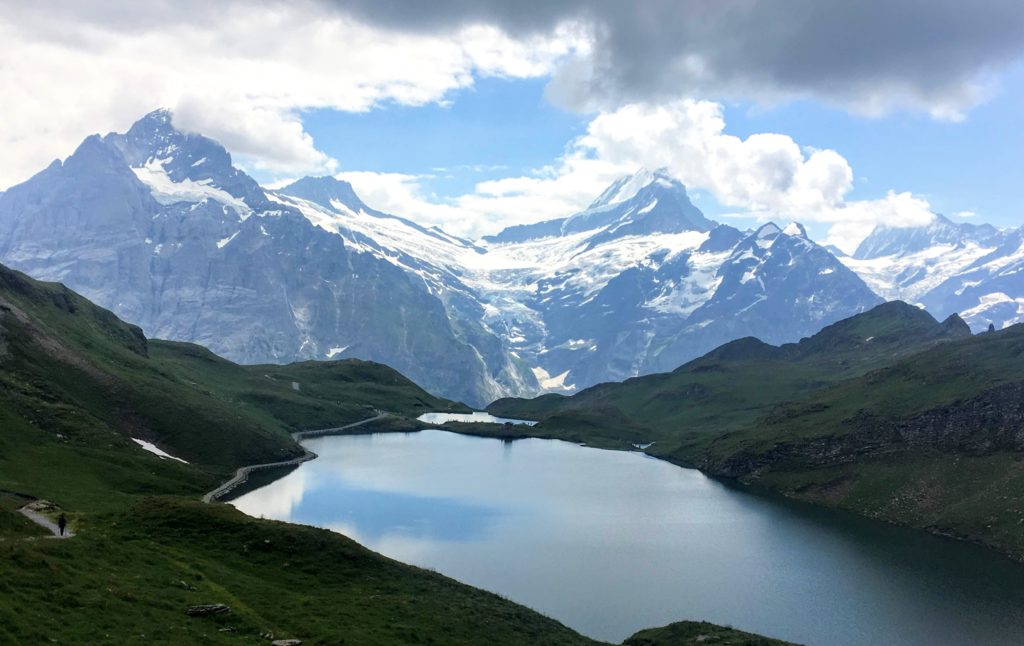 Soon after the lake I came across a large building built into the side of a cliff – First, which doubles as a ski lodge in the winter. In addition to the lodge there is a restaurant, a terrace with an amazing view, toilets, a water refill station, and a gift shop! There's a 'cliff walk', that wraps around the cliff that First is built on, with a metal floor where I could see the valley below me.
I chilled at First for an hour, enjoying the view of Grindelwald valley, making and eating some sandwiches that I had brought, and resting before the decent.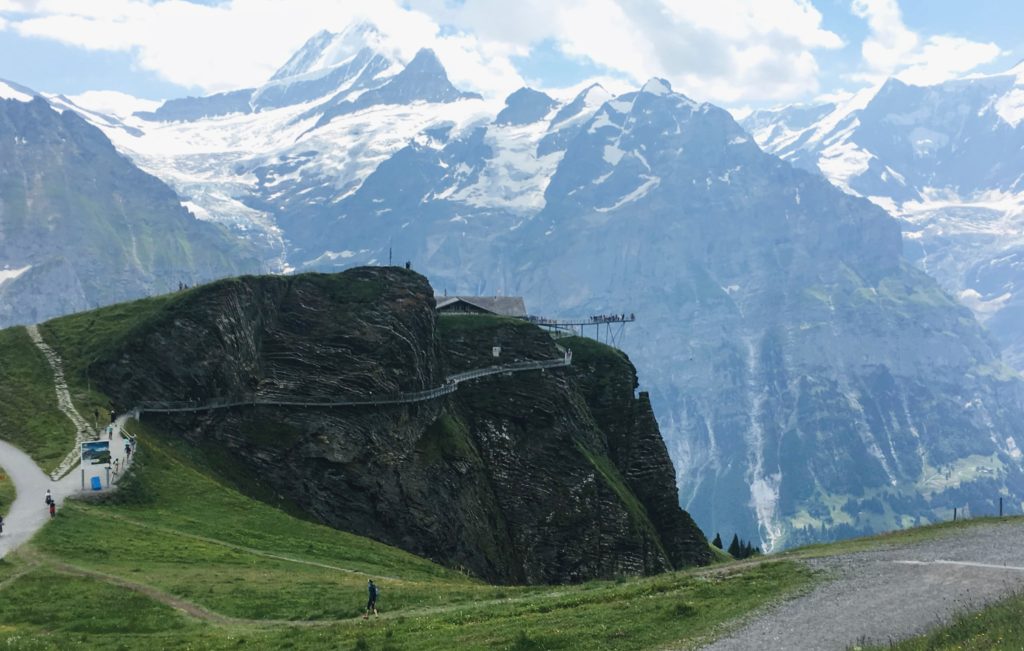 The decent was quite painful on the knees again – I walked down the path that is frequented by go-karters and mountain bikers, so it was steep enough pavement that they could speed down past me. I thought about taking a gondola down part of it, but at the first station that I passed where all the go-karters finished, it still cost 16 CHF ($16) so I decided to toughen up and walk down the rest of it. The path eventually turns to a dirt one that winds through the forest or next to cow fields, which was a calming sight to distract me from the knee pain. I used maps.me to turn off this road before entering Grindelwald, where there was a shortcut to get to my hotel.
I stayed at Hotel Alpenblick, which was the second cheapest option in Grindelwald when I was booking. The terrace there boasts amazing views of all of the surrounding mountains which is why I chose to stay here, and I wish I hadn't been so tired when I arrived, else I would have had more time to enjoy the view.  Alpenblick also has free breakfast in the morning, so I was able to take some eggs and apples for the road for the next trekking day.
Alps Trek Day 2: Grindelwald to Wengen via the Eiger Trail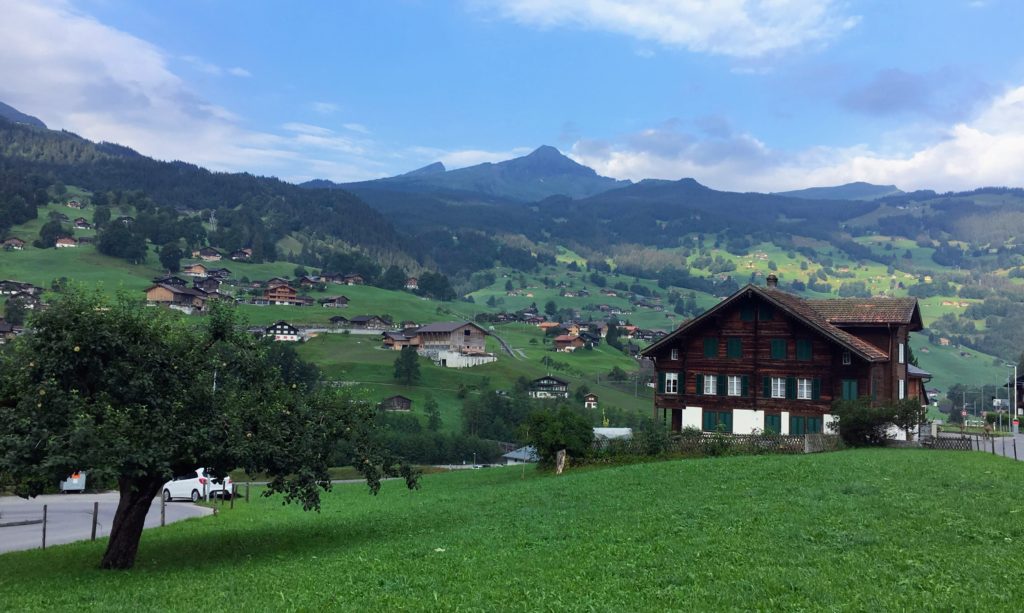 I started my second day trekking in the Alps with a free hotel breakfast, then a free bus ride to Grindelwald's center station. Then started trekking up, up, up towards Brandegg, which is the first train station from Grindelwald. After that is Alpiglen, which I reached in an hour and a half from when I left Grindelwald. 
Here I faced a choice: the first option was to continue up similar paved roads alongside the train tracks to reach Kleine Schedigg in about two hours. Or, the second option was to take the scenic route, the Eiger Trail, which takes about three hours to reach the same destination. Of course when I reached this fork in the road, I took the scenic route. It's the Swiss Alps afterall!
The Eiger is no easy trail but I was rewarded with amazing viewpoints along the way of the Grindelwald valley. On clear days like I had, I could see Schynigge Platte, Faulhorn, and First in the distance! I was in awe seeing the entirety of the distance that I had hiked the previous day.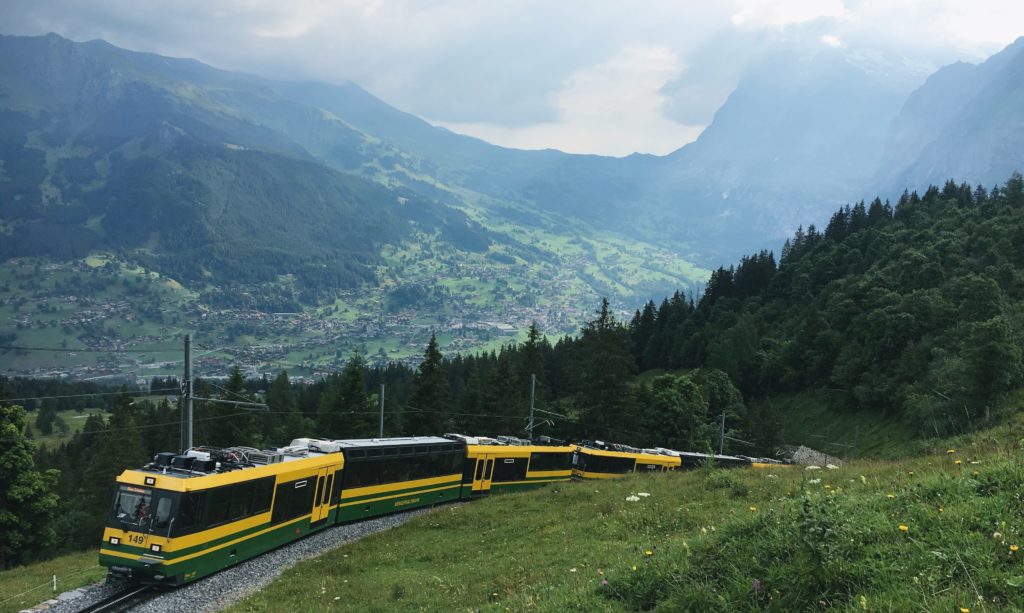 If I was to do this trek in the Alps again, in order to have enough energy to do the Eiger trail and trek down to Lauterbrunnen, I would pay to take the train up to Alpiglen (13 or 16 CHF depending on which station in Grindelwald you leave from). The view from Alpiglen and the beginning of the Eiger trail is about the same as the trail from Grindelwald leading up to it, so I wouldn't have missed too much.
On the Eiger trail the first iconic sight was a spewing waterfall, then I crossed a half a dozen others that were partially concealed under snow and ice. The road eventually split to go to Kleine Schedigg and the Jungfrau trail, or up the Eiger mountain. I could see in the cliff surface in the distance some ladders that go up the side of it, and some ant-sized people climbing up them! I met a trio of Romanians on the way up from Grindelwald who were wearing snow boots and helmets, and they were going to attempt the summit.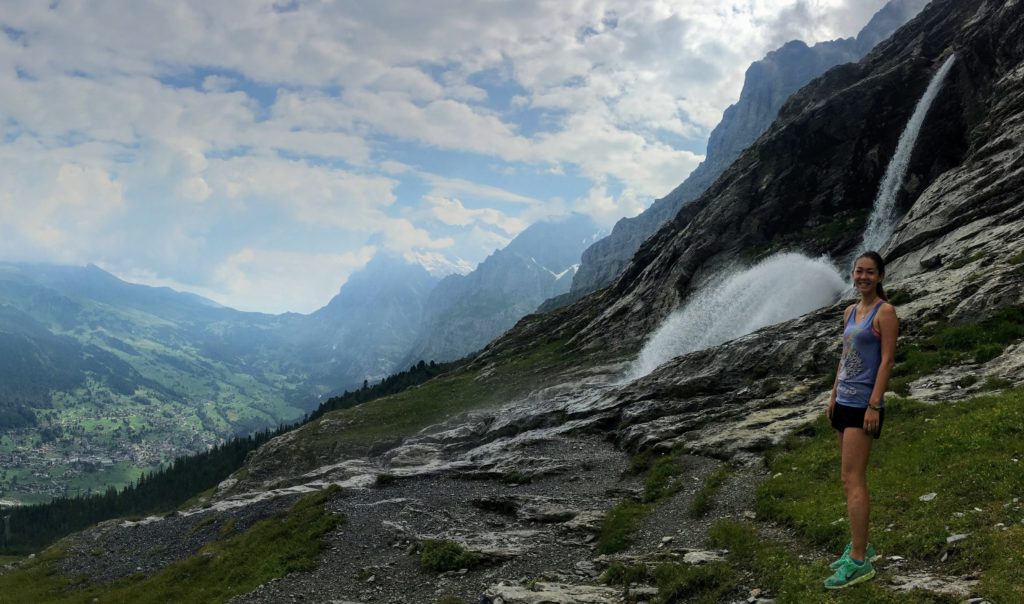 At 12:30, 4 hours after starting the trek, I arrived at Kleine Schedigg. There was a massive influx of tour groups here, boarding the trains that go back to Lauterbrunnen, or up to Jungfraujoch, the viewpoint at "the top of Europe". Visitors can book train tickets to the summit of Jungfraujoch, which is where the highest-altitude train station in Europe lies. There were a few restaurants, ice cream shops, and souvenir shops here, as well as clean, free toilets that I took advantage of.
It's 30 CHF for a ticket back down to Lauterbrunnen which I didn't want to pay, so I rested my knee for an hour, rehydrated, and ate the eggs that I brought from my hotel in the morning. I started my downhill journey around 2pm, and I was glad that I made the choice to walk. The cloudy top of the Jungfrau cleared up, and entire beast of a mountain was made visible. The trail is had lots of benches along the way and nice views of meadows and cows with their musical bells around their necks.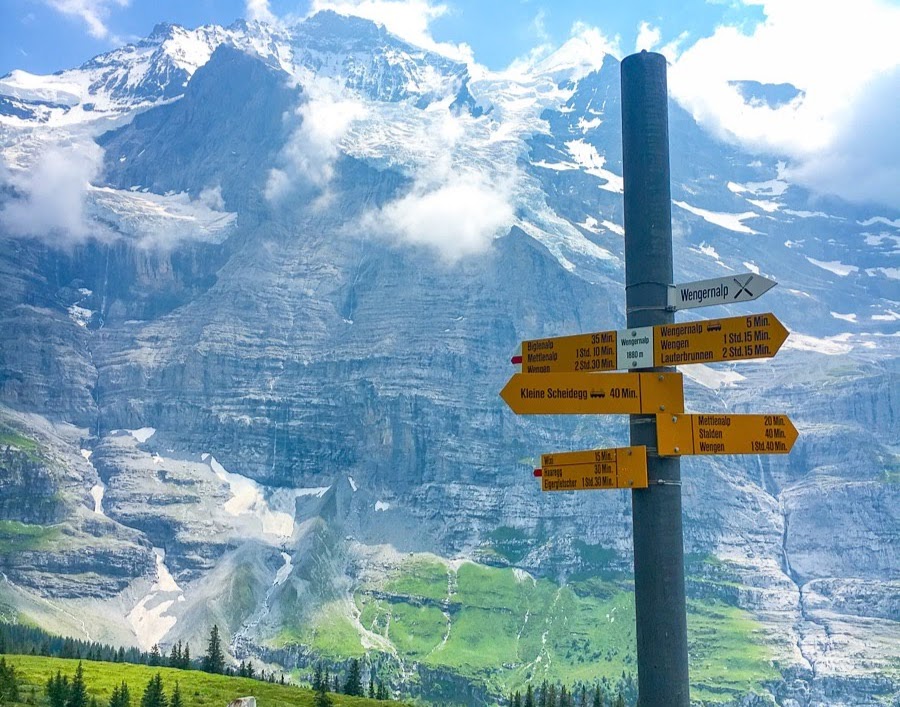 I passed several train stations on the way down, and finally decided to get a train from Wengen, where it was only 6.80 CHF to get to Lauterbrunnen. Wengen reminded me a bit of Namche Bazaar in Nepal, a colorful village with beautiful hotels and other buildings situated along the slope of a mountain valley.
In Lauterbrunnen I stayed at the Valley Hostel, which I also recommend. It was centrally located close to the train station and the Coop grocery store, with two kitchens and a large outdoor area where I hung out enjoying views of the valley.
Accepting Defeat in Lauterbrunnen
I had planned to hike the Männlichen summit, another famous Alps trek on this day, but I was too sore and tired to even consider doing another hike. This Alps trek starts from Lauterbrunnen, and signs say it takes 4 hours 45 minutes to get to the top, probably less to get down. There's a gondola ride that also takes you up a majority of Männlichen, and you need to walk very little to reach the summit from there. I was even too exhausted (and too cheap) for this option.
I took the train back to Wilderswil station instead, and walked to my hostel. I got another free bus card from the hostel and went to the lake to chill with some beers and snacks. Not a bad day overall 🙂
This time I stayed at Funny Farm hostel, which I also recommend for the classy hotel amenities like a grill, pool, and bar area. It was a great place to relax after a hard couple days of hiking!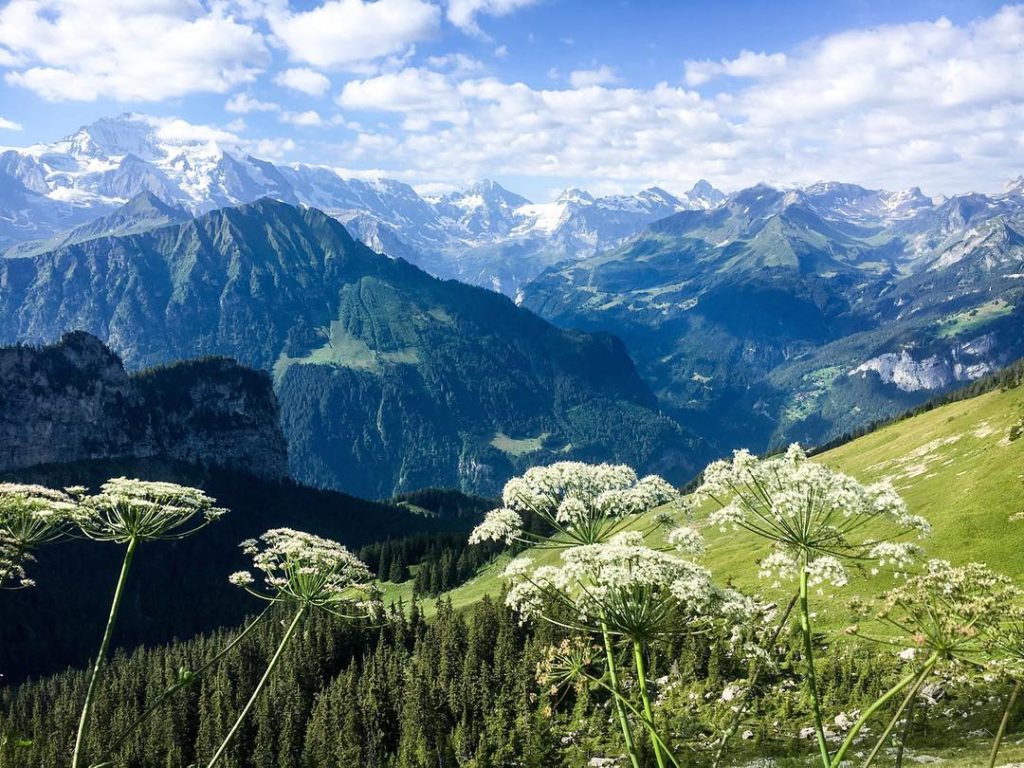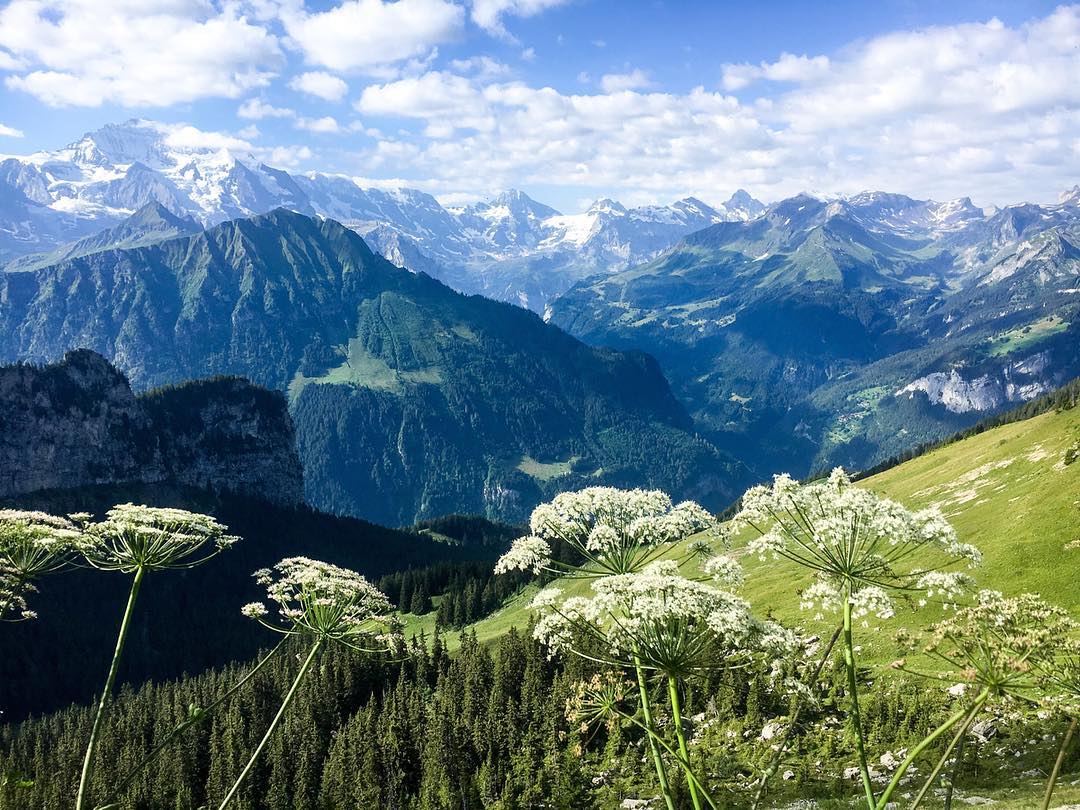 Note: If I was to do this trek in the Alps again, I would not rush around so much and take more rest days. Because of the cost of accommodation in Switzerland, I wanted to push through faster, but this ended up taking away from the experience!
WHEN I come back, I would schedule it something like this:
Day 1 – Arrive in Interlaken
Day 2 – Schynigge Platte to Grindelwald
Day 3 – Rest day in Grindelwald 
Day 4 – Grindelwald to Lauterbrunnen
Day 5 – Rest day in Lauterbrunnen
Day 6 – Männlichen summit to Interlaken
Are You Prepared For Your Next Travelventures?